Micah Tyler's Viral Video 'You've Gotta Love Millennials' Brings Humor to Gen Y Stereotypes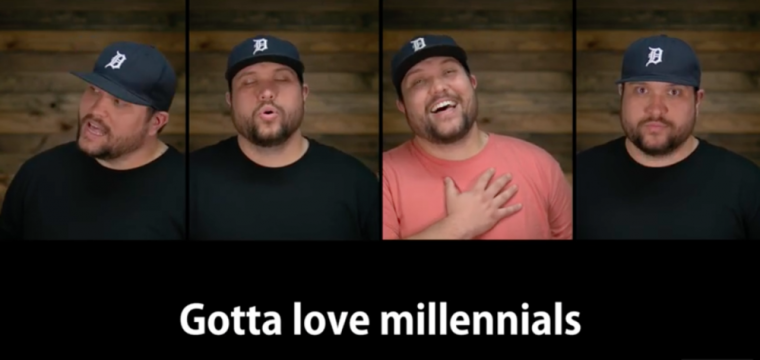 Singer Micah Tyler is receiving national attention following the release of his video that pokes fun at and disarms many of the negative stereotypes about his generation.
Tyler's "You've Gotta Love Millennials" has gone viral after hitting the internet Thursday, reaching over 23.1 million viewers on social media.
"As a millennial myself, I've heard so many hard stereotypes that have been firmly attached to my generation. Instead of shying away or ignoring any of them, I figured we might as well laugh about them together! Humor is such a disarming force," Tyler told The Christian Post, explaining why he created the video.
The song emphasizes stereotypes that are commonly said about the millennial generation. Tyler sings about coffee shops, man buns, Instagram selfies with inspirational quotes, and the attitude of entitlement. The 33-year-old created the video to debut at a leaders conference at Watermark Church in Dallas, Texas, in hopes that it would to break down barriers between the generations.
"As I stood before over 750 church leaders from all over the world at this conference, I knew we needed to get every elephant in the room out of the way so we could focus on living beyond the labels and link arms as one Body."
"JP Pokluda's message following the video was all about the hope that millennials are to the world today and for the future. This video was just a funny little Trojan horse to get us there," he said.
Publicity and attention was never Tyler's aim behind making the musical skit, but he say's he'll take it anyway.
"My only intention was to serve a room full of leaders by making an over-the-top, tongue-in-cheek representation of how crazy stereotypes can be against a group of people. To share it on social media and have it go viral was never the goal, just an added bonus!" he exclaimed.
The husband and father who hails from Buna, Texas, told CP he never dreamed the video would resonate with so many people.
"The way it showcases some divisions across generational lines, I hope it will help some people laugh together, start conversations, and ultimately, help us grasp the work we all need to do to become the Body that Jesus has called us to be."
The Christian recording artist has been involved in ministry since 2002, serving as a full-time youth pastor for six of those years. He and his band have been traveling full time since late 2010, serving as a worship band for camps, retreats, Disciple Now weekends, conferences, and have played concerts in churches, coffee shops, college campuses, and festivals.
Tyler is currently in the studio recording a new album but it looks like his unexpected success will now give the singer another song to perform with his band as they travel the world.
For more information about Tyler, visit www.micahtyler.com.