Christian War Hero Louis Zamperini Wanted 'Unbroken' Movie to Speak to Everyone, Not Only Christians, Says Angelina Jolie (Video)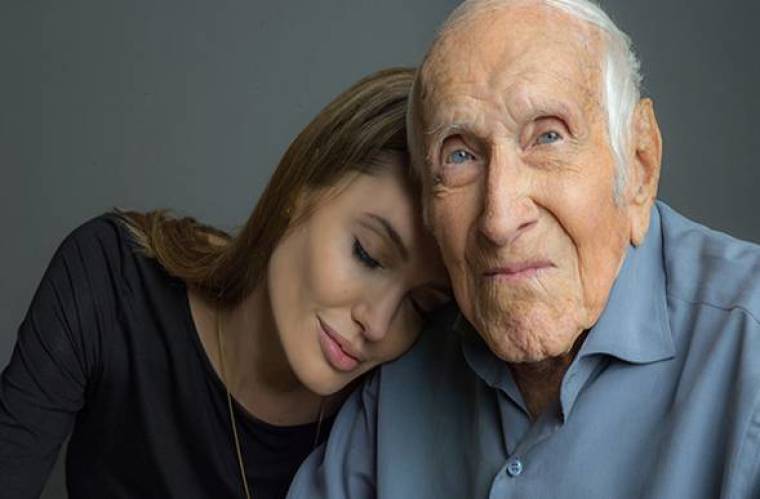 World War II Hero Louis Zamperini wanted Angelina Jolie's "Unbroken" to reach everyone and not just Christians, as he hoped that ultimately his remarkable life story would deliver the message of Christ to people of all faiths.
The forthcoming film, slated for release in the U.S. on Christmas Day, is a war drama about the late Zamperini's phenomenal journey as an Olympian runner-turned-American World War II prisoner of war survivor. It is based on Laura Hillenbrand's best-selling book Unbroken: A World War II Story of Survival, Resilience, and Redemption.
"He had a very specific philosophy about this film. If Jesus Christ came up in the film, if that was the message specifically, that it would be a film made for Christians and other people may not want to see it if they're not ready to have that message," Zamperini's daughter Cynthia Garris said at a press conference in New York last week.
"So his philosophy was he wanted as many people to come and see the movie as possible," she said. "If they wanted to know more about how he got through it, how he survived it they can investigate into his faith further. He never wanted to preach at them, he wanted to live the example."
Zamperini's unlikely bond with Jolie inspired the Hollywood actress to direct a film about his life, however; in "Unbroken" the faith and forgiveness themes are not specific to Christianity. According to Jolie, it was the war hero's request that these themes be universal.
"We made it universal, not specific to one faith, and that was something that was agreed upon with Louie," Jolie said at a press conference recently. "He said he wanted the message to reach everyone … he said this is about reaching everyone and this should speak to everyone."
Zamperini, who died of pneumonia at age 97 on July 2, survived a number of horrendous ordeals throughout his life, including surviving in a raft in the Pacific Ocean for 47 days after a near-fatal plane crash. He also endured unspeakable torture at the hands of the Japanese navy after being sent to a P.O.W. camp.
With the help of his faith, the born-again Christian was able to overcome PTSD and eventually extend forgiveness to his Japanese captors.
"My father was such a wonderful example to me when I was a child and I became a Christian as a child just by listening to his stories and asking him questions about the Bible. He just stayed so true to his faith, unwavering until the moment he died and went to glory," Garris said.
It was after reluctantly attending a crusade led by evangelist Billy Graham in 1949 that Zamperini began his Christian walk.
"Billy meant a whole lot to my Dad because it was when he met Billy Graham and heard him speak that his life had really changed for the better," said Zamperini's son Luke. "Billy introduced my father to his Lord and Savior Jesus Christ and that is what turned my father's life around finally and completely to a life of service and turned him into the happy, joyful person he was after going through the Post Traumatic Stress Disorder that he went through during and after WWII."