Christian Woman Beaten, Bloodied, Chased Out by Hindu Attackers; Vows to Return With Gospel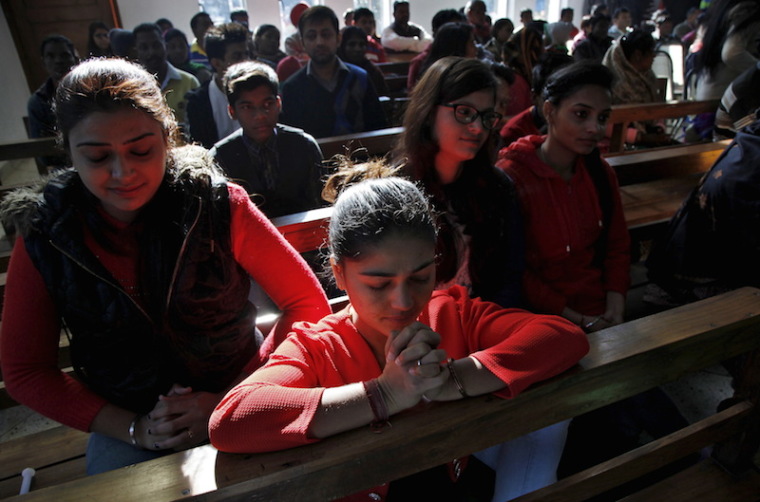 A 22-year-old Bible school student from India shared details of a violent attack where she and her mother were dragged and beaten by fellow villagers for their faith. 
Bahia told persecution watchdog group Open Doors USA, whose ministry partners have been assisting her, that she had been a Christian for almost seven years.
Despite heavy pressure to convert back to Hinduism, she refused to do so, even though a number of family members gave in.
She described one incident where Hindu hardliners chased her across a bridge, and after she fell and lost consciousness, they dragged her from the stream below and began beating her.
The anger apparently stemmed from an incident where a woman in the village passed away, and for an unexplained reason the Christians were blamed for it and chased out.
"We were verbally abused, and the leaders of our village held a lot of meetings about us. But we didn't see the violence coming. It was one week after we had returned to the village. It happened so suddenly," Bahia recalled.
During the assault, she said that she held on to her Bible as men and women beat her with their hands.
When she asked them why they were beating her her, the attackers said:
"You are a Christian! You have to go. This is not your home."
The young woman was beaten so badly that she started to bleed, and even though she held on to the Bible and protected it for as long as she could, one of the attackers finally pulled it away from her, vowing to burn the holy book.
"They dragged her away. While they pulled her through the village, a picture surfaced in her mind: an image of Jesus being pushed and kicked towards Calvary," Open Doors wrote, describing the incident.
Bahia later woke up in the forest after she regained consciousness to find that her mother, one of the other 20 Christians in the village, had also been beaten, but had managed to bring her to safety.
She said that the Christians contacted the police over the incident, but were simply told they should try to live in peace with the Hindus.
Bahia revealed that she and the other believers that were chased returned to the village, only to be called to a meeting a few days later.
"We refused to give up our faith, which made them very angry," Bahia said of the attackers.
"They became aggressive because we were so persistent in following Jesus. They told us to leave the village, saying: 'Christians belong to foreign countries.'"
Bahia later decided to leave her village, and enrolled at a Bible school.
"Why? Because when they threw us out of the village, they threatened to rape or kill me if I returned. The situation in the village still hasn't been resolved. I want to spend more time learning about God so that one day I can return with the Gospel. That's the promise I made to my mother," the woman revealed.
"It's my deep desire to share God's word. I want to tell everyone that Jesus didn't just die for foreigners. He died for everyone. That's my message to the people in my village, to the people in India and people outside of our country."
Attacks on Christians in India have been ongoing for years, especially in villages and rural areas where they are offered little police protection and are targeted by Hindu radicals.
In March, a Christian pastor was forced to flee for his life in the village of Kondri, Madhya Pradesh state, after attackers beat churchgoers at his house church in the middle of prayers, and vowed to burn down his home.
"It was a horrible scene in the house church," recalled 26-year-old pastor Chensingh Vasunia. "An aggressive mob of Hindu radicals forced themselves into the house where we were praying. They started to beat everyone."
"The situation turned uncontrollable. Blood spilled all over the little room in a dim light."