Christians Buy $30,000 Menorah as a Gift for Dutch Jews in Support of Israel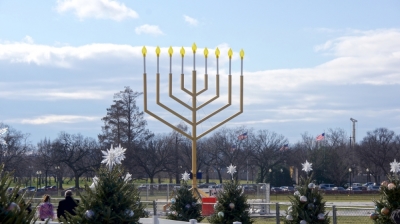 Dutch Christian Zionists have spent over $30,000 to build a menorah as a Hanukkah gift to the Netherlands' Jews.
The Dutch chapter of Christians for Israel (CI), an international organization whose vision is "to establish a global network of Christians having local impact, for the blessing of the nation of Israel, the Jewish people and the church," is paying for the menorah, which they claim will be Europe's largest and will be placed near its offices in Nijkerk.
"We think that this is a good way to show our support and solidarity for the Jewish community worldwide," Sara van Oordt, a CI spokesperson, told JTA.
The structure is 36 feet tall, shaped like the Star of David and made out of metal. Arjen Lont, a Christian Zionist, is supervising the construction firm that has been commissioned to make it. The company has also sponsored part of its cost.
Van Oordt said that part CI's menorah fundraising strategy meant ensuring that no Jews paid for its construction.
"We did not approach Jewish or Israeli businesses and donors, only Christian ones, because this is supposed to be our gift to the Jewish people," she said.
Binyomin Jacobs, a prominent rabbi in the country, who has won awards for his interfaith work, will light the first candle of Hanukkah in a public ceremony on the eve of the holiday on Nov. 27. Jacobs said that the giant menorahs that are present in 18 of the country's cities like Amsterdam, the Hague, Maastricht, and Rotterdam, are symbols of the presence of the Dutch Jewish community, one that lost 100,000 of its population during the Holocaust.
"Not everyone was enthusiastic at first, but they kept popping up," he said. "It brings people who would not normally celebrate Hanukkah to partake and it shows the world in general that we, Jews, are also here and a part of this society."