Christians Clash With Jesus on Abortion, Gay Marriage, Survey Finds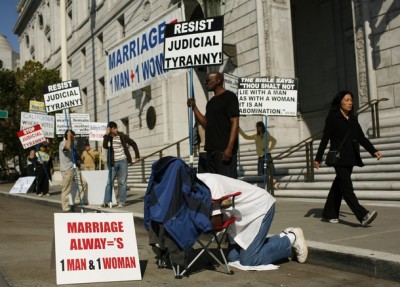 Conservative and liberal Christians say their own views on issues like abortion and same-sex marriage would differ greatly from Jesus if he were walking among them today, according to a recent survey. In addition, respondents believe that Jesus would be more compassionate than they are toward undocumented immigrants and the poor. 
In a survey published Monday in the Proceedings of the National Academy of Sciences of the United States of America (PNAS), 787 respondents who identify as Christian were asked to use a 100-point scale ranging from liberal to conservative and to identify where on the scale they believe "a contemporary Jesus" would fall on certain issues. 
The study, authored by Lee D. Ross, a professor of psychology at Stanford University for more than 30 years, apparently shows how people's political views are often separated from the teachings of their faith. 
From a pool of 1,256 survey takers, Ross and his fellow researchers chose to focus on the 787 respondents who identified as Christian. Ross removed those who fell in-between or viewed Fox News as more liberal than CNN, according to HealthDay. 
Both liberal and conservative Christians expressed the opinion that Jesus' views on morality-related issues — such as abortion and same-sex marriage — would be stricter than theirs. Conservatives believed, however, that Jesus would be more open to fellowship issues — such as taxation to reduce economic inequality and the treatment of immigrants. 
Both groups appeared to believe that the issues most important to them, would also be of the same importance to Jesus.
According to Ross, the survey reveals that discrepancies between one's political views and religious teachings are "handled" in part by the individual holding a different interpretation of the actual teachings — with liberals finding it difficult to reconcile their views with teachings of the Old Testament; for conservatives, the New Testament teachings often clash with their political views. 
"Liberals are conceding that they're deviating from Jesus on their views on moral issues and conservatives are conceding that they are deviating from Jesus on fellowship issues," Ross told Bloomberg news. "They differed almost as much in Jesus's views as their own."
As for conservatives, "There is a reality that conservatives are more religious than liberals. It's more important for them to reconcile their views with their religion," Ross said. 
 According to a 2011 poll from the Public Religion Research Institute, more than 72 percent of Americans believe it is possible to disagree with the teachings of their religion on abortion and "still be considered a person of good standing in their faith." The survey noted that members of most major religious groups, including Catholics and white Evangelical Protestants, believe that such a dissonance is possible.