Christians 'Declining Sharply' in America; Unaffiliated Rising, Now Hold Greater Population Share Than Catholics, Pew Study Reveals
;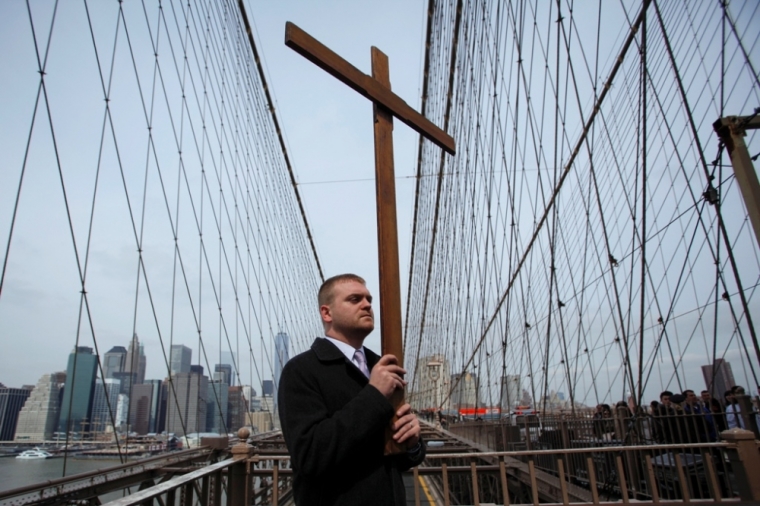 An extensive study by the Pew Research Center has revealed that Christians are declining sharply in America in terms of population share, while the religiously unaffiliated are rising, and now make up a larger share than American Catholics. The rise of religious intermarriages was one trend linked to the growth of the unaffiliated.
The report, which was released on Tuesday, stated: "The drop in the Christian share of the population has been driven mainly by declines among mainline Protestants and Catholics. Each of those large religious traditions has shrunk by approximately 3 percentage points since 2007. The evangelical Protestant share of the U.S. population also has dipped, but at a slower rate, falling by about 1 percentage point since 2007."
Christians remain the largest religious group in America, but their share of the population fell from 78.4 to 70 percent between 2007 to 2014, Pew noted.
Among denominational groups, evangelical Protestants fell from 26.3 to 25.4 percent in the same time period, Catholics fell from 23.9 to 20.8 percent, while Mainline Protestant's declined from 18.1 to 14.7 percent.
The only Christian groups to register minimal growth at 0.1 percent were Jehovah's Witness, at 0.8 percent of the population, and those in the "Other Christian" category, at 0.4 percent.
Pew said that the rise in religious intermarriages appears to be linked with the growth of the religiously unaffiliated, and said that nearly four-in-10 or 39 percent of Americans who have gotten married since 2010 have said that they are in religiously mixed marriages — by comparison, that number was only 19 percent before 1960.
"Nearly one-in-five people surveyed who got married since 2010 are either religiously unaffiliated respondents who married a Christian spouse or Christians who married an unaffiliated spouse," the report revealed.
People without a religious affiliation increased from 16.1 percent in 2007 to 22.8 percent in 2014, as did people from non-Christians faiths, from 4.7 percent to 5.9.
Atheists nearly doubled among the religiously unaffiliated, and went from 1.6 to 3.1 percent of the total population in 2014. Agnostics rose from 2.4 to 4 percent, though most people in the unaffiliated category, or 15.8 percent, said that they were "Nothing in particular."
Among the non-Christian faiths, Muslims more than doubled in numbers since 2007, but still made up only 0.9 percent of the population in 2014.
Despite the decline, American Christians registered increasing racial and ethnic diversity, however, paralleling the U.S. population as a whole. As much as 41 percent of all American Catholics are now racial and ethic minorities, as are 24 percent of evangelical Protestants and 14 percent of mainline Protestants.
The survey interviewed 35,071 adults by phone from June 4 through Sept. 30, 2014, and said that it has a sampling error of plus or minus 0.6 percentage points.
In another report in April, Pew predicted that Christians in the U.S. will decline to two-third of the population by 2025, while Muslims will come close to equaling the number of Christians on a global basis.
The projections offered that the unaffiliated should make up close to 26 percent of the American population by the middle of the century, making America one of the countries with the largest non-religious populations in the world.