Mike Huckabee Insists America Is Not at War With Islam, but With 'Radical Islam' and 'Jihadism'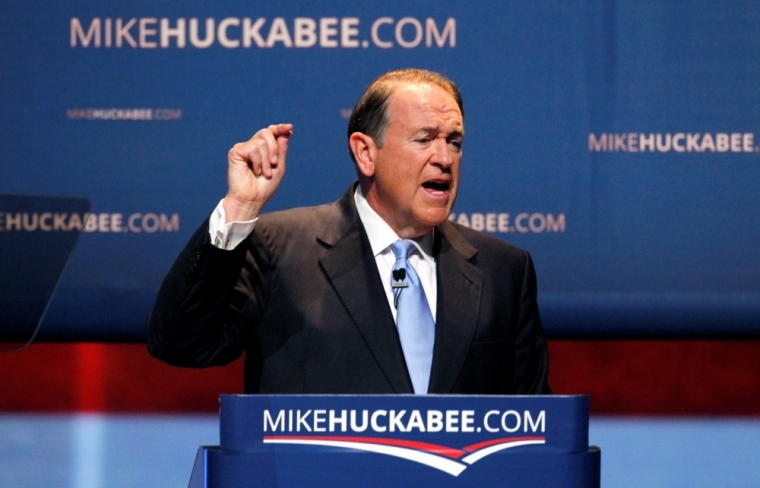 Former Arkansas governor and GOP presidential candidate Mike Huckabee has said that America is not at war with Islam, but with the radical aspects of the faith, and the jihadists willing to kill those who don't agree with them.
"We're not at war with Islam. We are at war with radical Islam. We are at war with jihadism, the people who believe that their purpose on Earth is to kill everybody who doesn't — who don't agree with them religiously," Huckabee told CBS News' Bob Schieffer in an interview on "Face the Nation" on Sunday.
"Yes, we are at war with that. And I think the sooner we come to grips with it and the sooner we realize that that level of religious fanaticism that is all about killing everybody, even other Muslims, the sooner we are going to be able to identify it, surround it, and, ultimately, defeat it."
Islamic militant group ISIS last week claimed responsibility for the first time ever for an attack on U.S. soil, when it said that it's soldiers carried out the shooting at a cartoon contest featuring images of the Muslim prophet Muhammad in Garland, Texas.
Although the two terror suspects who opened fire in Garland wounded a security guard but were shot dead before they could hurt others, militants on ISIS' Al Bayan radio station attempted to characterize the attack as successful.
"We say to the defenders of the cross, the U.S., that future attacks are going to be harsher and worse. The Islamic State soldiers will inflict harm on you with the grace of God. The future is just around the corner," the terror group warned.
"We tell America that what is coming is more bitter and harder and you will see from the soldiers of the Caliphate what harms you."
ISIS has beheaded a number of foreigners, including U.S. citizens, in its propaganda videos shot in Iraq and Syria, where it has established a stronghold in a number of cities, seeking to push forth its Islamic Caliphate.
President Barack Obama has also said, however, that the U.S. is not war with Islam itself, but with the radical elements behind it.
"Al-Qaeda and ISIL and groups like it are desperate for legitimacy. They try to portray themselves as religious leaders, holy warriors in defense of Islam. That's why ISIL presumes to declare itself the 'Islamic State,'" Obama said at a summit in February.
"There is no one profile of a violent extremist or terrorist. There is no way to predict who will become radicalized. We are not at war with Islam. We are at war with people who have perverted Islam," he added.
In his CBS interview, Huckabee also discussed plans for social security and Medicare, as he gears up for his candidacy run.
Huckabee, who is also a former Southern Baptist minister, announced last week that that he is tossing his hat in the 2016 presidential ring, and said that as part of his platform he will defend religious freedom in America.
"We have lost our way morally. We witness the slaughter of over 55 million babies in the name of choice and we are now threatening the foundation of religious liberty by criminalizing Christianity in demanding that we abandon biblical principles of natural marriage," the former Arkansas governor said at a speech at the University of Arkansas Community College campus.
"Many of our politicians have surrendered to the false god of judicial supremacy, which will allow black-robed, unelected judges the power to make law — as well as enforce it — upending the equality of our three branches of government as well as the separation of powers so very central to the Constitution. The Supreme Court is not the supreme being and they cannot overturn the laws of nature or of nature's God."