Christians, Muslims Unite to Fight Terror Group Boko Haram in Nigeria (VIDEO)
As Nigeria continues to deal with prolonged violence from terror sect Boko Haram, persecuted Christian and Muslim communities are beginning to work together to root out the terrorist group and curb its mounting influence and destruction in their country. 
Thousands of Christians and Muslims protected each other from possible terror attacks while taking prayer breaks during a protest of high fuel prices this weekend (as seen below).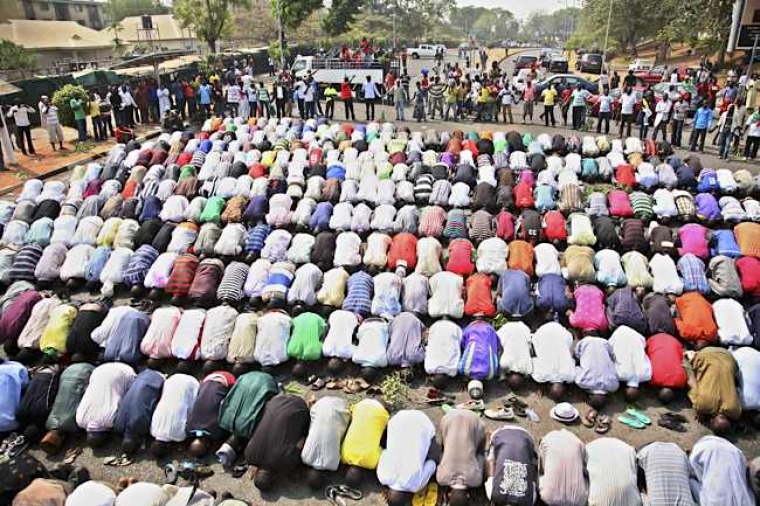 The unifying events at the protest coincide with a new initiative from the Nigerian Muslim group, Concerned Citizens of Kano State, that puts Muslims in Christian churches to ease any misdirected tensions between the two religious groups.
The group's coordinator, Bashir Is'haq Bashir, said the program seeks to eliminate the confusion that Boko Haram has created, while affirming that Muslim-Christian relations in the country have been – and can continue to be – strong.
"It is indeed known to all that Christians have wronged Muslims in Nigeria and also Muslims have wronged Christians, but this is not a time to apportion blames," Bashir told reporters. "This is a time for reconciliation and forgiveness; a time for us to join hands together for our common good in fighting our common enemies."
Fears of civil war escalated following Christmas Day violence last month. When Boko Haram killed dozens in attacks on churches throughout the country, several Christian groups responded with attacks on Muslim institutions.
Drawing the two sides into a civil war is exactly the chaos Boko Haram wants, experts say.
Jerry Dykstra, Media Relations Director at Open Doors USA, said Muslim and Christian cooperation, particularly between youths in both religions, is a good start to rooting out the violence, but that work needs to be done to fight the problem at its source.
"As far as Christians and Muslims working together, there has been increased tensions for Christians to take revenge, with attacks on houses and churches," Dykstra told The Christian Post. "The pastors there have tried to quiet that especially among the young people. Unfortunately, Christians have retaliated [to attacks]; I guess it's a matter of what would you do if your church was attacked and your family was murdered?"
Christians and Muslims Unite Against Boko Haram
Open Doors, a group that fights Christian persecution worldwide, listed Nigeria 13th on its list of nations in which Christians are most persecuted. A solution to the problem may start with Muslim-Christian cooperation, Dykstra says, but the sect won't be removed from the country until President Goodluck Jonathan's government takes greater control of the situation.
"I think Goodluck Jonathan is feeling the pressure and the heat and [Christians should] pray for him to make decisions so that this doesn't turn into a major civil war," Dykstra said.
Dykstra added that the successful eradication of Boko Haram in Nigeria will lead to greater security for Christians elsewhere, particularly in Africa.
"Boko Haram is fueled by other terrorist organizations in Africa," Dykstra said. "They know it's such a key spot in Africa for Christianity. I think Christians now are really frustrated that they're not getting protection from the government. They're worried there's no protection and the government and military is slow to react."
President Jonathan is facing two national crises as thousands continue to boycott high gas prices in Africa's oil rich and most populous nation.
The greatest threat to Nigerian security, however, is Boko Haram, whose attacks have killed hundreds of people over the last two years in its quest to implement Shariah law throughout Nigeria.
To date, Jonathan has deployed scores of troops throughout the country and introduced security measures in its major cities, but violence continues to affect many communities – particularly those in the north – where Boko Haram makes its headquarters.
Dykstra echoes the thoughts of many international advocacy groups who say the violence is likely to continue if immediate, significant action is not taken – whether that will actually happen is the source of some consternation.
"It's a tense situation and there's no easy answers," Dysktra said.