Chuck Norris Targets Obama for 'Religious Neutering;' Actor Dares President to Mention God This Thanksgiving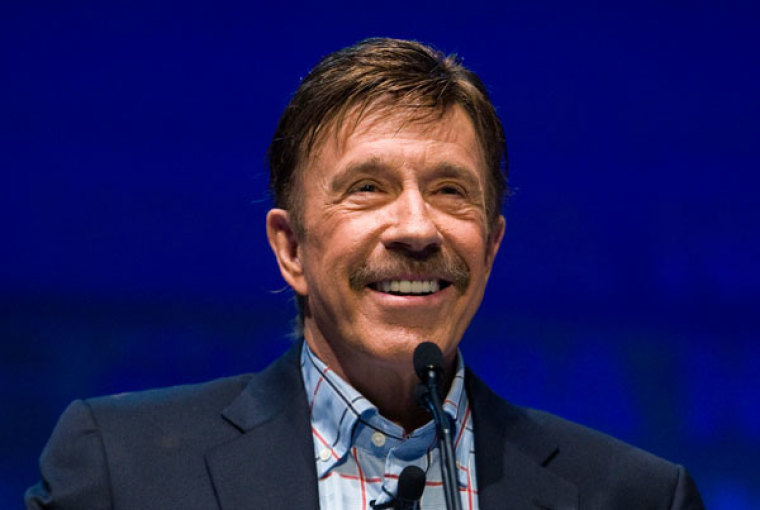 Days after Chuck Norris criticized Barack Obama in an op-ed entitled "Neutering Religious Holidays," the actor issued a "dare" to the Commander-in-Chief to cite his faith this Thanksgiving holiday.
Norris noted his fear that the United States is on "a slippery slope" toward religious intolerance in Tuesday's op-ed for Townhall after a Maryland school district erased all religious holidays from its calendar. Furthermore, "The Expendables 2" star alleged that Obama is "as silent as a church mouse" on issues relating to religious freedom.
"We haven't even hit Thanksgiving yet, and already the war on Christmas is underway," Norris penned in the op-ed for Townhall. "But does religious neutering accommodate diversity or merely endorse secular progressivism and political correctness as America's new religion?"
The famed martial artist went on to allege that President Obama is "as silent as a church mouse" when it comes to religious freedom.
"Where's our president when these Christian and Jewish references are being erased from civic calendars," Norris asked. "Is he crying out in defense of religious liberty and our First Amendment? Nope. He's as silent as a church mouse, just as he's been for the past six years on any such matter. And animosity toward religion continues to grow".
Two days later, Obama referred to the Bible in his executive order on immigration on Nov. 20. However, Norris returned with another op-ed on Sunday entitled "Obama vs. George Washington on Thanksgiving" in which he "dares the president to do 1 thing before holiday meal."
"For five years, the president has flunked Thanksgiving Day remembrance and proclamation," Norris penned after detailing Obama's Thanksgiving addresses of years past in WND. "Will he do so again in 2014?"
The "Walker, Texas Ranger" star went on to point out the religious significance of Thanksgiving, citing "the devoted Christian faith of the pilgrims and how they crossed the Atlantic clutching to their Geneva Bible."
Norris also recounted Thanksgiving addresses by both Presidents Washington and Lincoln before urging readers to "never forget there was once a time in the U.S. when people and even presidents weren't afraid to stand for traditional values and encourage others to do the same."
Finally, Norris called on Obama to center his Thanksgiving Day address on faith.
"If Obama is looking for a Thanksgiving address this Thursday to model, then I recommend he look no further than presidents George Washington or Abraham Lincoln," Norris wrote. "I dare him to cite them even in part."
Meanwhile, Norris' "Neutering Religious Holidays" focused on the Montgomery County School District's decision to remove all Christian and Jewish holidays from the calendar after facing pressure from Muslim groups to include Eid ul Fitr.