Church Accused of Canceling Woman's Funeral at the Last Minute Because She Was Gay
Lakewood Church New Hope Ministries Protested After Refusing to Show Image of Dead Woman and Wife
A Lakewood, Colorado, church declaring itself "a center of hope" has been accused of causing offense and an indignity by a deceased woman's family and friends for allegedly shutting her funeral down because she was a lesbian. However, a representative for New Hope Ministries, the church in question, insisted that the matter was "a misunderstanding."
"Everything's a big confusion," an unidentified woman who answered the phone at New Hope Ministries told The Christian Post Tuesday afternoon. Asked if the church's pastor, Ray Chavez, or another pastor was available to comment on the funeral fiasco, the receptionist told CP, "No."
New Hope Ministries states on its website that it is "a place where those bound by drugs, alcohol, gangs and violence can find an 'Ounce of Hope.'"
"We're a Center of Hope — with hands of Mercy," adds Pastor Chavez in his biographical page on the website.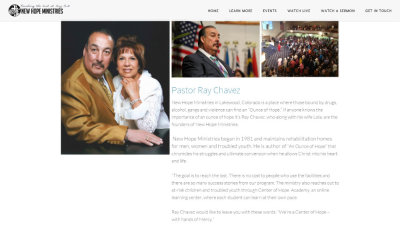 But the grieving kin of 33-year-old Vanessa Nicole Collier claim their hopes were dashed and that they found little mercy when, allegedly just 15 minutes into (or before, according to a local source) the funeral service and after an hour-long viewing had already taken place, Chavez delivered the devastating news. New Hope Ministries, while described by a local chaplain as welcoming of gays and lesbians, reportedly told Collier's kin that there could be no visible signs in the service that she was gay.
Collier, who may have committed suicide or accidentally shot herself while cleaning a gun on Dec. 29, is survived by two children and partner Christina Nicole Higley, according to her obituary. KUSA-TV in Denver reported that the service at New Hope Ministries was canceled because "the church would not allow a picture [included in a video] to be shown of Collier proposing to her wife." The church reportedly requested that the image be edited out of the video, but Collier's kin refused. They claim Pastor Chavez's demand came on the day of the funeral, instead of days prior when the tape was delivered to church officials.
While the New Hope Ministries receptionist told CP that Collier's kin "chose to go to another place," that "it was their decision to do so," and that Pastor Chavez had nothing to do with the deceased woman's funeral, those whom Collier left behind maintain that they were forced to mourn elsewhere, despite having already paid a rental fee to use the church.
Chaplain Gary Rolando, who eventually presided over Collier's funeral at Newcomer Funeral Homes and Crematory, described New Hope Ministries as community-oriented and told KUSA-TV that its leadership requests that "alternative lifestyles be censored in the church."
Rolando said that Collier's family refused to comply with New Hope Ministries' "alternative lifestyles" stance. So the mourners, reportedly all 170 of them, packed up their "programs, flowers and eventually the dead woman's casket itself," the Denver Post reported, and went directly across the street to the funeral home and crematory.
David Campanella, area manager for Newcomers Funeral Homes and Crematory in Lakewood, confirmed with CP that Collier's service on Saturday was carried out there after her kin left New Hope Ministries.
"All I can say is that New Hope Ministries did state that certain events were not allowed to take place even though that they were just facilitating the building," Campanella explained to CP. "And at that time the family decided that there were certain things [they] were wanting to take place for their service, so we decided to accommodate the family and bring the service to our facility across the street."
He added, "The service was conducted at our funeral home so that the family could have the service they wished."
Mourning has turned into outcry, however, as Collier's friends and family returned to the church Tuesday afternoon, with placards and demands for an apology, and reportedly a refund.
CP's call to New Hope Ministries was made as the protest unfolded outside of the church, and while no representatives were on hand to comment, security guards were noticeably present, reporter Jesse A. Paul. Paul, who shared live updates of the protest via Twitter, reported for DenverPost.com:
"About four dozen supporters gathered outside of the church on Tuesday afternoon in protest, chanting 'Give us an apology!' and 'Shame on Pastor Ray!' Security guards were stationed in front of the building to ensure none of the marchers made their way onto the property."
The report noted that one sign spotted at the protest read: "You will not find Jesus at New Hope but you will find hypocrisy."
"It's about understanding that there should be dignity in death and that everybody deserves the right to be celebrated in the right way. And that lack of oversight, and lack of personal ideals and values, should never trump being able to celebrate someone's life," Jose Silva, a friend of Collier's, told KUSA-TV during Tuesday's protest.
Silva, who is also gay, insisted that because New Hope Ministries receives public funding for a school and rehabilitation center, its leadership's "personal values and beliefs go out the window." He cited "separation of church and state" as justification for his view.
Chaplain Rolando reportedly was of the opinion that Collier's supporters were using the funeral fiasco to advocate an agenda.
"My prayer is the same as that of New Hope Ministry and Newcomer Mortuary: That the Collier family will be able to move forward from here in healing and peace," Rolando told the TV news station.
KUSA-TV captured a brief clash of opinions between Collier's friend Silva and a passer-by in a truck seemingly defending New Hope Ministries' decision to censor the deceased woman's memorial video.