California church denies working with gov't officials to surveil lockdown-defying Calvary Chapel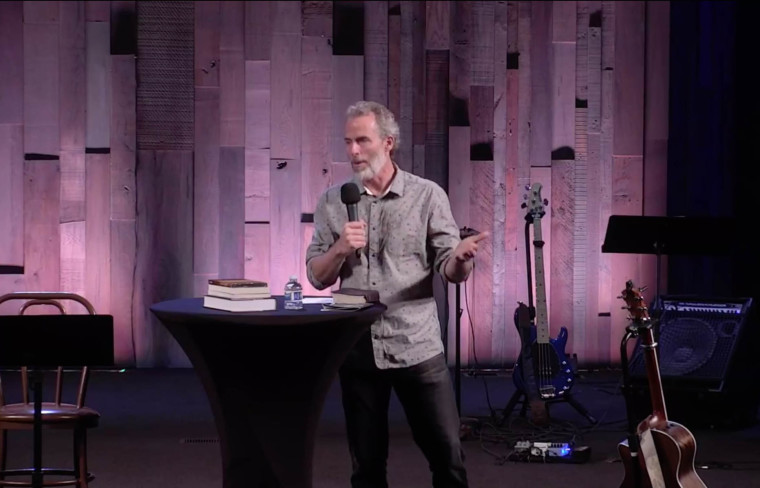 A Silicon Valley church is denying any assertion that it worked in tandem with county officials to spy on a neighboring Calvary Chapel church that defied lockdown orders during the COVID-19 pandemic.
According to court documents obtained by investigative journalist David Zweig, enforcement officers with Santa Clara County began spying on the congregation at Calvary Chapel San Jose and reported intimate details about their worship, prayer and other church meetings after Pastor Mike McClure defied social distancing orders and reopened the church.
At the height of the pandemic, the church — now known as Calvary Christian Fellowship (CCF) — and McClure were held in contempt and fined for violating a temporary restraining order and preliminary injunction for holding in-person worship services in 2020 and 2021.
After CCF and McClure ignored the county's cease-and-desist letters for defying several state and county guidelines on indoor gatherings, officers with the county's Business Compliance Unit reported "observing at least 100 unmasked people gathered inside, not distancing, and with some of them singing."
Beginning in August 2020, the surveillance operation included "stakeouts, forced in-person monitoring of prayer groups and other intimate activities, and tracking the cellular mobility data of churchgoers," according to Zweig.
After an initial visit to the church on Aug. 23, compliance officers attended and left a service to write up a citation for CCF for violating masking, distancing and other guidelines. Upon returning to deliver the citation, the officers were instructed to leave the property and were prevented from returning on subsequent visits, according to documents.
The county's compliance unit, the documents allege, made a deal with an adjacent church to use their location as a base camp to surveil CCF. That location has been identified as Central Church of Christ, located in a lot just north of CCF. 
From that adjacent location, county officers frequently worked in pairs and were able to conduct multiple stakeouts and observe CCF staff and attendees "by peering at them through a chainlink fence from the adjacent property," according to the report.
On one occasion, officers watched as "greeters welcomed attendees into the building" and noted, "members of the public entering the church were not wearing face coverings, and none of the greeters were wearing face coverings."
The report also noted volunteers directing traffic while unmasked, and even acts of affection among the congregation were jotted down.
"None of these traffic directors or greeters wore face coverings, and both [enforcement officers] ... witnessed some greeters hug congregants, who also were not wearing face coverings, as they arrived."
Alexander Tullis, minister at Central Church of Christ, told The Christian Post that while court documents "seem to suggest" the church was working with Santa Clara County, that's not the whole story.
"While certain members, even in leadership, may have individually allowed this to take place unofficially, I and the rest of leadership came together soon after and officially asked such surveillances be stopped immediately," Tullis said.
The county complied with the request in October 2020 and ceased all surveillance activity from the location.
Tullis, however, denied the assertion that Central Church of Christ was "willingly working in tandem with the county."
"Any suggestion that we were somehow willingly working in tandem with the county for the purposes of observing Calvary Chapel are false," he added.
Officers also watched livestream services on YouTube, where people were observed "singing and playing instruments without face coverings."
The report also noted the Santa Clara County health department used geo-tracking data firm SafeGraph, which aggregates data on a reported 47 million mobile devices across the U.S. 
Using data on points of interest — what the firm calls POIs — county officials were able "to track how many people were attending Calvary Chapel on any given day" by setting a virtual boundary, or geofence, around the CCF property, according to documents cited by Zweig.
Neither Santa Clara County nor CCF responded to CP's request for comment.
Last August, a three-judge panel on California's 6th District Court of Appeals ruled CCF does not have to pay over $200,000 in fines for violating gathering restrictions during the COVID-19 pandemic.
The panel reversed a Dec. 17, 2020, order requiring the church to pay $33,000 for violating Santa Clara County's Nov. 2, 2020, restraining order forbidding the church from holding indoor gatherings with more than 100 people.
The restraining order was issued after the church failed to abide by guidelines on Oct. 13 of that year.
The guidance exempted secular establishments such as schools, train stations, airports, medical facilities, stores and restaurants from the new requirements.
The court decision also reversed an additional $22,000 in fines imposed on the church for violating the Nov. 2, 2020, restraining order and a Feb. 16, 2021, order of contempt imposing monetary sanctions on the church and its pastors totaling nearly $200,000. 
The panel decision repeatedly cited U.S. Supreme Court rulings when justifying the decision to reverse the fines imposed on Calvary Chapel.