City Refuses to Let Church Allow Homeless to Park, Sleep on Property in Calif.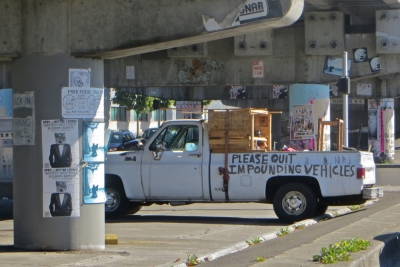 A California church has argued that its religious freedom is being restricted as city officials attempt to ban a program that allows the homeless to park and sleep in their cars on church property.
This is the second time that Vista-based Cornerstone Church has allowed the nonprofit, Dreams for Change, to operate its program in their parking lot. An earlier effort a year ago was halted when the city said the program was illegal and fined the organization.
The city has argued that the Safe Parking Program violates zoning laws for the church site. Vista's Assistant City Attorney, Jonathan Stone, told the church in a letter last week that it is not authorized to operate an emergency shelter. Further, he asserted, that despite Cornerstone Church's allegations that its religious freedom is being infringed upon, there is legal precedent where churches have had to follow municipal zoning regulations.
Stone also argued that the church could assist the homeless in other ways beyond providing them with a safe place to sleep at night.
Vista city officials did not approve a special-use permit last year that the church applied for when the program was first shutdown.
After the initial shutdown, the church contacted Dreams for Change in response to people coming to the church, seeking a place to safely park their cars and sleep, Dreams for Change CEO Teresa Smith said.
The program allows homeless car owners to park their cars in the lot from 6 p.m. to 6 a.m.
"We…believe an individual's vehicle is often times their last asset. We see the value of this asset which allows them to continue to access resources, look for employment and get to and from school. A loss of their vehicle is seen as one of the final step to chronic homelessness; thus we focus on stopping the downward spiral of homeless and bring stability to families and individuals," states the Dreams of Change website.
"It's the difference between getting a good sleep and going to look for a job or not sleep and not look for a job," Smith told U-T San Diego.
Dreams for Change also operates sites in nearby San Diego and Chula Vista and is available and open to car owners every day of the year.
The program has tried to be considerate and responsive to the requests of the residents living near the church. After some of the church's neighbors complained to the city about participants walking around, the program asked participants not to leave the property while their cars are parked, and individuals then reportedly restricted their walks to the church property. Drug and alcohol users are also prohibited from taking part in the program.
Neither Teresa Smith from Dreams for Change, nor Cornerstone Church pastor Ed Garcia, were immediately available to respond to CP's attempts to contact them.