Cody Coots, Son of 'Snake Salvation' Pastor Jamie Coots, Says Rattlesnake That Killed Father Will Be Back in Church Saturday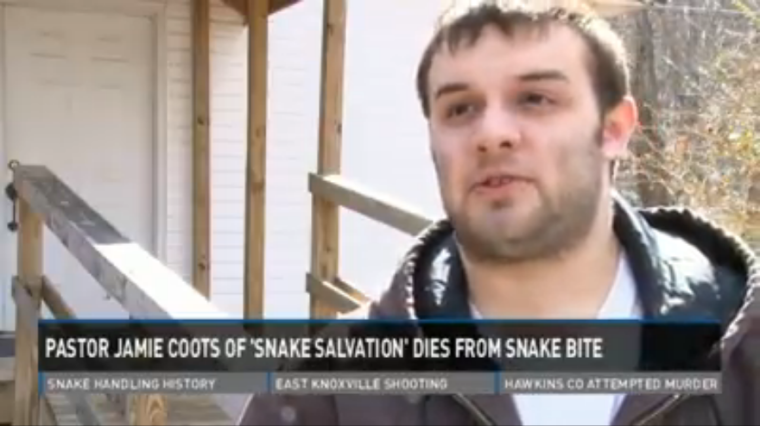 The deadly rattlesnake that delivered the fatal bite to "Snake Salvation" pastor Jamie Coots in Middlesboro, Ky., last Saturday will be back in church to help praise the Lord in another heart-pounding service this Saturday, according to his son, Cody Coots.
Cody, 21, who will be burying his serpent-handling father on Tuesday night, told TMZ that the snake will not be killed. His father's death, he says, was "God's way" of taking him home, and his family will embrace the deadly rattlesnake that delivered his death sentence at the Full Gospel Tabernacle in Jesus Name church in Middlesboro again this Saturday.
"It was God saying, this is how you wanted it, and it's your time to go. ... If he didn't plan [to die this way] he would have stayed alive," Cody reportedly told TMZ.
He explained that the surviving family members still believe in God's power to protect them from snake venom despite his father's death.
Cody, who has assumed leadership of the deadly religious club, says death by a snakebite is a much better way to go than by a stroke or car accident.
Middlesboro Police Chief Jeff Sharpe told WBIR that pastor Jamie Coots died at his home at about 10 p.m. last Saturday after refusing medical help after he was bitten by the rattlesnake during a church service.
Cody Winn, a preacher who said he was right next to Coots when the snake bit him during the service, said it happened very quickly.
"Jamie went across the floor. He had one of the rattlers in his hand, he came over and he was standing beside me. It was in plain view. It just turned its head and bit him in the back of the hand, within a second," Winn said.
Coots reportedly dropped the snakes, but then picked them up again and completed the service. A few minutes later, the serpent-handling preacher, his son and Andrew Hamblen went to the bathroom.
"Andrew said he looked at him and said 'sweet Jesus' and it was over," said Winn.
In that report, Cody highlighted that his father had been bitten eight times before and survived. They were expecting the same results this time around.
"We're going to go home, he's going to lay on the couch, he's going to hurt, he's going to pray for a while and he's going to get better. That's what happened every other time, except this time was just so quick and it was crazy, it was really crazy," said Cody Coots.
Meanwhile, supporters of the family are now trying to raise $5,000 through a gofundme campaign to help with the dead Coots' funeral expenses. He died without any life insurance.