Colin Kaepernick Gets Death Threats, Says Terence Crutcher's Death 'Perfect Example' of Point He's Trying to Make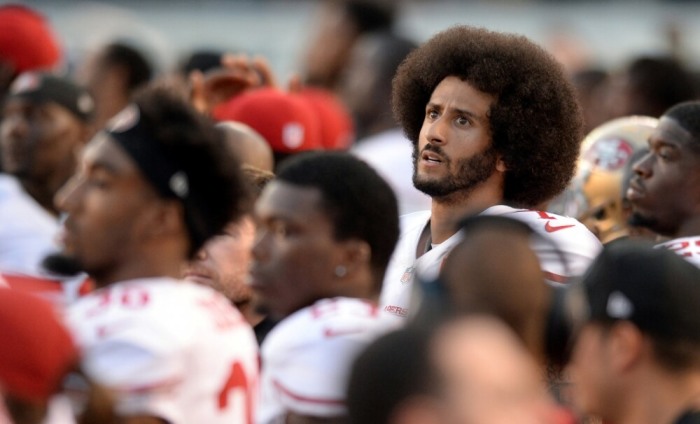 San Francisco 49ers quarterback Colin Kaepernick revealed Tuesday that he has been getting death threats for refusing to stand for the national anthem in protest of racial inequality and unfair treatment of minorities by law enforcement.
He also said the recent death of Terence Crutcher, 40, is a "perfect example" of the point he is trying to make. Crutcher was shot dead last Friday in a controversial encounter with Tulsa police officer Betty Shelby after his SUV broke down in the middle of the street.
"This is a perfect example of what this is about," Kaepernick told The Mercury News on Tuesday. "It will be very telling about what happens to the officer that killed him."
"It's very interesting to me how the situation that happened (Friday), they shot and killed a man and walked around like he wasn't a human being," Kaepernick continued.
"People are getting killed and not being treated as human beings. No one went and checked on him, no one tried to resuscitate him, nothing. They walked around, went about their business and made up lies to cover up their murder that they just committed. That's not right, and they should be in prison."
Tulsa police initially told The Associated Press that Terence Crutcher died in the hospital Friday evening after he was shot once. They explained that two officers found him standing by his broken down SUV in the middle of the road. Police then said he refused commands to raise his hands as he approached officers and reached into the vehicle instead, prompting one officer to fire a Taser and another to fire a single round.
Footage released from police dashboard cameras, as well as footage from a police helicopter, show Crutcher had his hands up and was unarmed when he was Tasered and shot.
At a press conference Tuesday afternoon, well-known civil rights lawyer Benjamin Crump also charged that Crutcher could not have reached into his SUV at the time of the shooting because enhanced photos from police video taken of the scene show that his window was rolled up, according to The Denver Post.
Kaepernick has endured withering criticism and called unpatriotic for not standing for the national anthem to protest racism this season and told The Mercury News on Tuesday that some of the criticism is now coming in the form of death threats.
"I've had a few come my way, but not too concerned about it," Kaepernick said, noting that they have come through a "couple different avenues."
He said he has chosen not to report the threats to his security team so far and said if someone were to try to make good on one of those threats they would only be proving his point even further.
"To me, if something like that were to happen, you've proved my point and it will be loud and clear for everyone why it happened, and that would move this movement forward at a greater speed than what it is even now," said Kaepernick.
"Granted, it's not how I want it to happen, but that's the realization of what could happen. I knew there were other things that came along with this when I first stood up and spoke about it. It's not something I haven't thought about," he added.
Kaepernick also explained that he will be following through on a $1 million pledge to support underserved communities by awarding $100,000 monthly over the next 10 months to programs he's reviewing.
The public, he said, will be able to track his contributions through a website he's building.
"You'll be able to track it so everyone can see exactly what organizations the money is going to, and making sure that we get an itemized list from these organizations as to what they're spending the money on to make sure that I'm not only transparent with what I'm doing, but these organizations are transparent about where this money is going as well," he said.