Donald Trump to Hold 'Town Hall' Addressing African-American Concerns on Heels of Fatal Police Shooting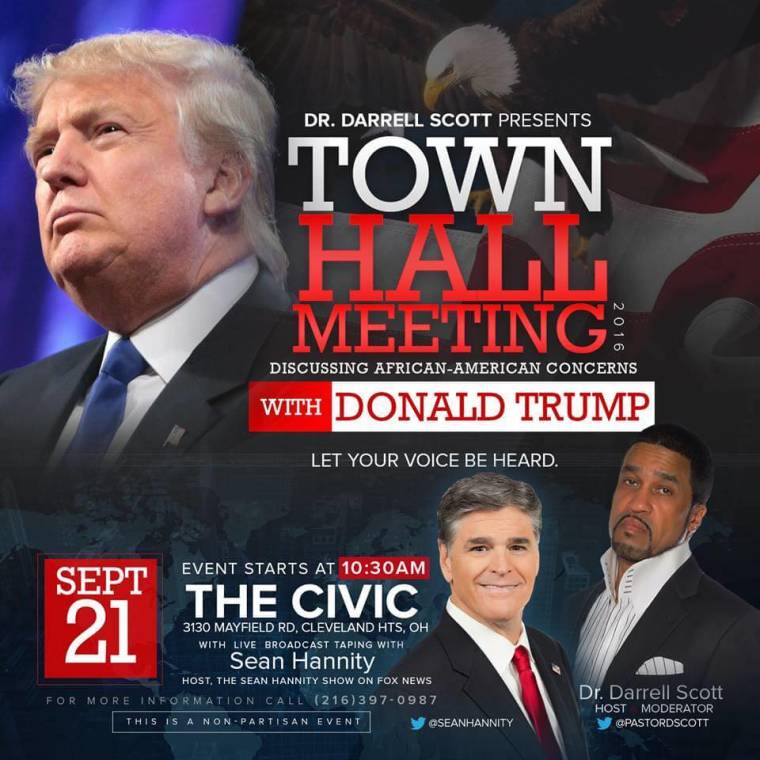 Republican presidential nominee Donald Trump is expected to address concerns of the African-Americans in a "town hall" style event at a Cleveland church Wednesday on the heels of the fatal police shooting of Tulsa father Terence Crutcher, 40.
The event will be held at the New Spirit Revival Center church in Cleveland Heights which is pastored by vocal Trump surrogate Rev. Darrell Scott, who is also CEO of the National Diversity Coalition for Trump.
The town hall meeting is advertised along with a "Midwest Values and Vision Pastors Leadership Conference" with Trump.
Scott told WKYC that Trump "will meet with a large statewide group of pastors from 9 a.m. to 10 a.m."
The "town hall meeting on African-American concerns," scheduled to begin at 10:30 a.m., will be recorded for a segment of The Sean Hannity Show.
A Fox News spokeswoman told Cleveland.com that the meeting, which will be covered exclusively by Fox News, will air on Hannity's 10 p.m. show on Wednesday night.
Trump's move to address African American concerns comes on the heels of the recent controversial police shooting of Terence Crutcher, who authorities say was unarmed and trying to get help with his stalled SUV when he was shot.
The town hall with African Americans also comes as a New York Times report citing skepticism among young blacks about the Democratic presidential nominee Hillary Clinton.
According to The Times, four focus groups conducted in Cleveland and Jacksonville, Florida for the service employees union, a joint "super PAC" between organized labor and the billionaire environmentalist Tom Steyer, and a progressive group called Project New America showed that young African-Americans are not happy with the Democratic nominee.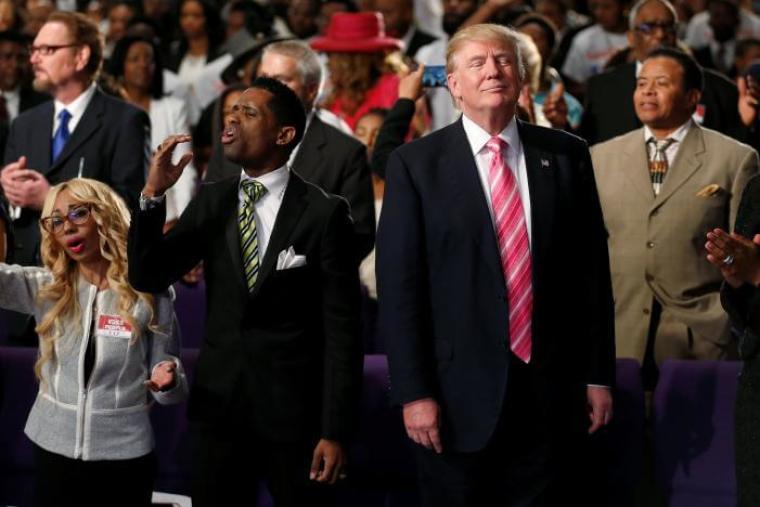 "Young people feel discouraged and apprehensive about the political process as is, and then they look at the two options in front of us … Nobody has seen an agenda for African-American millennials. I don't think they believe she cares about them," Christopher Prudhome, 31, told the Times.
In Florida, Ohio, Pennsylvania and Virginia, the Times explained, 70 percent of African Americans under 35 said they were backing Clinton, 8 percent showed support for Republican presidential candidate Donald Trump and 18 percent said they were backing another candidate or did not know whom they would support.
President Barack Obama on the other hand won 92 percent of black voters under 45 nationally in 2012, according to exit polling.
Liberal operatives and advocacy groups see this apathy as a cause of concern as black turnout hurt Democratic candidates in the last two midterm elections, the Times said.
"There is no Democratic majority without these voters," Cornell Belcher, a Democratic pollster told the Times. "The danger is that if you don't get these voters out, you've got the 2004 John Kerry electorate again."
Rev. Jawanza Colvin, a prominent Cleveland minister who hosted Democrats Hillary Clinton and Bernie Sanders at his Olivet Institutional Baptist Church last March but unsuccessfully invited Republican Ohio Gov. John Kasich and former Florida Gov. Jeb Bush to appear, said he does not know which clergy might be attending the meeting with Trump according to Cleveland.com.
"I will be interested to know who attends," he said. "At this point, I think he [Trump] has made himself very clear about where [he] is, what he stands for and whom he'll be standing with," Colvin said.
The report further noted that Trump has made almost weekly appearances in Northeast Ohio over the past month, and last visited Cleveland on Sept. 8, when he delivered a policy speech promoting an expansion of "school choice" at a charter school in a predominantly African-American neighborhood.
Like other Republicans before him, Trump has argued that urban minorities have been let down by Democratic policies and presents himself as an alternative.
Some groups have been hostile to attempts made by the billionaire nominee to woo African-Americans.
According to Click on Detroit, Marc d'Andre of 7 Mile Radio recorded New Era Detroit, a group which aims to restore unity in black communities, protesting during weekend services at Great Faith Ministries on Grand River Avenue in Detroit because they disagreed with Bishop Wayne T. Jackson's decision to allow Trump to address his congregation on Sept. 3.
"I got word that New Era Detroit was going to be at the church where Donald Trump spoke and I just saw a funnel cloud in the air," said d'Andre, who was eventually pushed out of the church by Jackson's security team.
"He jumped up with dark glasses and a cane and said, 'Power to the people' and my security took him out," Jackson said. "You're not going to come into God's house and (do that). This is a place of worship."
Jackson said the church has gotten hate mail and threats since Trump visited and noted that he was not a fan of the protest group.
"Look at their track record," Jackson said. "They have a bunch of drug users and drug pushers. If you don't like Donald Trump, that's your problem. Trump has every right to worship here, like anyone else."