Hillary Clinton to Address Largest Black Christian Convention Thursday Amid Criticism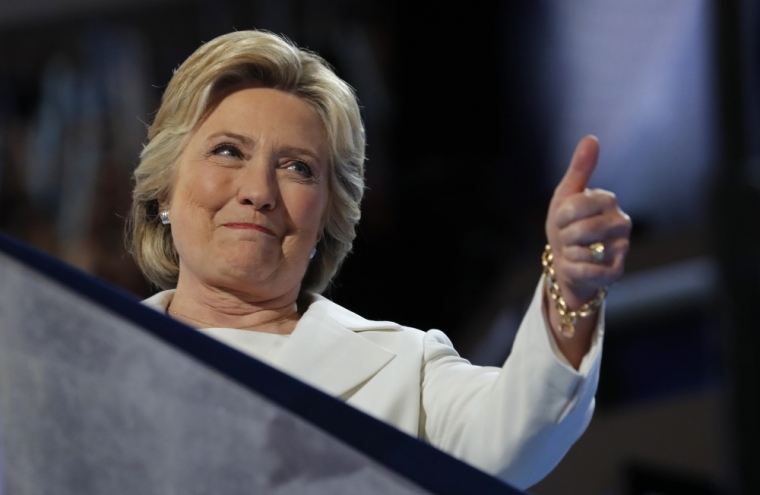 Democratic presidential nominee Hillary Clinton is set to address the largest African-American religious convention Thursday as a growing number of blacks voice skepticism over her candidacy.
Founded in 1886, the National Baptist Convention, USA, Inc. is the nation's oldest and largest African American religious convention with an estimated membership of 7.5 million according to its website.
The group announced in a press release Monday that Clinton will address delegates at their convention in Kansas City, Kansas, at 5:00 p.m. on Thursday.
"Democratic presidential candidate, Hillary Clinton, will be allowed to address the delegates in attendance for the 136th Annual Session being held in the Kansas City Convention Center (KCCC). The NBC, USA, Inc," the statement said.
"The NBC, USA, Inc. encourages all members to be politically active by voting in all local, state and national elections. Churches are also encouraged to have voter registration drives throughout the year to ensure that all interests are represented in every election," the statement added.
The announcement comes on the heels of a recent New York Times report citing skepticism among young blacks about the Democratic presidential nominee.
According to The Times, four focus groups conducted in Cleveland and Jacksonville, Florida for the service employees union, a joint "super PAC" between organized labor and the billionaire environmentalist Tom Steyer, and a progressive group called Project New America showed that young African-Americans are not happy with Clinton.
"Young people feel discouraged and apprehensive about the political process as is, and then they look at the two options in front of us … Nobody has seen an agenda for African-American millennials. I don't think they believe she cares about them," Christopher Prudhome, 31, told the Times as he recounted a recurring conversation he has with other African-Americans as he travels around the country as the head of a nonpartisan group dedicated to registering young voters.
In Florida, Ohio, Pennsylvania and Virginia, the Times explained, 70 percent of African Americans under 35 said they were backing Clinton, 8 percent showed support for Republican presidential candidate Donald Trump and 18 percent said they were backing another candidate or did not know whom they would support. President Barack Obama on the other hand won 92 percent of black voters under 45 nationally in 2012, according to exit polling.
Liberal operatives and advocacy groups have pegged this apathy as a cause of concern as black turnout hurt Democratic candidates in the last two midterm elections, the Times said. More than 25 percent of African-Americans are between 18 and 34, and 44 percent are older than 35, according to 2013 census data.
"There is no Democratic majority without these voters," Belcher told the Times. "The danger is that if you don't get these voters out, you've got the 2004 John Kerry electorate again."
Some voters are concerned that Clinton has spent too much time focusing on her Republican rival instead of articulating what her plans are for the African-American community.
"We already know what the deal is with Trump," Nathan Baskerville, a 35-year-old North Carolina state representative told the Times. "Tell us what your plan is to make our life better."
Addisu Demissie, Clinton's voter outreach and mobilization director said the former secretary of state has laid out a series of proposals on criminal justice.
"It is on us to make sure that that's known," Demissie said. "We share their goals, we share their values and we want to make sure that's reflected through our campaign."