Donald Trump Insults Black Pastor Who Asked Him to Not Talk Politics in Church: 'A Nervous Mess'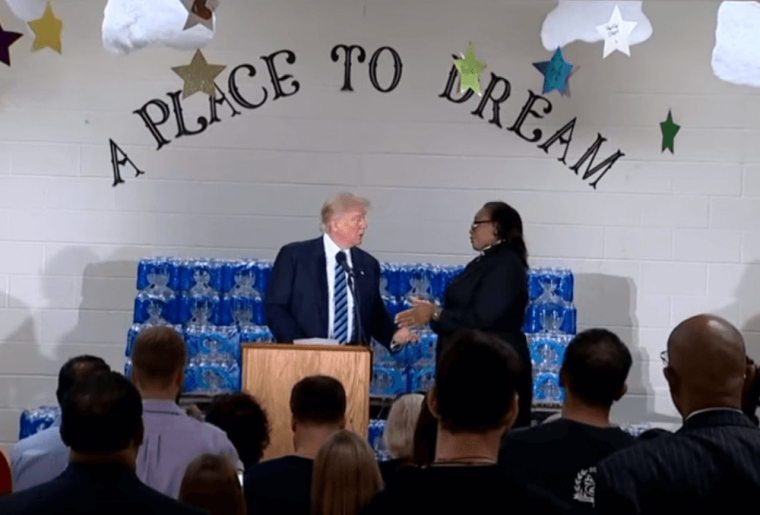 Republican presidential candidate Donald Trump has called Flint, Michigan, Pastor Faith Green Timmons, who rebuked him for attacking his Democratic rival Hillary Clinton at her church on Wednesday, a "nervous mess" and accused her of "playing games" for interrupting his speech.
In a telephone interview with "Fox & Friends" Thursday morning, Trump said Timmons "was like a nervous mess" as she introduced him to speak at the Bethel United Methodist Church where she is a pastor and he "figured something was up" from her behavior.
"Well, I was in Flint yesterday and it was a very interesting experience and got unbelievably good treatment from people, I must say, and even in that audience, the treatment was great. But something was up because I noticed she (Timmons) was so nervous when she introduced me," Trump said.
At some point during his speech at the church, Timmons is shown in a now viral video clip, interrupting the billionaire when he ripped into Clinton from her pulpit.
"Hillary Clinton failed on the economy, just like she has failed on foreign policy. Everything she touched didn't work out, nothing," Trump declared to the small audience inside the church.
As he prepared to further rip into the former secretary of state, Timmons waltzed unto the stage and delivered the curt rebuke.
"Mr. Trump, I invited you here to thank us for what we've done in Flint, not to give a political speech," she said.
"OK, that's good. I'm going to go back onto Flint," Trump quickly responded and continued his speech.
Citing a since deleted Facebook post made by Timmons in which she declared that Trump would not "USE US" and "WE will EDUCATE HIM!!!" "Fox & Friends" co-host Steve Doocy asked Trump Thursday whether he thought the pastor was trying to sabotage him.
"Some have suggested online that they were out to sabotage you by putting that up. When she says she was trying to educate you, the congregation when they are trying to educate you about what was going on in Flint?" he said.
"So she had that in mind. No question about it," Trump said.
Despite the criticism of Timmons however, Trump said he wasn't bothered by her actions.
"I mean, everyone plays their games. It doesn't bother me. I'll tell you what made me feel good, the audience was saying let him speak, let him speak, and the audience was so great and these are mostly African-American people, phenomenal people and they want to see change," Trump said.
Addressing the issues being faced by the people of Flint, Trump said the problems in the city goes well beyond just water.
"The whole place is — not only the water, the water is what — what they did with the water is horrible, but the crime rate and all the other problems they have and people want to see – you know when I use the expression, I say what do you have to lose? I'm going to fix it. I'm going to fix it. What do you have to lose? And I'll tell you the audience was fantastic," Trump said. "But she (Timmons) was so nervous. She was like a nervous mess, and so I figured something — I figured something was up, really."
Scott Detrow, an NPR reporter who was at the event, says no one in the audience chanted "let him speak" as Trump claimed. Rather, some audience members began to heckle Trump, at which point Timmons defended him, asking the audience to listen respectfully.
Timmons explained on her church's Facebook page that Trump earned the rebuke by not following the terms under which he was allowed to speak at the church.
"The United Methodist Church has open hearts, open doors and open minds. Mr. Trump's campaign claimed he was swinging by and stepping through only to greet the volunteers and thank them with no political rhetoric of any kind. That was stated. When it went further than that I did exactly what we agreed I would do," Timmons noted.
"Had he stuck to what his camp claimed he came to do, we would not have had a problem! — Good night," she added on her personal Facebook page Wednesday night.