Congressman Steve Scalise Readmitted to Intensive Care in 'Serious' Condition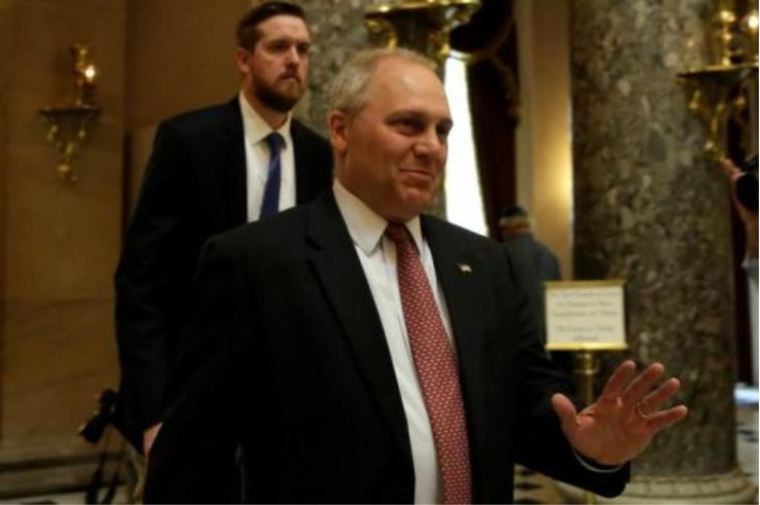 House Majority Whip Steve Scalise, 51, was readmitted to the Intensive Care Unit in "serious" condition at MedStar Washington Hospital Center where he has been recovering three weeks since a gunman shot and critically wounded him at a Congressional baseball practice in Alexandria, Virginia.
In a statement released late Wednesday night, MedStar Washington Hospital Center said the congressman had developed an infection which was being monitored.
"Congressman Steve Scalise has been readmitted to the Intensive Care Unit at MedStar Washington Hospital Center due to new concerns for infection. His condition is listed as serious," the hospital said, promising another update Thursday.
The American Hospital Association says a "serious" condition diagnosis means the patient's vital signs "may be unstable and not within normal limits. Patient is acutely ill. Indicators are questionable."
At least six people, including Scalise, were hospitalized after alleged shooter James Hodgkinson, 66, of Belleville, Illinois, opened fire at the Congressional baseball practice and engaged in a shootout with law enforcement officials on June 14. Hodgkinson was injured and later died from his injuries.
Others injured included two members of the Capitol Police, Crystal Griner and David Bailey. They are both recovering well.
Sources told Fox News that doctors had anticipated that Scalise would suffer an infection related to the shooting and that his general recovery would be rocky.
Earlier this week Scalise's friend Rep. Phil Roe, R-Tenn, told WJHL that he was getting better and he had invited him to attend the University of Tennessee-Louisiana State University football game later this year.
"I've invited him to the LSU-UT football game in November and hopefully, he'll be well enough then," Roe said of Scalise. "He's had a very, very serious injury. (He's) just out of bed. He's not able to eat yet, but he is getting better."
Scalise, he noted, was also supposed to be vacationing with his family in Pigeon Forge this week.
The announcement of the congressman's health update on his Twitter account elicited prayers from across the political divide.
"Even though I do not support your political views at all I do pray that you will get well very soon & will be praying 4 Your loved ones," Twitter user NOTmyPresident11 noted.
"I pray for your full recovery and that you find the lasting gift of compassion for others in this terrible time. Sending love," wrote another Twitter user.
Scalise's shooting has forced members of Congress to look at their security arrangements. House Minority Leader Nancy Pelosi, D-Calif., wants more money to be allocated to the U.S. Capitol Police force.
Pelosi explained that more money for the Capitol Police, which is seeking an 8 percent increase to nearly $427 million for 2018, would help them to better protect members of congress and their staff when they come together outside the Capitol.
"It's security for other people who are there, too," she said. "If somebody is coming after a member of Congress, you don't want to be anywhere nearby."