Conor McGregor Bus Incident Update: No Jail Time Expected; the Worst Legal Trouble the Irish Fighter Will Face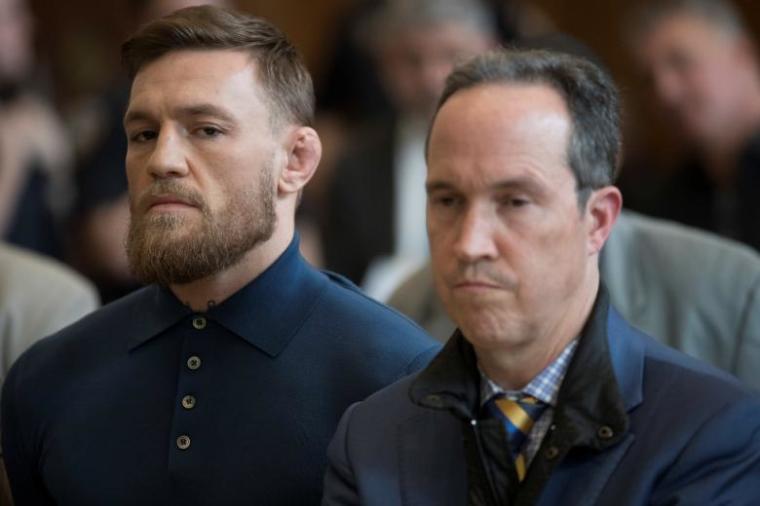 Conor McGregor is not expected to do some jail time after his rampage at Barclays Center, where he attacked a bus full of fighters during a UFC media event.
Former New York prosecutors and criminal defense attorneys that spoke to USA Today believe that he might go scot-free after it is all dealt with.
The incident injured at least two fighters and botched four fight cards set for UFC 223. In a video provided by TMZ (embedded below), the Irish fighter can be seen throwing a steel dolly through the window of the bus, which got Michael Chiesa's face all bloodied up.
McGregor has been charged with two felony charges for criminal mischief and 10 misdemeanors. The former could send him to jail for as long as 11 years, but former prosecutor Julie Rendelman believes McGregor won't see the inside of a jail cell at all.
"I can see him serving time, but people do crimes in Brooklyn, in any jurisdiction in New York or anywhere that are potentially worse than this and they get deals that allow them to not go to jail," she explained to USA Today.
William Kephart, a former Long Island prosecutor, agrees, saying that his "celebrity status" makes this situation no more than "a run-of-the-mill case.''
"People get into arguments and things get broken, fists are flying more times than not," he said. "I would think given the fact that assault charges are misdemeanors and the most serious charge is criminal mischief, it's unlikely he would face jail time," he went on to say.
Rendelman adds that McGregor's popularity could actually help him with the case as the District Attorney could just arrange a deal where the fighter can "get back to the community" after the damage he caused.
Steven Raiser, who also worked as a prosecutor before, adds that the "most serious charge" McGregor is facing is property damage charge. Since he has no prior criminal history, it could even be reduced as part of a plea.
A conviction would mean the UFC champion will not be able to travel to the United States, and immigration issues are things the District Attorney's office in Brooklyn are sensitive to, as per Rendelman. However, it is a different story when someone comes to the city and does damages such as this one so the case is a bit tricky.
"So that's also something they're going to take into consideration because there is some level of disrespect for him doing what he did and (it was) dangerous on top of everything," she said.
Many believe that this incident marks the beginning of the end for McGregor, who is known as one of the world's greatest mixed martial artists and UFC fighters.
Many were disappointed, including, of course, the UFC president himself, Dana White, who revealed that they were set to announce McGregor's next fight, which was to be against Rafael Dos Anjos for the interim UFC welterweight belt.
Of course, McGregor's outburst throws a wrench to that as it is unknown at the moment if he will be allowed to set foot in the octagon anytime soon. UFC commentator Joe Rogan, who is a fan of the fighter, described the incident as "crazy, pathetic, and disgusting."
However, Conor McGregor's manager Audie Attar is confident that McGregor will bounce back from this meltdown. He took to Twitter to address the "rumor and misinformation" that is going around.