Conservative Pundit Glenn Beck Reveals Painful Details of Years-Long Struggle With Neurological Illness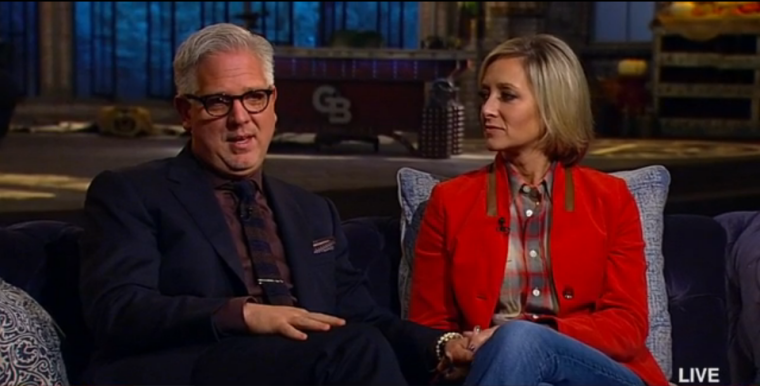 Conservative pundit Glenn Beck, 50, revealed Monday the painful details of a years-long struggle with a neurological illness that threatened to cut short the functionality of his brain, and highlighted how he finally found help to overcome it.
Speaking candidly in an emotional segment of his show, according to The Blaze, Beck highlighted how his health struggles began while he was still at Fox News when he developed vocal cord paralysis, and eyesight problems which doctors thought was a result of neuropathy.
"While I was at Fox, the pain would get so bad that my camera crew, our executive producer, Tiffany, and I had worked out hand signals so they would know when to take the camera off of me," explained Beck. "We didn't know at the time what was causing me to feel as though, out of nowhere, my hands and feet, or arms and legs would feel like someone had just crushed them, set them on fire or pushed broken glass into them."
He said his health issues caused him to be able to function on very little sleep, which he accepted as a good thing, but little did he know that this was a result of the degeneration of his brain.
"Doctors tell me that up until recently, I hadn't had a real REM sleep in maybe as long as a decade," Beck noted. "I didn't have a dream that I remember, except one in a decade. And quite honestly, this isn't a symptom you look to fix if you have a ton to do. But the first sign of trouble I noticed was what I call a 'time collapse.' If we had met before, I couldn't tell you if it was a month ago, a year ago or when we were in high school. I then began to lose names to faces, and over time entire conversations would go away."
He explained how while consulting with doctors to address his health problems, he moved from New York City to Dallas to see if that would help, but his health issues got progressively worse. He started getting seizure-like episodes, mostly on planes or after a large speech.
"Most afternoons my hands would start to shake, or my hands and feet began to curl and eventually — if I didn't stop and rest, I began to curl into a fetal position," said Beck. "This has baffled some of the best doctors in the world. It has frightened me and my family, and I didn't know what was happening."
Beck eventually checked into a New York City hospital and got tested for traumatic brain injury. His functionality was pretty low, ranked in the bottom 10th percentile.
"I was told at the time that I had anywhere between five and 10 years before I would no longer be able to function," said Beck. "I was told to go home, take at least a year off, and enjoy the days with my children."
He then recounted what he calls his "pivot point" one night shortly after he returned home.
"We were all in the kitchen as a family and I had an attack. … I saw the faces of my children, and the idea that I would someday not remember them, nor would I remember my soon-to-be-born grandchild, hit me like a bag of bricks. And we looked at each other and I asked, 'What am I doing? Maybe we should all move up to the mountains and spend all the time I have left together.'"
Doctors warned him that if he didn't stop working his condition would get worse. But because God didn't tell him to stop, Beck chose to keep working, and he faced many questions because his struggles were mostly private.
"People, even my senior staff began to ask: 'Does Glenn even care about what we are building?' They didn't know," Beck said. "The answer was, 'Yes, deeply.' But it was growing harder for me every day to focus. I didn't know at the time, but my left brain was losing a great deal of functionality."
Beck began considering various staff members to take over duties in his business. As his condition got worse, Beck said he started to believe maybe it was time he quit working and go home to his family.
"I asked God: 'Am I done? Can I put my sword down now?' The answer was always 'No,'" Beck asserted.
Then he found the Carrick Brain Centers, which according to Beck, "work miracles" on people.
"After a few short visits, they found that I had several things going on, from an autoimmune disorder to adrenal fatigue. They also found the connection to everything that was going on, and for the first time gave us hope that we could reboot my system — not just stop it, but reverse things," he explained.
"Me never having to sleep was finally understandable. The last sign of adrenal failure is a hyperextension of your adrenal glands. In other words, I didn't need sleep. I could have been lifting cars during my time at Fox!"
Beck says after months of treatment doctors have now given him a clean bill of health.
"Over the last 10 months, I did all kinds of tests and therapies, which included everything from electric stimulation to weird gyroscope tests like the astronauts use where they're flipping you around," Beck said.
"After months of treatment and completely changing the way I eat, sleep, work and live, along with ongoing hormone treatment and intensive physical therapy, I have reversed the process. Some of the physical scars will be with me for the rest of my life … but my brain is back online in a big way."