Conservatives, Politicians Join Condemnation of Eric Garner Grand Jury Decision as Protests Continue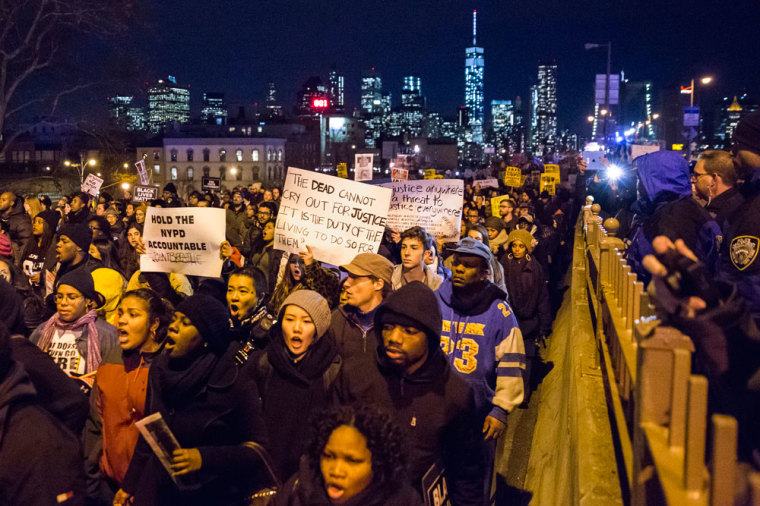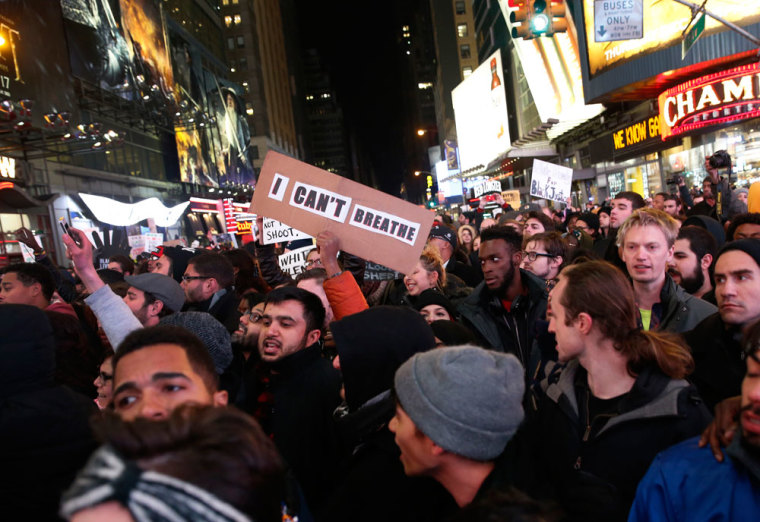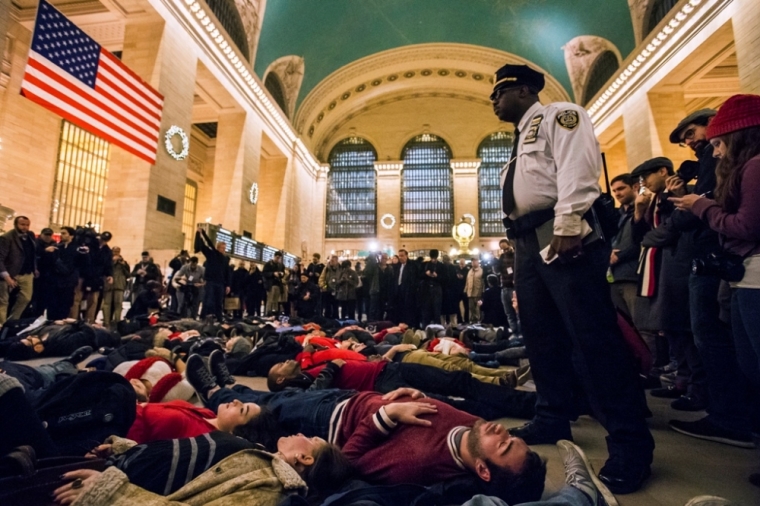 View Photos
In a powerful show of solidarity conservatives joined a growing chorus of Americans in condemning the surprising decision of a grand jury Wednesday to not hold a New York City police officer criminally responsible for the chokehold death of 43-year-old Staten Island father of six, Eric Garner.
The stunning decision of the grand jury to not bring criminal charges against 29-year-old NYPD officer Daniel Pantaleo, who placed the 400-pound asthmatic Garner in what appeared on video to be a chokehold, sparked a wave of protests across New York City Wednesday night that continued into Thursday morning.
"The grand jury's decision not to bring any charges against the officer who killed Garner is inexplicable. It defies reason. It makes no sense. Unlike the Michael Brown case, we don't have to rely on shaky and unreliable testimony from so-called eyewitnesses. We don't need to review bullet trajectories or forensics. All we have to do is watch the video and believe our own eyes," noted Sean Davis, writer for the conservative publication The Federalist in an op-ed.
Conservative Christian Russell Moore, who serves as president of the Ethics & Religious Liberty Commission of the Southern Baptist Convention, said the grand jury decision "stunned" him and agreed with others who believe that the video in the case is incriminating evidence.
The nearly 3-minute video of the encounter between Garner and NYPD officers posted on YouTube shows Garner screaming "I can't breathe, I can't breathe," repeatedly before falling silent as cops swarmed him when he refused to be handcuffed after expressing surprise that the officers were harassing him for trying to break up a fight. Authorities say he was guilty of selling loose cigarettes.
"I'm stunned speechless by this news. We hear a lot about the rule of law — and rightly so. But a government that can choke a man to death on video for selling cigarettes is not a government living up to a biblical definition of justice or any recognizable definition of justice," said Moore, in statement on the decision.
"We may not agree in this country on every particular case and situation, but it's high time we start listening to our African-American brothers and sisters in this country when they tell us they are experiencing a problem," he added.
Fox News host Bill O'Reilly also said he's "troubled" by what he saw on the video.
"I will say that upon seeing the video that you just saw and hearing Mr. Garner say he could not breathe, I was extremely troubled. I would have loosened my grip," he said.
"I desperately wish the officer would have done that. Eric Garner was obese. He had asthma. He was in no condition to absorb what befell him. Yes, he should not have resisted, but all Americans, every one of us, should pity Mr. Garner and his family. He did not deserve what happened to him. And I think officer Pantaleo and every other American police officer — every one — would agree with me," he ended.
President Barack Obama also highlighted the case as representative of a larger American problem.
"We are seeing just too many instances where people just do not have confidence that folks are being treated fairly. And in some cases those may be misperceptions, but in some cases that's a reality. And it is incumbent on all of us, as Americans, regardless of race, region, faith, that we recognize this is an American problem, and not just a black problem, a brown problem or a native American problem," Obama said in remarks on the grand jury decision Wednesday.
New York City Mayor Bill de Blasio raised concerns about the message the decision sends to his 17-year-old biracial son, Dante.
"Chirlane and I have had to talk to Dante for years about the dangers he may face," said de Blasio in heartfelt remarks at a press conference Wednesday. "A good young man, a law-abiding young man, who would never think to do anything wrong; and yet, because of a history that still hangs over us, the dangers he may face — we've had to literally train him, as families have all over this city for decades, in how to take special care in any encounter he has with the police officers who are there to protect him."
Melissa Mark-Viverito, speaker of the New York City Council, said the use of excessive force by law enforcement in communities of color is a persistent problem and asked for prayers for the Garner family.
"The use of excessive and lethal police force against people of color is a persistent problem nationwide and we must recommit ourselves to building a more just city and society where all people, regardless of color, are treated equally by law enforcement. Locally, Commissioner Bratton must expedite the retraining of NYPD officers — the vast majority of whom serve our communities honorably and bravely – so we can ensure that incidents like the one that led to Eric Garner's death never occur again," she said.
"During this painful time, it is imperative that New Yorkers come together rather than allow frustration and anger to boil over and divide us. The Garner family has asked that any demonstrations be peaceful and everyone should respect that call. My thoughts and prayers are with the family and friends of Eric Garner. My fellow council members and I remain committed to fostering healing in our communities," she ended.