Cory Booker faces pushback for speaking at 'anti-LGBT' Willow Creek Church in 2011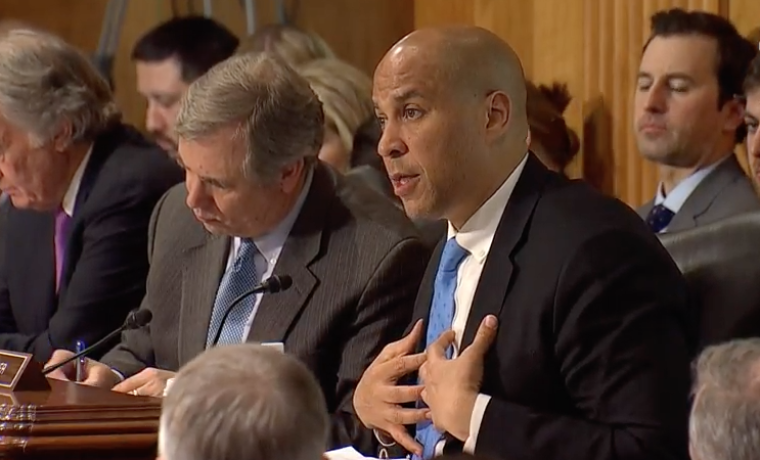 After declining to speak at a Christian conservative gathering this week, Democrat presidential candidate Sen. Cory Booker, D-N.J., is facing pushback for previously speaking at an Illinois megachurch known for its biblical stance on sexuality and marriage.
The senator released last week 10 years' worth of tax returns, which showed that he made about $1.7 million in speaking engagements over the course of five years from 2009 to 2013. During this time, Booker served as the mayor of Newark.
As Huff Post noted Friday, Booker spoke at the Global Leadership Summit hosted by the evangelical Willow Creek Community Church in the suburb of Chicago on Aug. 11, 2011.
Although Booker did many speaking engagements, it's his participation in the event at Willow Creek that has drawn the ire of at least one LGBT activist even though he also spoke out in favor of legalizing same-sex marriage in 2011.  
Willow Creek, which has eight campuses, has held the belief that Scripture "makes clear marriage is designed to be a union between only one man and one woman."
Willow Creek had also partnered for years with the ex-gay ministry Exodus International until about 2009 when it halted its affiliation with the organization. At the time, some accused Willow Creek of caving to LGBT activists.
Spokeswoman Sabrina Sing told Huff Post that Booker "was not aware of the host's anti-LGBTQ sentiments and never would have agreed to doing the speech had he known."
An unnamed LGBT activist told the outlet that the "positions of Willow Creek were well-known."
"There's no excuse for Booker or anyone to be going there, even then," the activist argued.
Matthew Vines, an activist who advocates for churches to become LGBT affirming, told the left-leaning outlet that Willow Creek is not as vocal as other ministries about its views on sexuality and marriage. However, he said that it does have restrictions on the basis of sexual orientation and gender identity when it comes to marriage, hiring and leadership roles.
Vines noted that some gay couples even attend Willow Creek and like it.
"You could find plenty of people at the church who are themselves affirming," Vines was quoted as saying. "But if you think you're going to go and be treated no differently than anybody else would be, you'll find a number of barriers to that the more that you try to get involved and engaged in the community."
Sing contended that Booker has a long history of advocating for LGBT rights, including his refusal to officiate wedding ceremonies as mayor of Newark in protest of a same-sex marriage ban.
Booker is also co-sponsor of the Equality Act in the U.S. Senate, which would create discrimination protections on the basis of sexual orientation and gender identity.
Booker, 50, has also questioned conservative Trump nominees during confirmation hearings about whether they believe same-sex relationships are a "sin" or a
"perversion." 
Earlier this week, Booker explained why he declined to speak at a Christian conservative summit held by the Iowa Family Leader, which is headed by prominent social conservative activist Bob Vander Plaats.
Booker was among seven Democratic candidates invited to the event.
"I welcome any opportunity to talk about how faith guides me, but I cannot — in good conscience — attend an event put on by an organization that preaches bigotry and sows hate against the LGBTQ community," Booker claimed in a tweet. "That's why I am declining an invitation to the Family Leader's July 12 summit."
Vander Plaats defended the invite to Booker and the other Democrats.
"Several of these national leaders have expressed a desire to see a more united America and are seeking to represent the American people," Bob Vander Plaats said, according to Caffeinated Thoughts. "But that will be hard to do in today's divided political climate. So The FAMiLY LEADER is offering an opportunity to restore civility to the national dialogue. Our goal is to discuss faith and the role it plays in presidential leadership, regardless of political affiliation."
Last year, Willow Creek saw the resignation of its founding pastor, Bill Hybels, and entire elder board in response to sex abuse allegations against Hybels.