CP Exclusive: Former Bodyguard to Diddy, 50 Cent Talks Being Resurrected, Transformed to Spread the Gospel
Preachers don't use their motorcycles to spread the gospel every day, but after being shot at over 200 times, avoiding serious prison time, protecting some of the biggest names in the entertainment industry and being resurrected on an operating table - Brother Tim is far from your average evangelist.
Brother Tim, 38, does not preach from a pulpit every Sunday or have his own church. Instead the Bridgeport, Conn. native's unorthodox methods of ministering are reaching people in the highways and byways through God's Soldiers Motorcycle Ministry.
However, the spiritual transformation did not happen overnight for the husband and father of three. After 18 years of working in the protection industry as a bodyguard for entertainers like Diddy, 50 cent, Pamela Anderson, DMX, and Jennifer Lopez, it was not easy for Tim to give up a six figure salary to spread the gospel.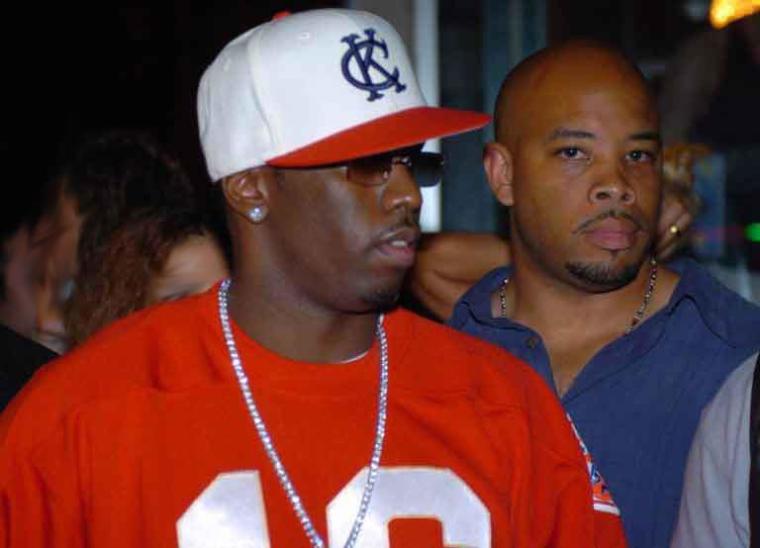 As a 6'1, 310 pound, 17-year-old kid with a full beard, Tim was discovered as a Connecticut bouncer who was recruited to work in a large New York City nightclub among well-known entertainers on Sunday nights. His boss later became the head of security for a now defunct record label, Loud Records, who decided to assign him to protect some high profile entertainers.
Tim began to tour with rap artists, flying on private planes and staying in luxe mansions. At 15-years-old, Tim experienced the miracle of Jesus Christ when years of his father's stories culminated after he awoke unharmed from a dirtbike accident following a two week coma.
His father said he prayed for two archangels to protect his son, who later experienced their power as a high profile security guard.
"I've been in an arena where it was me with a client, 70,000 screaming fans. The client jumped in the crowd and ran through the crowd," Brother Tim recalled to The Christian Post. "My job, I've got to be right behind them. And I'm not joking, there's actually video of this. The people parted like the Red Sea."
After watching a video of the encounter, Brother Tim recognized a divine occurrence.
"Watching that video, I said 'there's the client, there's me, but there is something else behind me that these people are moving for. And it wasn't one, it was those two archangels that were keeping me protected," he told CP. "You can't see the figures, but you can see from the spacing in the sea of people that opened up. I knew those archangels my dad dispatched over me as a kid were right there doing their job."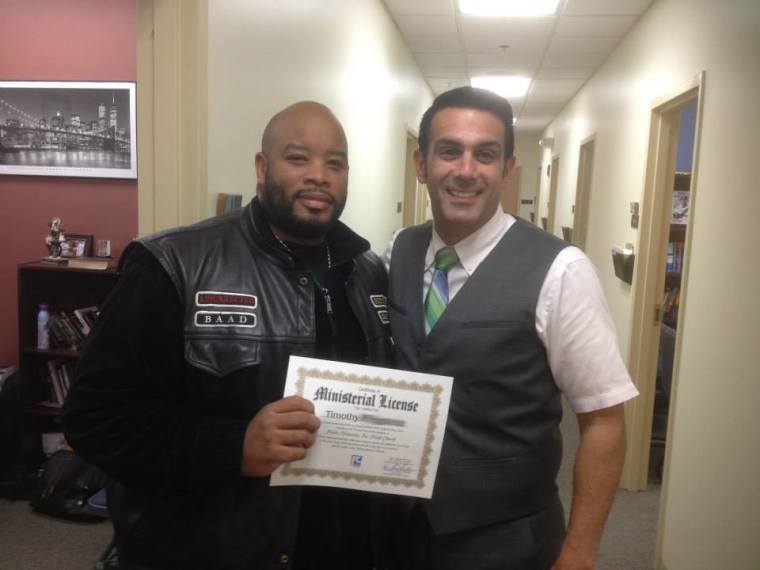 Despite the dangerous circumstances he encountered in the protection industry, Tim did not fear because of his daily reading of Psalm 27 and time of deep prayer before work. Instead of getting distracted by the countless women that were getting on and off of the tour busses that traveled with his rap artist clients from state to state, Tim took the opportunity to read the Bible from cover to cover.
"Women were getting on the tour bus in one city or state, staying on the bus with different entertainers and their entourage doing all kinds of things and I stayed in my bunk with my little curtain closed and just read the Bible on the tour bus," he recalled to CP. "That was my opportunity because (if I wasn't) on those buses at that time, I don't think I would have had time to read the Bible like that. So it was definitely a preparation time."
The preparation was needed when Tim was forced to exercise faith after he was arrested with his client 50 Cent on gun possession charges in 2003. For a year, Tim had to battle the charges in a New York City court and says he believes God planned his victory over the obstacle while he was in elementary school.
As a third grade student, Tim was assigned to show a new kid named Frank Lieto around the school. The pair stayed friends in middle school and high school before losing touch.
However, God may have planned for the friends to reunite years later under the right circumstances.
"Years later, I was a bodybuilder working out heavy in the gym. (Frank) ended up walking out of the gym I was going into after we hadn't seen each other in probably six years," Brother Tim told CP. "He hands me his business card, he's now an attorney licensed in New York and Connecticut. Three days after that is when I got arrested. The card I had in my wallet was his attorney business card. I was arrested in New York."
While Tim thought it ironic that his former friend was placed in his path during his time of need, he continued to pray for the best outcome in his case that lasted a year. Throughout that year, strange things began to happen like the assistant district attorney having strep throat or the prosecution not being prepared, which resulted in Tim's case being postponed almost four times.
However, nothing was more strange than Brother Tim's divine encounter when he was held in the area under the court known as the "tombs." It was there that a man working in the jail named William Bogert prayed with him, encouraged him and offered him a special plate of steak instead of the warm Bologna sandwich being offered to everyone else.
"I ended up trying to contact that gentlemen after that. They said to me, he retired in 1999," Brother Tim recalled to CP. "I said, 'that's impossible, I was just in there the other day.' They said 'well it wasn't William Bogert'."
But Tim was sure the gentleman was who he believed it was after writing his name down and paying attention to the name tag on his shirt.
"My wife remembers me making that phone call, finding out he retired three years before I got there," Brother Tim told CP. "How is that possible? That's nothing but divine intervention."
Tim's case ended up being dismissed and he felt the Lord was calling him to do something greater than living his fast money lifestyle. However, the possibilities to make over $1,200 a day while living in the heart of Miami, Fla,'s South Beach was too much temptation to overcome and he was not ready to wholeheartedly commit to God.
That is, until God forced him to close that chapter in his life. Although Tim survived a number of dangerous situations as a bounty hunter and bodyguard, God forced him to undergo what was supposed to be a minor gallbladder procedure that almost took his life.
"I absolutely think there is a reason for that because it was an internal injury not an external," Brother Tim told CP. "Only God could have orchestrated that injury for it to go the way it did."
Before going into the operating room, a nurse named Mary came to Tim's aid and offered him prayer and encouragement. Although surgeons told him that the outpatient surgery would only involve making three little holes, he awoke days later to doctors informing him that he had died on the operating table.
They told Tim that he had been medically "resurrected." It was then that he remembered a voice ushering him into his calling.
"I don't remember too much, I didn't get the revelation of the white light, I didn't see things, I just remember a question in a voice that was not my own," Brother Tim recalled to CP. "It was 'how many made it because of you?'"
Tim's doctors and family insisted they had not asked him the question that caused him to shift course in his life. He later realized that was the voice of God.
That voice convicted him to walk away from the six figure salary job where Tim rubbed elbows with the most famous in entertainment to combine his love for motorcycles and the word of God into a unique ministry. Brother Tim became an ordained minister and God's Soldiers Motorcycle Ministry was born.
While Brother Tim and his team attend motorcycle events all over the country to spread the gospel, he also recently released a book called Nomad: Darkness into Light to use as another platform that can bring people to know Jesus Christ.
"In the biker community because we go to events where there's probably very few Christians , we come in to try to show love and respect because those are protocols and just be there as a conduit for people that don't know Christ. The word nomad in the biker community holds a lot of weight. You're a top dog if you're a nomad," Brother Tim explained to CP. "You get a lot of respect if you've got that patch. We don't wear that patch that's not us. But when I tell people 'Jesus was a nomad' it gets their attention."
Brother Tim said he kept his 42-page Nomad: Darkness into Light short so that people would have time to read it and be blessed on their road to salvation. While Brother Tim runs into a number of people who do not believe that Jesus Christ is the Messiah across the biker community, he manages to change many of their views.
"I tell people, if Jesus was not so significant, why does the world recognize him entirely today? ..I'll say, 'what year is it right now?.. 2014 A.D. layman's terms, that means after death. Latin, it's Anno Domini, which means in the year of our Lord Jesus," he explained. "And I say to them again, if he was not the Messiah, if he was not so significant why the worldwide recognition?"
Brother Tim once gained recognition for protecting people as a bodyguard, but he has a new passion for his new job of spreading the gospel.
"People don't realize the Bible is a warning of what's to come. It's a book of instruction and they just don't get it," he told CP. "So my job is to get out there and put it in a different form, a different platform, a different arena, a different out of the box method to lead people on the road to salvation. And I'll do that for the rest of my life."
For more information on where to find Brother Tim's book and donate to his ministry which will aid in keeping the team spreading the gospel at biker events across the country, please visit www.godssoldiers.org.