CPAC Disinvites Gay Breitbart Editor Milo Yiannopoulos Over Pedophilia Comments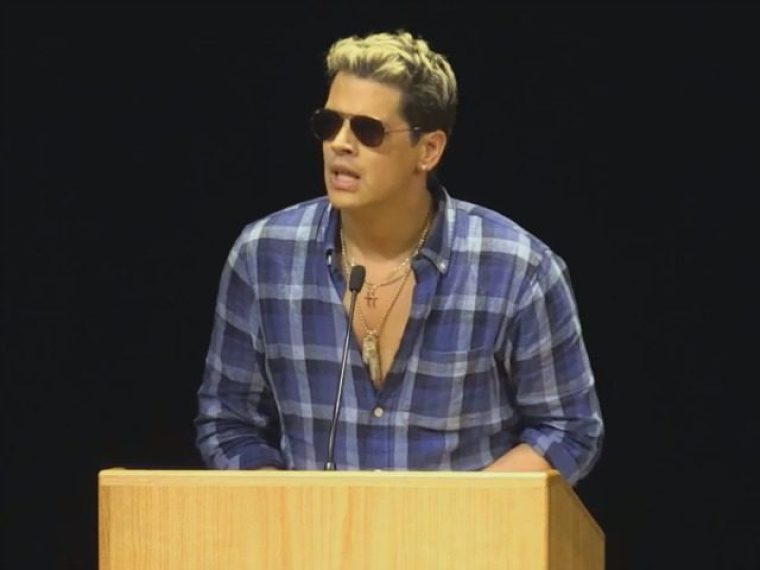 Matt Schlapp, chairman of the American Conservative Union which sponsors the Conservative Political Action Conference, revealed Monday that gay Breitbart Tech editor Milo Yiannopoulos has been disinvited as a speaker at the conference due to video that surfaced Sunday purportedly showing him defending pedophilia.
"Due to the revelation of an offensive video in the past 24 hours condoning pedophilia, the American Conservative Union has decided to rescind the invitation of Milo Yiannopoulos to speak at the Conservative Political Action Conference," Schlapp said in a statement posted on Twitter after 1 p.m. Monday.
"We realize that Mr. Yiannopoulos has responded on Facebook, but it is insufficient. It is up to him to answer the tough questions and we urge him to immediately further address these disturbing comments," the ACU chairman added.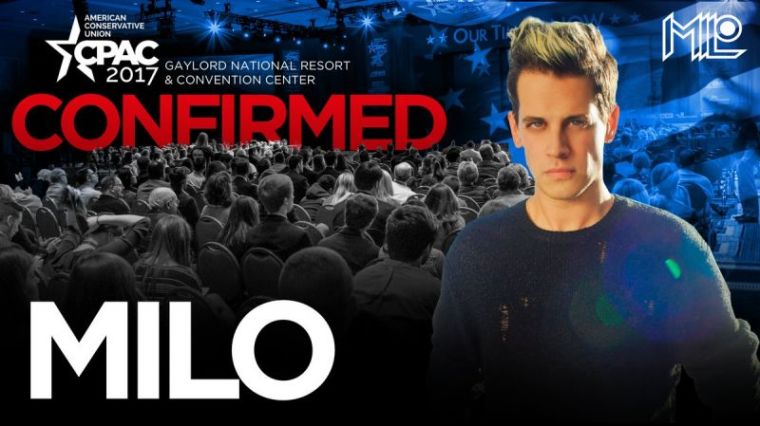 Schlapp explained that the invitation was extended to Yiannopoulos to speak at the conference in the spirit of free speech but said Yiannopoulos' comments on pedophilia are not something the organization was willing to entertain.
"We initially extended the invitation knowing that the free speech issue on college campuses is a battlefield where we need to be brave, conservative standard bearers," he said. "We give great thought to who is invited to speak, but the CPAC platform is not an endorsement of everything a speaker says or does. We continue to believe that CPAC is a constructive forum for controversies and disagreements among conservatives, however there is no disagreement among our attendees on the evils of sexual abuse of children."
Reacting to the disinvite, Yiannopoulos restated initial comments he made on Facebook Sunday night denying he endorses pedophilia.
"I am a gay man, and a child abuse victim. I would like to restate my utter disgust at adults who sexually abuse minors. I am horrified by pedophilia and I have devoted large portions of my career as a journalist to exposing child abusers. I've outed three of them, in fact — three more than most of my critics. And I've repeatedly expressed disgust at pedophilia in my feature and opinion writing. My professional record is very clear," he said. "But I do understand that these videos, even though some of them are edited deceptively, paint a different picture."
He blamed himself for believing he could say anything without consequence but also blamed a dissonance between American and British sarcasm for how his comments on the issue have been interpreted.
"I'm partly to blame. My own experiences as a victim led me to believe I could say anything I wanted to on this subject, no matter how outrageous. But I understand that my usual blend of British sarcasm, provocation and gallows humor might have come across as flippancy, a lack of care for other victims or, worse, 'advocacy.' I deeply regret that. People deal with things from their past in different ways," he said.
"As to some of the specific claims being made, sometimes things tumble out of your mouth on these long, late-night live-streams, when everyone is spit-balling, that are incompletely expressed or not what you intended. Nonetheless, I've reviewed the tapes that appeared last night in their proper full context and I don't believe they say what is being reported. I do not advocate for illegal behavior. I explicitly say on the tapes that I think the current age of consent is 'about right.'
"I do not believe sex with 13-year-olds is okay. When I mentioned the number 13, I was talking about the age I lost my own virginity. I shouldn't have used the word 'boy' — which gay men often do to describe young men of consenting age — instead of 'young man.' That was an error. I am certainly guilty of imprecise language, which I regret.
"Anyone who suggests I turn a blind eye to illegal activity or to the abuse of minors is unequivocally wrong. I am implacably opposed to the normalization of pedophilia and I will continue to report and speak accordingly," he ended.
Before the announcement, many conservatives had criticized CPAC for inviting Yiannopoulos to speak. 
Over 100 speakers are confirmed for CPAC which starts on Wednesday Feb. 22-25 at the Gaylord National Resort & Convention Center outside of Washington, D.C.