Marsha Blackburn highlights connection between China, border crisis and fentanyl epidemic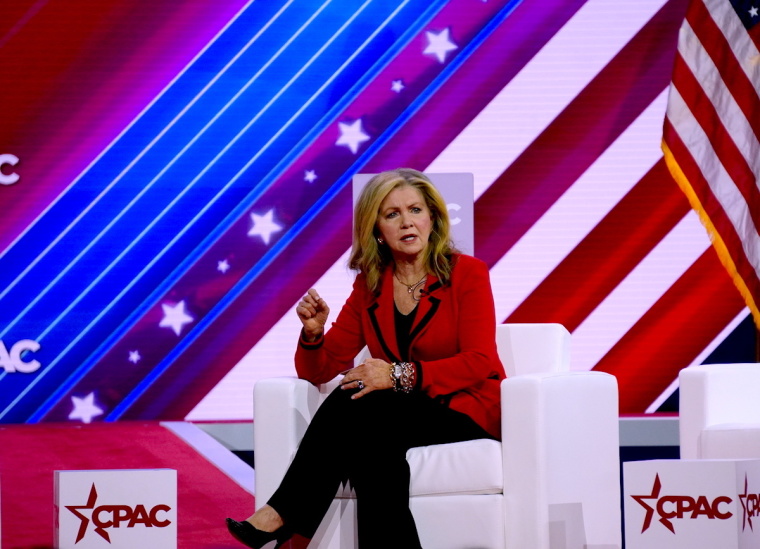 NATIONAL HARBOR, Maryland — Speaking Thursday at the Conservative Political Action Conference, Sen. Marsha Blackburn, R-Tenn., highlighted the connection between the Chinese Communist Party and the humanitarian crisis at the U.S. southern border.
In a panel discussion at Gaylord National Resort and Convention Center titled "No Chinese Balloons over Tennesse," the 70-year-old Blackburn discussed the border crisis and national security with Fox News contributor Sara Carter serving as the moderator. 
Blackburn, who recently led an all-female delegation to the border in January alongside Sen. Cindy Hyde-Smith, R-Miss. and Sen. Katie Britt, R-Ala., shared how she has spoken with individuals crossing the border who have been taken advantage of by human traffickers and drug cartels.
As the Tennessee senator noted, Homeland Security Investigations reported that the smuggling of migrants across the border went from being a $500 million industry in 2018 to a $13 billion in 2022.
At one point, Carter revealed that she frequently receives pictures from the Texas Department of Public Safety showing children, some as young as 2, found in the backs of trunks. The Fox News contributor also shared stories of young girls being brought across the border and sold to "the worst of mankind." 
"Shouldn't this be a bipartisan issue?" she asked the Republican senator.
Blackburn responded that she finds the lack of bipartisan support for legislation to secure the border "astounding." She stated that there is nothing "compassionate" about having an "open-border policy," which she argued the Biden administration has adopted, pointing to victims who have "been raped thousands of times" or harmed by fentanyl. 
"We should be able to stop this," Blackburn said, highlighting two pieces of legislation she has proposed to combat the issue. 
The first would require an adult that comes to the border with a child that does not have documentation proving a relation to take a DNA test. The other piece of legislation would prevent anyone charged with drug or human trafficking-related crimes at the country's international border or territorial waters from receiving government benefits. 
"There is no trafficker that should be getting government benefits," she said. 
In addition to the exploitation of human beings, Blackburn also talked about the rising number of fentanyl-related deaths. Last year, the U.S. Centers for Disease Control and Prevention reported that opioid overdose deaths increased from over 70,000 in 2020 to over 80,000 in 2021, with over 71,000 of those 2021 deaths coming from synthetic fentanyl.
"Our children are being harmed by fentanyl that is coming across the border," she said, emphasizing how the drug has become the leading cause of death for U.S. adults ages 18-45. 
The senator discussed how the chemicals used in the fentanyl trafficked at the border are coming from China, an issue the U.S. Drug Enforcement Administration raised in December. The fentanyl is then disguised to look like ordinary medications, such as Xanax or OxyContin, and is trafficked by drug cartels. 
"Our children are the victims of this. It's up to us to protect our precious children," Blackburn said. "It's up to us to protect these future generations; it's up to us to protect our freedom and our liberty that is going to let our children dream big dreams and make those dreams come true."
In October, the DEA announced that it had seized more than 10.2 million fentanyl pills and approximately 980 pounds of fentanyl powder from May 23 through Sept. 8 as part of its One Pill Can Kill initiative. Fifty-one of the 390 cases investigated were linked to overdose poisonings, and 35 were connected to one or both Mexican cartels. 
The DEA also issued a warning in August, alerting people that disguising fentanyl pills to look like candy, calling it "a new method used by drug cartels to sell highly addictive and potentially deadly fentanyl made to look like candy to children and young people."