Dare 2 Share Live: Some 9,000 Students Get Trained in Evangelism, Share Jesus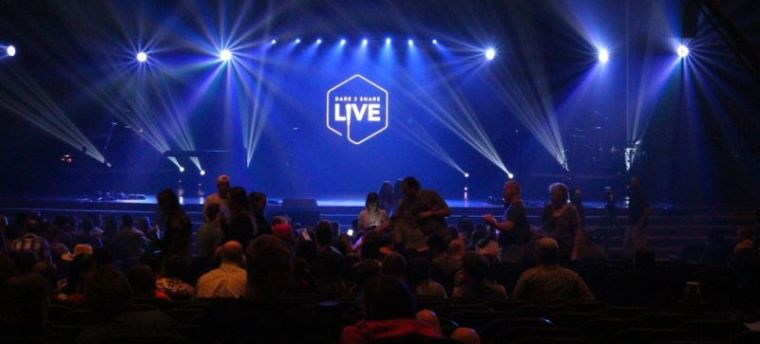 At least 9,000 attendees, most of them teenagers, learned about student evangelism and shared Jesus with their communities through Dare 2 Share's first live event.
Held Saturday and broadcast at 69 locations, the Dare 2 Share live event sought to encourage Christian youths to spread the Gospel among their friends and classmates.
Dare 2 Share Ministries spokeswoman Tracey Hadden told The Christian Post that she felt the live event went "extremely well," with thousands being trained for youth ministry and estimates for the total number of attendees still pending.
"The biggest highlight is that we heard of numerous salvations occurring at many of the host sites. We also saw over 7,000 recorded gospel conversations taking place via social media on that day, in addition to the thousands of face-to-face conversations and texts that went out," said Hadden.
"The technology allowed us to get into areas that we have never had a chance to reach with our trainings in the past. Churches that have desired to come to an evangelism training event now had the opportunity to bring it into their own community."
A 14-year-old student, whose name was not specified, stated in a Facebook video that the experience was exciting, though she admitted some had fears in sharing Jesus with strangers.
"It's really about just putting that chance out there for those people, the chance of them being able to get to know Jesus," the student who joined a Dare 2 Share Live event in Hagerstown, Md., said. "It's a great experience for those who it's their first time going out. I know some of us were a little bit scared but we kinda warmed up."
Hadden noted that the live event's reach was hindered some by the recent hurricanes that hit Texas, Florida, and Puerto Rico.
"We saw one host site drop off in the Houston area as they were consumed with helping the local community with relief efforts," explained Hadden.
"Puerto Rico was on board to attend, but the latest hurricane made that impossible. We took an offering at the event and all the proceeds from that will go to helping out in Puerto Rico."
Founded in 1999, Dare 2 Share seeks to equip teenagers with the ability to engage in youth ministry among their peers in high school and middle school.
"Dare 2 Share believes that to truly make teens disciples of Christ, we must raise the bar spiritually, calling them to make a difference by taking Jesus Christ and His cause to reach the lost — THE Cause — seriously," reads Dare 2 Share's Facebook page.
"This is the powerful paradigm for change at Dare 2 Share — to introduce this potent generation to Jesus Christ and unleash them to spread the message to others."
As part of this mission, Dare 2 Share holds conferences every school year, offers free resources online, and provides books and other tools for ministry.
Greg Stier, founder and president of Dare 2 Share, explained in a blog post that the live event would include extensive social media communication.
"A Dare 2 Share Live app will allow teenagers in New York to talk to teens in California because they will all be experiencing the same training at the same time," wrote Stier.
"Using the hashtag #LetsGo, these teens will be able to create a national buzz on social media over the training they are receiving."
Regarding Saturday's event, Hadden told CP that Dare 2 Share had multiple goals, including "that students gain a passion and heart for those who don't know Christ," "that they understand and can explain the gospel to those they engaged with," "that they also increase in confidence in their faith as they reach out and share," and finally "that they take this passion and training into their school year and begin to engage their peers with the good news of Jesus year-round."
"We also had some goals for the host sites, that they would catch a passion for reaching out into their communities with the gospel, and that this event could be a catalyst for churches coming together for the sake of the Gospel in their community," added Hadden.