David And Tamela Mann Exclusive: Entertainers Reveal Why They're Doing Reality TV After Years Of Declining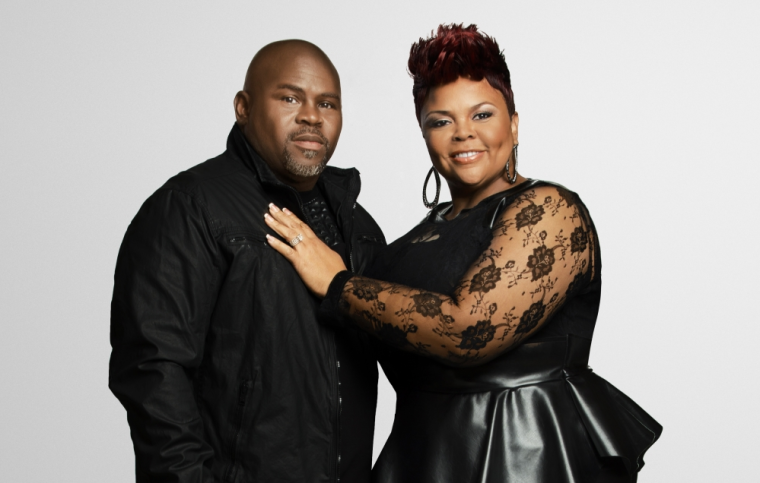 David and his wife Tamela Mann have conquered film, television and music, but the married entertainers did not initially want to enter the world of reality television.
Yet somehow, the pair and their family are starring in the new BET docu-series "It's A Mann's World." After starring in the number one TBS sitcom, "Meet The Browns," along with a number of successful Tyler Perry plays and films, the Manns spoke to The Christian Post about their reason for opening their personal life up for the world to witness on the small screen.
For years, the Manns had offers to cross over into reality television and decided against doing so. However, David, 48, explained the thought process behind working with BET on "It's a Mann's World."
"We wanted the world to see an imperfect world because we're a work in progress," David told CP. "We're a blended family so we wanted to show people how you can show the craziness without the way you see it today. We're not knocking any other shows, but we just want to show people some good, wholesome family entertainment."
In their new show, the Manns showcase a full household with their four children, two of those stemming from previous relationships, a niece they adopted and eight grandchildren. However, the trailer for the new docu-series proves that there will be a fair share of drama along with wholesome content.
In a trailer for the show, Tamela is shown on an operating table while David gets arrested and meets his biological father for the first time. These emotional ordeals proved to be challenging for the Manns who hope to help people by documenting their personal stories.
"Just looking at the footage, seeing that somebody is going to get hope and say 'I can face this issue and confront this issue and it can work out in the end. It can be better...' that's some of the things we wanted to do when we did the show," David told CP.
For Tamela, 48, it is important to share struggles with others in order to help people get through similar situations.
"A lot of things that we go through as individuals and families, everything is just not for you," Tamela told CP. "It's a testimony for you to encourage somebody else, to share and tell somebody that they can make it so that we can all have triumph over whatever the situation is that we're going through."
When the couple is faced with challenges, they believe it is important to operate in their faith.
"There was nothing that we were doing that was compromising to our faith," Tamela told CP. "Because of our love for God, it also gives us love for people to deal with others in other situations. So our faith helps us out a lot."
David agreed, speaking about the importance of making his love for Christ first in all he does.
"Our faith is what we operate on, it's who we are," David told CP. "So when people see that, that's another reason why we wanted to do the show so that people could see [that] if you live a saved Christian life you can still have a good time."

The Manns are no strangers to working together on projects and got their start singing in the Kirk Franklin group The Family, before moving on to star in various Tyler Perry productions together. For Tamela, it is important to pray in order to find out if it is God's will for the Manns to take on a project while David makes sure the pair are benefiting the body of Christ.
For example, when Tamela is working on her solo music including the hit song "Take Me To The King," her husband is alongside her to ensure that each venture will uplift God's Kingdom.
"Even when working with each other on Tamela's projects we listen to the lyrics and say 'is that going to uplift? Is it going to build the kingdom?'" David revealed. "It has to be about uplifting and bringing joy for us."
Tamela said she once prayed to marry a man that would share in her interests, and God blessed her with just that. The couple said it would be "weird" not to work together after helping each other on each step of their journey in the entertainment industry.
"I wanted to marry someone that enjoyed and did the same things that I've done. We've built it all together and that's really been a great blessing for us," Tamela told CP. "I'm still enjoying my life and marriage. And it's not a put on, we just sit around day-to-day enjoying each other's company without all the hooplah."
After 26 years of marriage, the pair finish each others' sentences in interviews and find ways to make one another laugh even while working. While they speak about genuinely enjoying each other's company on and off of the red carpet, David insists he does not have to work on balancing his family since he makes them a priority.
"In this industry there's something that we never balance and that's our marriage and our family. There's our marriage and family, then the industry," David revealed to CP. "We never give anything the same weight that we give our marriage and family because any time you balance something, you give it weight to balance it. Our marriage, our family, our relationship far outweighs anything we'll do in this industry or in this business."
The Manns are living proof that dreams can come true, no matter how big they are. They insist that their secret to success is not allowing people to crush their dreams.
"If God has given you the gift, He's given you the talent. Operate in the spirit of excellence with it," David advised those with the desire to pursue their talents. "Make sure you're practicing your craft. Make sure you're doing what you need to do and just go for it."
Tamela agreed with her husband and added on by revealing that every rejection is not a bad thing.
"Don't take 'no' for an answer. Every no is not detrimental to you," she said. "When you can't go on, you learn from it. You learn from the mistakes you made and you keep building, you keep working at it."
"It's a Mann's World" comes on Wednesdays at 9:00 pm Eastern and 8:00 pm Central Standard Time on BET.