David Platt: Churches 'Widening Racial Divide,' Pastors Who Ignore Injustice Won't Be 'Found Faithful'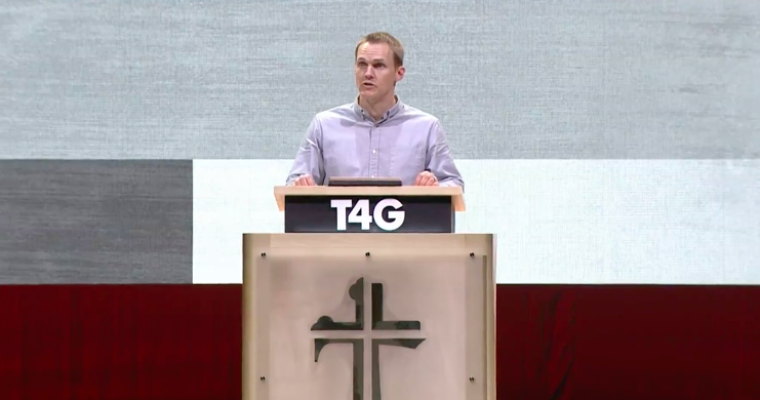 Pastor and author David Platt has warned that churches today are "widening the racial divide" in the U.S., and said that pastors who refrain from addressing justice from the pulpit "will not be found faithful" before God.
Speaking at the Together for the Gospel conference in in Louisville, Kentucky, Platt, teaching pastor at McLean Bible Church in Vienna, Virginia, began by admitting, "I've failed to act as I ought on the issue of racism."
"God has opened my eyes to blind spots in my life and my leadership and lack thereof in the Church on this issue," he said. "God has revealed sinfulness to me that I had not seen. ... I'm preaching tonight out of the overflow of my weakness in so many ways."
Citing Amos 5:18–27, which reads in part: "Woe unto you that desire the day of the Lord! to what end is it for you? the day of the Lord is darkness, and not light," Platt urged pastors and church members to ask themselves: Have we been, or are we now, slow to speak and work against racial injustice around us?
"I am convinced that the answer to that question is a resounding yes," Platt said. "Pastors in America and the churches we lead, instead of bridging the racial divide in our country, have historically widened and are currently widening the racial divide in our country."
Thankfully, change is possible, the pastor contended.
"Churches can be the most powerful impetus for justice in our culture on the issue of race if we will humble ourselves before God and one another, if we will repent and pray and work together for justice in a way that brings great glory to our God," he said.
How then does the Church need to repent and work for racial justice? Platt offered six exhortations he said Christians must "hear and heed" for true change to occur.
"First, I want to exhort us to look at the reality of racism," he said, adding that most people today would claim to be "color blind."
"The reality is, it does matter in our culture today whether someone is black or white," he said. "We need to realize it matters."
Because all of humanity comes from one race — the human race — any form of racial hierarchy goes directly against the design of God and is "sinful to the core," the Radical author said.
Just because segregation has disappeared on a surface level "does not mean racism is gone," he said, citing statistics showing the economic, social, and residential inequality between African-Americans and white Americans.
"You will see that white Americans are far more likely than black Americans to get a quality education, get a high-paying job, and to live in a more affluent neighborhood with less crime," he said. "A disparity exists, we can't deny this."
"I believe we in the Church want nothing to do with racism," the pastor said. "But despite the best intentions of our hearts, the Church today is one of the most segregated institutions in our country."
Churches today, he said, like to think they are a force countering racism — but are largely a force continuing it.
"We cannot be comfortable, as the people of God, with a clear 'white-black' divide in our country and we can't be content with deepening that divide in the Church," he emphasized. "It is not just, it is not right, and we will not be found to be worshiping God if we ignore injustice, or far worse, increase it."
As his second exhortation Platt urged Christians to live in a multiethnic community to combat racial inequality.
"The cross makes true, multiethnic community possible, and I want to exhort us to pursue that kind of community," he said. "We all hate slavery, we all hate Jim Crow laws. Certainly, we can't be content then, with churches, seminaries, mission organizations and conferences that look like time capsules preserving the divisive effects of the past. This is not the kind of distinction from the world God is calling us to."
Third, Platt urged attendees to "listen to and learn from" one another — especially those "who don't look like you."
"We oftentimes don't understand each other, which means we really need to listen to and learn from each other," he explained. "None of us can think about this issue in isolation. We need to be in true, multiethnic community, where we're sitting around the table, sharing life with brothers and sisters who think differently from us. And, when we're at that table, we need to be quick to listen, slow to speak, and slow to become angry."
Fourth, let's "love and lay aside our preferences for one another," Platt said, adding that most people want to be comforted when they come to church, which is why, he believes, predominantly white churches and pastors are uncomfortable talking about race.
"But we don't have that option," Platt asserted. "The Bible doesn't give us that option. This Word has the power to bring together God's people. If it's not doing that, then we need to seriously ask if we are faithfully preaching and leading according to it, all of it, the whole counsel of it, not just that which appeals to our preferences and our politics and people like us with preferences like ours that we want to be popular among."
"We will not be found faithful before our God if fear of man and fear of losing the crowd keeps us from proclaiming the totality of God's Word," he warned. "God hates that kind of worship. We cannot sing our songs when we stay silent on injustice and think He will be pleased."
Fifth, Platt said that if churches are going to worship God truly, then they must leverage their influence for justice in the present.
"White churches as a whole [historically] actively commended, promoted and defended slavery," Platt said. "So here we sit, 50 or so years later, and I think we need to ask the question: Will history see any stain in us?"
Finally, let's long for the day when justice will be perfect, the pastor concluded.
"May it be said of us that we eagerly anticipated future salvation while acknowledging present sin," he said. "May it not be said of us that we indulged in worship while ignoring justice, and may it not be said of us that we carried on religion while we refused to repent."
"Let's live and lead for that day, let's work for that day, when the glory of God will be finally and fully exalted in the unity of His Church."