'Days of Our Lives' Gay Wedding Causes Mixed Reactions Among Viewers (VIDEO)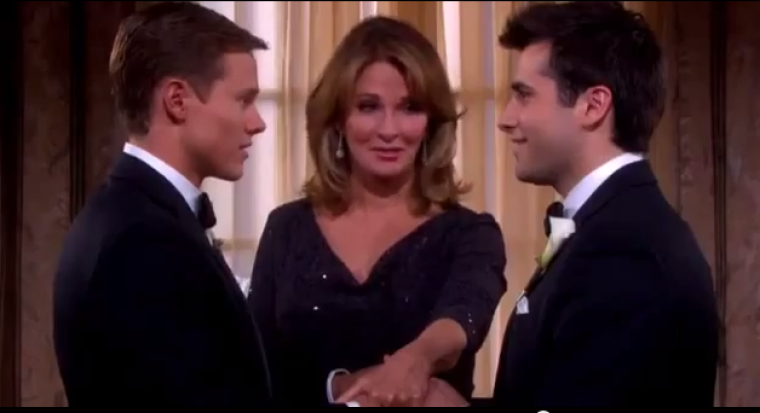 NBC's "Days of Our Lives" will make history once again by airing the first same-sex wedding between two men this week. Beginning today, the show will feature the wedding of Will Horton and Sonny Kiriakis, which will conclude on Friday. Viewers' reactions to the wedding have been very mixed, highlighting the divide between those who support gay marriage and those who do not.
"Days" is no stranger to controversial storylines. There have been marriages, divorces, deaths, revival of characters, amnesia, rape, blackmailing, affairs, and who could forget the infamous possession storyline? The show decided to tackle the issue of homosexuality nearly three years ago with the introduction of character Sonny Kiriakis, played by Freddie Smith. His character was the first gay character and helped Will Horton, played first by Chandler Massey and now by Guy Wilson, reveal his own homosexuality.
The storyline divided fans but earned the show, and Massey, several Emmy nominations. Massey took home the Emmy in 2012, becoming the first gay character on a soap opera to do so. His character later fell in love with Kiriakis, and the two got engaged earlier this year. Now they will exchange vows in the fictional town of Salem, Illinois. The wedding, however, will not be officiated by a priest or member of the clergy but instead by Horton's grandmother, Dr. Marlena Evans, played by Diedre Hall.
Fans have either loved or hated the storyline featuring Massey/Wilson and Smith.
"That's it, I'm kicking 'Days Of Our Lives' off my Tivo," Born Again posted on Entertainment Weekly's website. "Can't a lady enjoy her favorite soap opera without being subjected to this immorality?? I do watch it ['Days'] and I was aware of the gay characters. I just never dreamed that the show would put this stain on the sanctity of marriage that straight people have kept pristine for so many centuries."
"Will and Sonny's storyline is just following what is going on in the real world," Merrillyn Watts posted on the show's Facebook page. "I am glad the show is brave enough to go with it."
"Days of Our Lives" airs on NBC at 1 p.m. EST.
Watch a preview of the wedding here: