Dead Giveaway: Hero Charles Ramsey Gets Autotuned and a Tweet From McDonald's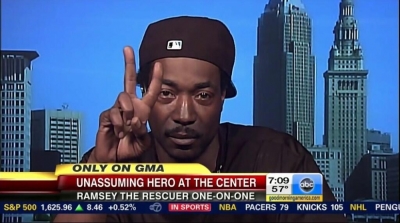 Call 9-1-1. It's a dead giveaway.
From the moment that Cleveland hero Charles Ramsey's animated interview on how he helped save Amanda Berry and two other women began trending on social media, America knew it would only be a matter of time.
The Gregory Brothers have autotuned news interviews of America's newest hero and the song "Dead Giveaway," published on Tuesday, is already a hit.
As of Thursday morning, "Dead Giveaway," which captures Ramsey's account of clues that raised his suspicion that something was wrong during his daring rescue of Amanda Berry, had been viewed nearly 3 million times. Two other women, Gina DeJesus, 23, and Michelle Knight 32, along with Berry's six-year-old daughter, Jocelyn, were also set free during the neighborly rescue that has brought Ramsey instant fame.
"I knew something was wrong when a little pretty white girl ran to a black man's arms. Dead giveaway. Dead giveaway," goes the lyrics of the hook to the musical video that runs just under two minutes. "My neighbor got big testicles 'cause we see this dude every day. We eat ribs with this dude but we didn't have a clue that that girl was in that house," it continues to a beat some people have praised as "genius."
"I had to share this on Facebook. It's a catchy tune and if it helps this man get recognition for doing something courageous, then so be it," said Gillian Cullimore in a comment on Youtube.
"Well done, and good timing," noted another commenter Travis Erbstoesser. "I hope those women kidnapped get to a point, after recovery, where they can enjoy something like this, and really, just life in general. We'll pray for you women and your families. Thanks Charles for getting involved the way you did. It means the world to everybody who's ever endured countless hours worrying about the lives of the ones they love and whether or not they'll see them again," he added.
Thousands of Americans also lobbied McDonald's on Twitter to "reach out" to Ramsey who was eating a Big Mac burger when he heard the scream for help.
"I heard screaming. I'm eating my McDonald's," Ramsey told ABC News' Cleveland affiliate WEWS. "I come outside. I see this girl going nuts trying to get out of the house. I go on the porch and she says, 'Help me get out. I've been here a long time'."
On Tuesday, McDonald's tweeted on its corporate Twitter handle, @McDonaldsCorp: "We salute the courage of Ohio kidnap victims & respect their privacy. Way to go Charles Ramsey - we'll be in touch."
A spokeswoman for McDonald's told ABC News on Wednesday that the company was planning to "reach out to Mr. Ramsey directly," but did not give specific details. "We saw an overwhelming response on Twitter calling on McDonald's to do something," said the spokeswoman. "As we committed, we will be in touch."