'Deepwater Horizon': An Environmental Film Christians Should Watch (Movie Review)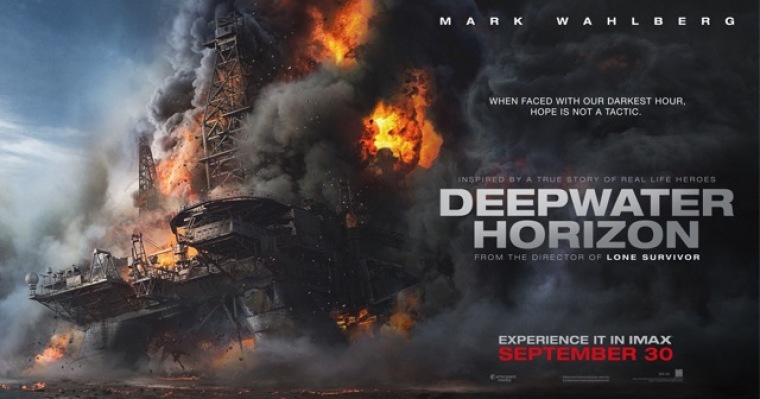 CHICAGO – The movie poster for Deepwater Horizon tells us it's inspired by a "true story of real life heroes," which, at first blush, seems confusing. After all, isn't this the oil rig that sparked the worst oil disaster in U.S. history, spilling 210 million gallons of oil along the Gulf Coast and turning pristine beaches into an ecological nightmare?
Yes, that's the oil rig, but there's more to the story than you might have known.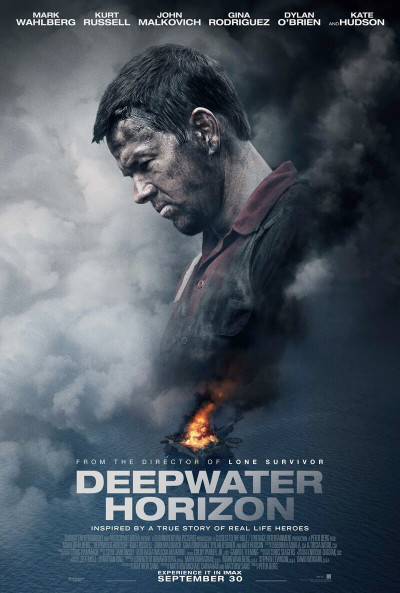 Deepwater Horizon (PG-13) opens this weekend, giving us a behind-the-scenes and sobering look at the 2010 oil spill that lasted an incredible 87 days and made many Americans question the necessity of and motivation behind the oil industry's drilling in deep waters.
The movie places the blame for the oil spill squarely on BP, which was leasing the rig from operator Transocean and which — at least in the film — cared only about profit and made a series of careless blunders. The truth may be a bit more complex than that, but in real life the final government report did say BP mostly was to blame. In addition to the environmental catastrophe, 11 men died.
Deepwater Horizon stars Mark Wahlberg and Kurt Russell as Transocean workers Mike Williams and Jimmy Harrell, respectively — two men who argue in the film that BP was cutting corners and failing to seal the well properly because it was 40-plus days behind schedule.
The film raises numerous ethical questions worthy of discussion, and it makes Williams and Harrell into heroes, but is it a movie that you should take your family to see? Let's take a look …
The Good
Director Peter Berg and the screenwriters do a nice job of making the film a microcosm of the drill-in-the-ocean discussion. If money is the sole motivation, if deadlines become inflexible, and if there is little oversight, then America will experience more Deepwater Horizons. When BP executives in the film are confronted about their lack of safety checks, they respond clearly: This is how we've made billions.
The visual effects are splendid, and perhaps worthy of an Oscar nomination. I am among the 99 percent of Americans who know very little about offshore drilling rigs, but walked out of the theater feeling as if I had been on one.
The film upholds the traditional family unit, particularly with Wahlberg's character, who is seen hugging and kissing his wife and daughter, and telling them "see you in three weeks" (the amount of time spent on the platform). He also Skypes with his wife.
The screenplay is quite gripping, even though we sort of know how it all will end.
There are also a couple of faith-centric moments. Wahlberg's character gives the sign of the cross when crossing the ocean in a helicopter to the rig. After the rig explodes and most of the men survive, they say the Lord's Prayer.
Additionally, we see amazing scenes of sacrifice, as Transocean employees risk their lives on a burning rig to try and seal the well.
The Bad
Deepwater Horizon is certainly not a children's movie. I counted about 58 coarse words (details below), but the peril and blood is even more problematic — especially after the rig explodes. Men catch on fire and jump into the ocean. Others are killed when they accidentally fall. Shrapnel hits Russell's character, and we see quite a few graphic wounds on him and others.
Lessons for Families
Too often, conservatives view environmentalism as a "liberal" issue and they automatically side with the large corporations. But we must ask: Was God grieved by the 2010 oil spill? Of course. And did we as humans fulfill our role as tenants of His creation in protecting the Gulf Coast? No. Accidents surely happen, but the evidence shows that this was one that should have been prevented. Whatever needs to take place to stop another oil spill like this one, let's do it.
We can debate the boundaries of creation care, but let's not pretend that oil spills are just a necessary part of so-called progress. They're unacceptable.
Deepwater Horizon is rated PG-13 for prolonged intense disaster sequences and related disturbing images, and brief strong language.
Entertainment rating: 4 out of 5 stars. Family-friendly rating: 2.5 out of 5 stars.
Language: Sh— (26), he—(9), oh my G—(3), b—ch (3), f--- (1), SOB (4), GD (3), a—(6), da—(1), ba---rd (1), pi—(1).
Sexuality: The film opens with a scene showing Wahlberg's character and his wife in bed. She is wearing a T-shirt and skimpy underwear. They kiss but nothing more is shown and the scene changes. It is implied they had sex.
Violence: Lots of peril. Men catch on fire. People jump off the ship. We see major, bloody wounds from the explosion.
Michael Foust has covered the Christian film industry for a decade and has been a full-time editor and writer for 20 years. He blogs at
MichaelFoust.com
.
Follow him on Twitter @MichaelFoust
.