Democrat 2020 candidates grilled by Christian-left leaders at 'Moral Action Congress'
Democrat 2020 candidates grilled by Christian-left leaders at 'Moral Action Congress'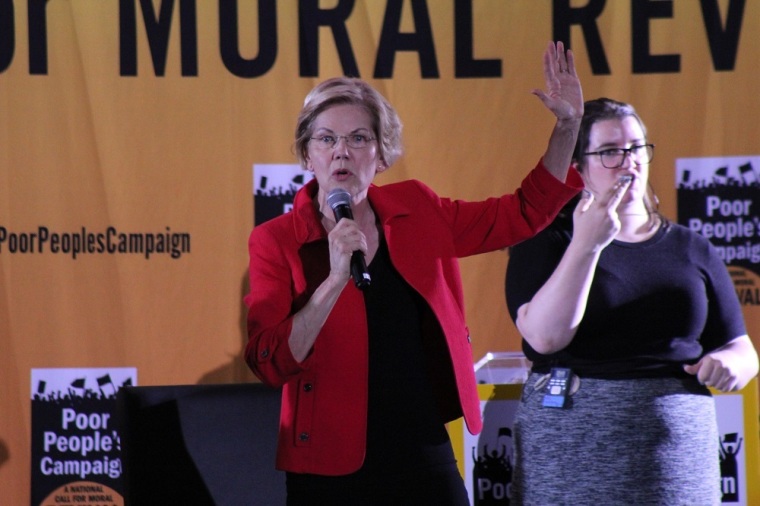 Democrat Massachusetts Sen. Elizabeth Warren said one of the "keystones" of her campaign is pushing the idea of a "wealth tax."
"We need to put a tax on the top one-tenth of one percent, the biggest fortunes in this country. Here is the idea behind it. It is a two-cent tax. It says once you have got $50 million, your first $50 million [is] fine. But when you hit that 50-millionth-and-first dollar, you got to pitch in two cents for every dollar after that. It is a tax on the great fortunes in this country."
Warren claimed that additional revenue from the tax on the wealthiest Americans could pay for a number of progressive policy agenda items, including universal child care for every baby until age 5 and universal pre-k for children ages 3 and 4.
She indicated that such a tax could help raise the wages of every childcare and preschool worker to "professional levels" as well as "make public technical school, two-year-college and four-year college tuition free for every one of our kids."
"We can put $50 billion into historically black colleges and universities so that they can play from a level playing field in building tomorrow's leaders. And we can cancel student loan debt for 95 percent of the people who have student loan debt," Warren vowed.
"We can do all of that and hit the opioid crisis head-on. We can put $100 billion in the next 10 years to putting the resources right down into the communities that are on the front lines in this fight. We can actually save lives and families and communities across this country and we would still have money left over."
Vermont Senator Bernie Sanders, an Independent who caucuses with the Democrats and is a self-described "democratic socialist," said his campaign is about bringing people together to stop Trump's divisiveness.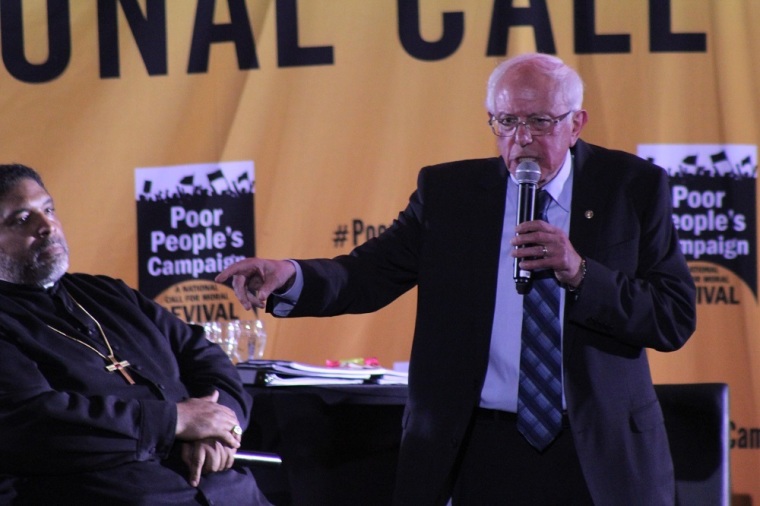 Sanders assured that his campaign has been going to parts of the country where President Donald Trump won in 2016.
"We say to those white workers, 'You think that African Americans and immigrants are your enemy? Well, you got it backward. Why don't you take a look at Wall Street, the drug companies, the insurance companies and the military industrial complex,'" Sanders said. "What demagogues always do is try to divide people up so that their anger and frustration [is put] on minorities, people that have no political power. What our campaign is about is exactly the opposite."
"The way we win and what this campaign is about is waging a political revolution which understands that not only do we have to win this election but that is not enough," Sanders added. "To transform this country, millions of people — black, white, Latino, Native American and Asian American — have got to come together to tell the people who have the power now that this power structure will no longer continue."
Sanders did not mince words when discussing the issue of gerrymandering and voter suppression, calling Republican governors whom he accused of suppressing votes in their respective states "political cowards."
"They refuse to participate in a free and fair election because they know that if poor people, people of color and young people are allowed to vote and do vote in large numbers, they will lose," Sanders claimed, adding that he also wants to provide people in prisons with the ability to vote.
Other candidates who spoke at the forum included Democrats such as Colorado Sen. Michael Bennet; Mayor Wayne Messam of Miramar, Florida; Rep. Eric Swalwell, D-Calif.; activist and author Marianne Williamson, and philanthropist Andrew Yang.
The Poor People's Campaign, which takes the same name as the movement led by Martin Luther King Jr. during the 1960s, released its "moral agenda" document last year. The document serves as the campaign's "Declaration of Fundamental Rights."