Democrat Congresswoman Under Fire for Up to 1 in 5 Muslims Want Caliphate Comment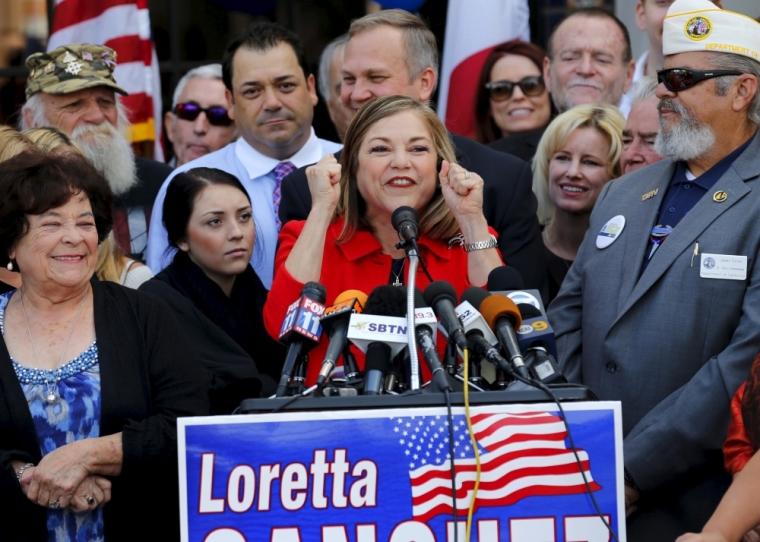 U.S. Rep. Loretta Sanchez (D-Calif.) is under fire by some Islamic and liberal groups for saying somewhere between 5 and 20 percent of Muslims have a desire for a caliphate and wish to institute it in any way possible.
"We know that there is a small group, and we don't know how big that is, it can be anywhere between 5 and 20 percent, from the people that I speak to — that Islam is their religion and who have a desire for a caliphate and to institute that in any way possible, and in particular go after what they consider Western norms, which is our way of life," Sanchez said.
She made the comments on PoliticKING with Larry King this week, and added that some of the supporters of a caliphate are "willing to use and they do use terrorism."
Sanchez, who is a member of the House Armed Services and Homeland Security Committee, was urged to drop out of the race by the Courage Campaign, a progressive California advocacy group.
"America is a melting pot – and California is the most diverse place in the nation – with more than 388,000 Muslims living as our neighbors and friends across our State," said Courage Campaign Executive Director Eddie Kurtz. "For Rep. Sanchez to suggest that even 5% of them would resort to violence is the sort of racist, idiotic nonsense we expect from Donald Trump and right-wing Republicans."
"While Rep. Sanchez has a legacy of leadership, these comments make it clear that she does not have the skills, or the judgement to represent our beautiful State and all its peoples in the US Senate," he added.
However, according to the Pew Research study recently released on Muslims, in some countries, ISIS had a favorable view by 5 to 20 percent of Muslims.
Still, according to the Los Angeles Times, Rep. Sanchez felt the need to release a statement reiterating her support for American Muslims.
"I strongly support the Muslim community in America and believe that the overwhelming majority of Muslims do not support terrorism or ISIS," Sanchez said. "We must enlist the voices of the Muslim community in our fight against ISIS instead of alienating them through fear-mongering and discrimination."
Muslim Advocates, a national legal advocacy group, released a statement Friday regarding Sanchez's comments:
"It is unconscionable that Congresswoman Loretta Sanchez would suggest tens of millions of Muslims, including American Muslims, support ISIS and their murderous campaign," the statement says.
"Congresswoman Sanchez's comments were ignorant, baseless, disgraceful, and only serve to heighten anxiety among Americans during a time of rising hatred and incidents of physical assault against Muslims here in the U.S.
"The Congresswoman has yet to apologize for her remarks, and her follow-up statement did not in fact clarify or rectify her earlier statement. She should unequivocally apologize, retract her earlier statement, and work to bring Americans together during this time of crisis."
Rep. Sanchez, who narrowly defeated infamous Republican California Congressman "B-1" Bob Dornan in 1996, announced in 2015 that she will run to replace retiring Sen. Barbara Boxer.