DeVon Franklin, Meagan Good Furthering Celibacy Movement With 'The Wait Devotional'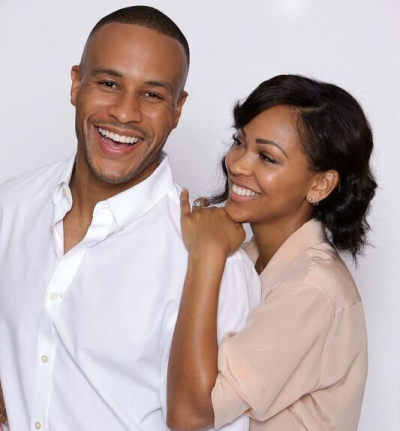 DeVon Franklin and Meagan Good are furthering their celibacy movement by releasing a new devotional this fall.
In The Wait Devotional: Daily Inspirations for Finding the Love of Your Life and the Life You Love, the Hollywood couple, who married in 2012 after their public vow of celibacy, are continuing their message about the importance of waiting on God's blessings instead of rushing the process, which was from their 2015 New York Times best-selling book, The Wait: A Powerful Practice for Finding the Love of Your Life and the Life You Love.
Due in October, the three-month devotional filled with scriptures and prayers was created to help people navigate their dating lives and celibacy journey.
"Filled with scripture, prayers, and DeVon and Meagan's trademark conversational style, this 90-day devotional is packed with real-time advice for men and women trying to successfully navigate the ins and outs of dating, love, and relationships," a description of the devotional from Simon & Schuster states.
"You'll discover how waiting for everything — from sex to getting engaged — can transform your entire life by giving you greater patience, joy, peace, healing, faith, and love. Whether you're waiting for the right person to come along or you're searching for the strength to put intimacy on hold, The Wait Devotional can help you slow down and trust in God's perfect timing, day by day."
Before the devotional is released, Franklin, who's also a film producer, has asked his social media followers for help in choosing the cover for the book. Franklin presented two options for covers on his Instagram page Tuesday where the title of the devotional is written in two different color fonts, black and white.
"Good morning! We need your help! #TheWait Devotional is dropping this fall," Franklin wrote on Instagram, engaging his followers. "Which cover do you all like best? Hit me with the # 1 or 2 in the comments!!!"
In a previous interview with The Christian Post, Good spoke about how the concept of The Wait has impacted her marriage.
"I think the difference is with implementing The Wait.The foundation that we have is so solid that it makes me feel so much safer and gives me so much more confidence — not just in our marriage but in what God is doing in us and through us," she said. "He honors our marriage because we took the time to honor Him with our foundation."