DeVon Franklin on Hollywood Commandments: 'God Ordained Secular Success for People of Faith'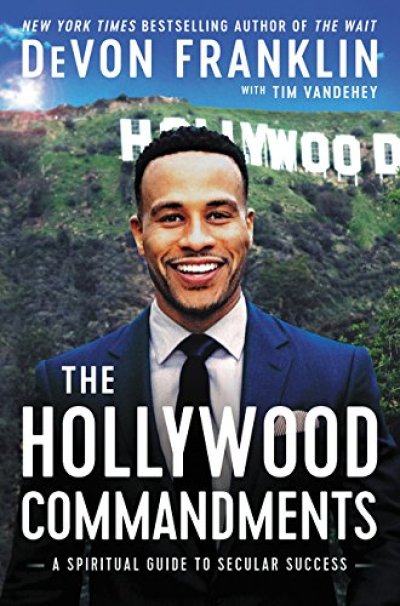 NEW YORK — Award-winning film/TV producer, best-selling author and preacher DeVon Franklin says he believes secular success is ordained for God's people.
In his new book, The Hollywood Commandments: A Spiritual Guide to Secular Success, Franklin offers 10 innovative "commandments" that he has learned from his work in Hollywood and says they can lead to life-changing success.
The president of Franklin Entertainment has been very lucrative in the secular mainstream industry. His catalog of hit films includes "Miracles From Heaven" and he will be releasing the animated film "The Star" in November. He was named the "Top 10 Producers to Watch" by Variety Magazine and is married to Hollywood actress Meagan Good. What's most impressive about Franklin, however, is his ability to dedicate his time to his successful career as well as keep a steady commitment to his unwavering faith.
In a recent interview with The Christian Post, he explained why he believes it's important for people of faith to stay committed to God all the while invading the mainstream world and being a success in it.
"I'm so excited about my new book, it's a spiritual guide to secular success. I do believe that God has ordained secular success for people of faith," Franklin told CP. "I believe when we combine our spiritual teaching with secular strategy, we will be unstoppable."
The young minister has been a spiritual adviser and friend to some of the biggest names in Hollywood such as Dr. Oz, Will Smith, Oprah and others. In The Hollywood Commandments, Franklin shares the secrets to building a purposeful life and vibrant career. He reveals the lessons he has learned throughout his career in the entertainment industry from starting as an intern for Will Smith to now running his own production company in conjunction with 20th Century Fox.
"I've been in Hollywood for 20 years and God has just opened up doors of unprecedented success not because I'm special, it has nothing to do with that. We all serve the same God, we all have the same faith and I want to encourage every single reader to unlock the power of your faith by going into whatever industry He's called you to go into. This book will show you how to be successful once you've arrived," he said.
Through The Hollywood Commandments, Franklin explains the principles that will transform what people think they know about God's intention for success. He offers tips on how to boldly live out the fullness of a calling in every area of life: career, relationships and faith.
"It's strategy, the 10 lessons I've learned from life-changing success and I guarantee everyone that reads this book can begin to apply the principles now. I see it from people that already have the book, what it's doing in their life and career. ... The Bible says, 'We perish for lack of knowledge.' It's important to have the right knowledge to know how to navigate our careers and life successfully," Franklin stated.
For more information on the book, visit the website.