Devout Christian Bubba Watson Wins 2nd Masters, Dines With Justin Bieber's Pastor, Judah Smith, to Celebrate
Devout Christian, Bubba Watson claimed his second Masters title in three years with a three stroke victory on Sunday.
Watson surprised many with his win; after winning the Masters in April 2012, the champion did not win the rest of the year and remained winless throughout 2013. Coming into this year's tournament his name was not generally be touted as one of the favorites.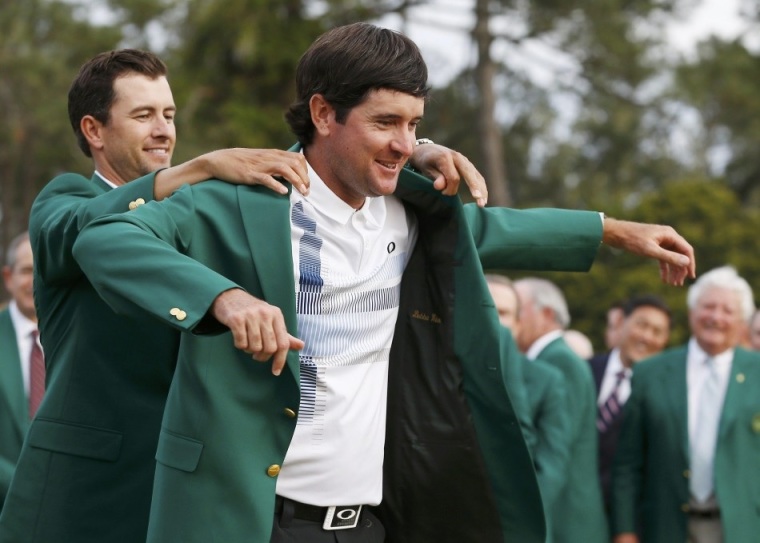 He entered the final round tied with 20-year-old Jordan Spieth, where the two men went back and forth for the first nine holes, before the left-handed veteran took a two-shot lead. He did not relinquish his first place position as he wrapped up the back nine.
A red-faced Watson told ESPN after the victory that in the two years since winning the tournament for the first time, he'd changed in his "attitude toward life."
"I became a dad," said Watson, an outspoken Christian. "I see myself as a role model for my son now, not as a golfer but as the man I am. I want to be a role model for him. I don't want him to look up to anyone else. I want him to look up to me and so I had to change my attitude, had to change my life, the way I was going about it. Not a lot but a little bit, just to get better."
Leading up to the tournament, Watson's pastor, Judah Smith of City Church in Seattle, (who is also known for his close relationship with pop star Justin Bieber,) suggested that the pro golfer read Philippians 4:11: "I have learned to be content whatever the circumstances."
Smith also reminded Watson that "as a kid, you dreamed about playing on the PGA Tour. You dreamed about playing in the Masters. You're doing that. Why don't you just go ahead and rejoice in the circumstances of your life?"
Smith and his wife Chelsea joined Watson and his wife Angie as they celebrated his victory at the southern fast food chain Waffle House on Sunday night.
The golfer, whose Twitter bio describes him as "Christian. Husband. Daddy. Pro Golfer," has said in the past that he organizes an hour-long Bible for his fellow golfers.
"For me it's a way to get back connected with the Bible and with God and Jesus. Now you know other people you can talk to, ask questions to, tell them what you're thinking, tell them what's going on in your life," Watson told The Billy Graham Evangelistic Association in 2012. "Getting more in the Word and realizing that golf is just an avenue for Jesus to use me to reach as many people as I can."
Watson, who is married to Canadian former WNBA player Angie Ball, also shared that he and his wife decided to get baptized in 2004.
"We wanted to be Christ followers," Watson said. "We wanted to do the right thing. We started turning to the Lord for our decisions."
He also has never shied away from seeing himself as a role model.
"I've really got a good team around me trying to help me succeed," Watson said. "Not just in golf, but off the golf course, to be a light for Jesus."
In 2012, one week before he won his first Masters, Watson and Ball adopted their first child, Caleb, who recently turned two.
In addition to gaining a second green jacket, Watson won $1.62 million in prize money.