Did Candace Cameron Bure's Jesus Shirt on 'The View' Push Her Religious Beliefs on Viewers?
Did Candace Cameron Bure's Jesus Shirt on 'The View' Push Her Religious Beliefs on Viewers?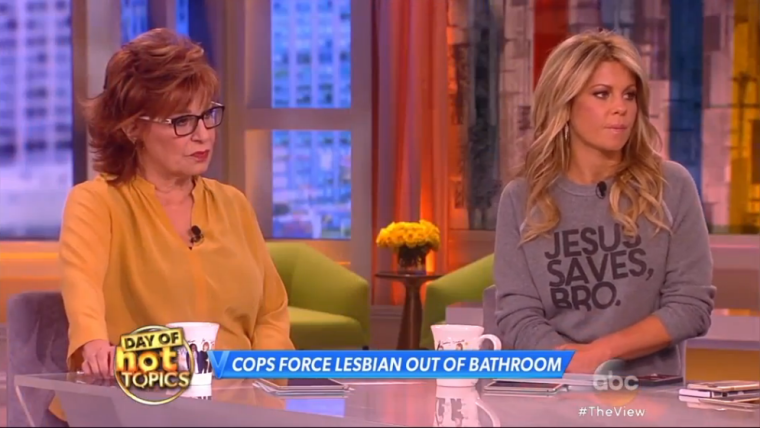 Candace Cameron Bure recently wore her heart on her sleeve — literally.
The outspoken Christian actress sported a "Jesus" sweatshirt during an episode of "The View" last week. Bure donned a gray, long-sleeved top printed with the words "Jesus Saves, Bro." But did the shirt push the talk show host's religious beliefs on viewers?
The "Fuller House" star snapped a photo wearing the shirt, which she complemented with a pair of ripped jeans, on the set of the show and posted it to Facebook on Friday, as well as to Instagram and Twitter. The image garnered nearly 90,000 Facebook likes and more than 1,200 shares (as of the publication of this article) as many of Bure's friends and followers showed their support, and even joined in with photos wearing their own versions of the shirt.
The image raised questions, however, about whether or not Bure was pushing her faith on viewers of the popular show. The actress's Facebook followers swapped opposing opinions on the matter.
Sandy wrote, "I am a Christian, but don't feel the need to wear the shirts that advertise Jesus. No words needed. Actions speak louder."
Dishman disagreed, expressing support for Bure. "Not sure how wearing a shirt like this is pushing your religion on others. That's what is wrong with our world. Wear it with pride Candace Cameron Bure!"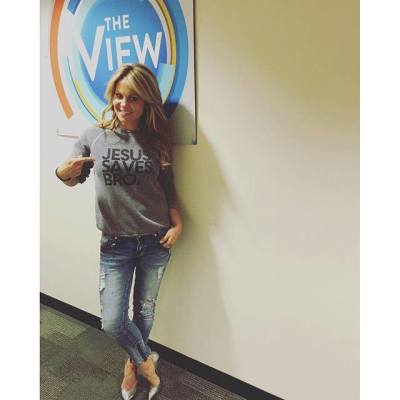 Commenter David, chimed in. "A very courageous young woman to wear that shirt in the midst of such intolerant, hate filled, anti-Christ bigots, who consider themselves open minded and tolerant! Courage!"
Bure has been known to stand her ground when it comes to representing and defending her Christian faith. The actress recently spoke up in defense of the Christian values of Republican presidential hopeful Sen. Ted Cruz (R-Texas).
In late March, Bure took umbrage with comments by "The View" co-host Michelle Collins, who said she hoped that allegations by the National Enquirer that Cruz has had multiple affairs during his marriage to his wife, Heidi, were true because she wanted to see the senator fall, adding that Cruz lived by a "crazy moral code."
Bure called out Collins for labeling Cruz's personal faith as crazy. "Crazy moral code?" Bure questioned. "He lives by Christian values from what he says he does, and that's a 'crazy moral code?'"
The actress added that she wants to believe the best in others. "We know that not all people are good, and we don't all make good decisions all of the time, but I always want to hope and root for people."
Bure has been criticized by her Christian fans for not being conservative enough, while on the opposite end she has also been pilloried for being too conservative, as previously reported by The Christian Post. The talk show host has been vocal about her frustration with being criticized from both sides and her inability to please everyone.
In a recent article for Motto.time.com, a website for younger women looking for advice about life, Bure wrote, "When I was on 'Dancing With the Stars,' for example, I was constantly hearing from people who thought that my costumes weren't appropriate," she said.
"On 'Fuller House,' people were sad that my character made certain choices. Even with 'The View,' people say I'm not speaking up enough for conservative values and that I allow myself to get walked on. Everyone has an opinion!"