Divorced People 'Living in Sin' Asking for Holy Communion Is Blasphemy: Kazakhstan Catholic Leaders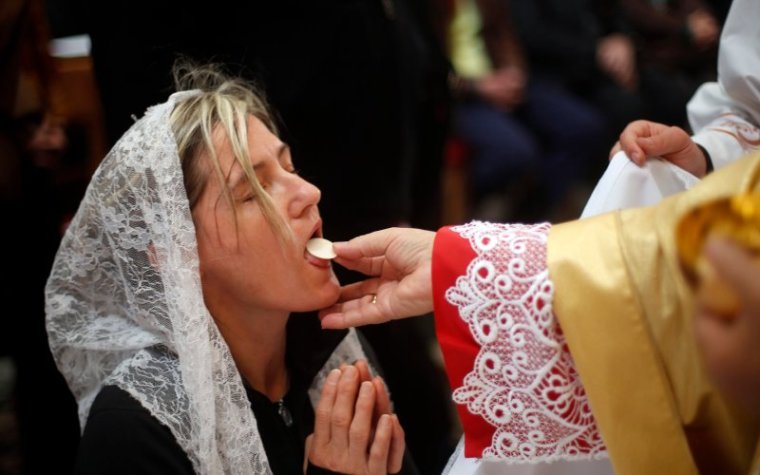 Roman Catholic Church leaders in Kazakhstan have declared that it would be "blasphemy" if divorced people living with someone else would "dare ask" for Holy Communion.
Auxiliary Bishop Athanasius Schneider of Astana told Catholic News Service in an article on Thursday that "divorced people living with someone else would not dare ask for Holy Communion because they know they are living in a situation of sin. It would be blasphemy."
Other church leaders, including Archbishop Tomash Peta of Astana and Archbishop Jan Pawel Lenga of Karaganda, all signed a statement in December proclaiming "the immutable truths about sacramental marriage."
The three bishops said that neither they nor any other bishops can authorize Communion for Catholics who are divorced and remarried, unless the previous marriage has been annulled.
The statement comes at a time when Pope Francis is being criticized by some conservative Catholics of not making clear the Church's stance on divorce and remarriage.
Four cardinals sent a letter to Francis in June criticizing what they called the "ambiguous" nature of some passages in the pontiff's 255-page papal exhortation "Amoris Laetitia" in 2016, which seemed to take a more lenient approach to those who have divorced and then remarried.
"Despite the fact that the Prefect of the Doctrine of the Faith has repeatedly declared that the doctrine of the Church has not changed, numerous statements have appeared from individual bishops, cardinals, and even Episcopal conferences, approving what the Magisterium of the Church has never approved," Cardinal Carlo Caffarra, emeritus archbishop of Bologna, wrote in the letter. 
"Not only access to the Holy Eucharist for those who objectively and publicly live in a situation of grave sin, and intend to remain in it, but also a conception of moral conscience contrary to the Tradition of the Church," he added.
Schneider told CNS that the Kazakh statement does not necessarily seek to challenge Francis, however.
He argued that "if different people read our statement as a confrontation with the pope, that is their view, not ours. It is not a rebuke, confrontation or challenge, but a service in charity and truth."
in December, the Vatican website reportedly published a set of guidelines approved by Francis that offer an interpretation of "Amoris Laetitia," which neither welcomes all Catholics despite marital situation, nor does it specifically ban Catholics in a second marriage from taking part in Holy Communion.
The guidelines say that in some situations, a thorough process of discernment and examination could possibly open the possibility for people who have been divorced and remarried to receive the sacraments.
Back in August 2015, Francis seemed to admit that divorced Catholics getting remarried goes against Church teachings, but still asked for priests to receive them with "doors wide open."
"People who started a new union after the defeat of their sacramental marriage are not at all excommunicated, and they absolutely must not be treated that way," the Vatican leader said at the time.
"Though their unions are contrary to the sacrament of marriage, the Church, as a mother, seeks the good and salvation of all her children."