Pope Francis Asked to Clarify 'Widespread Confusion' on Catholic Stance on Gay Marriage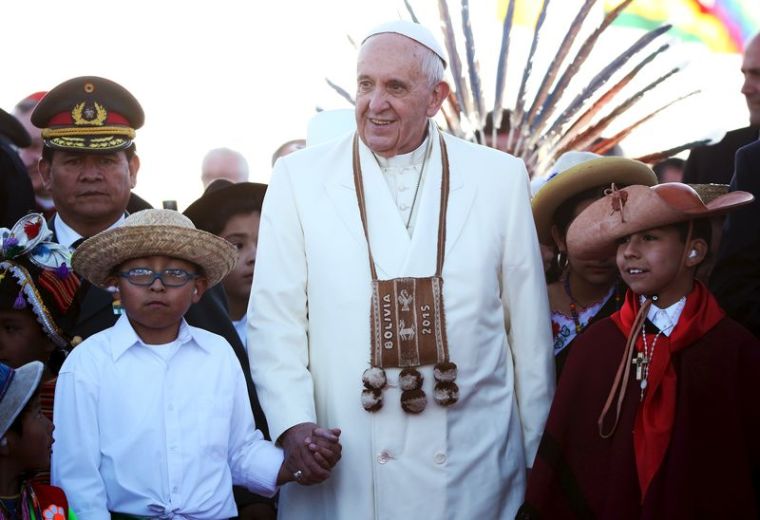 Pope Francis has been urged in a major petition signed by over half a million people, including five cardinals, to clear up the "widespread confusion" in society over the Roman Catholic stance on issues such as gay marriage and divorce.
"College students from coast to coast are asking Pope Francis to reaffirm Church teaching at the Synod," said John Ritchie, director of Tradition Family Property Student Action, referring to the upcoming Synod on the Family in October.
"After Ireland and the U.S. Supreme Court both approved same-sex 'marriage,' a strong reaffirmation of Church teaching could save the sacred institution of marriage, strengthen the family and dispel the lies of the homosexual revolution," Ritchie added.
"Young Catholics — even non-Catholics — look to the Church as a beacon of morality and stability in our Godless culture, but some of our shepherds have issued confusing statements."
The petition, addressed directly to Francis, notes that Catholics see "widespread confusion arising from the possibility that a breach has opened within the Church that would accept adultery — by permitting divorced and then civilly remarried Catholics to receive Holy Communion —and would virtually accept even homosexual unions when such practices are categorically condemned as being contrary to Divine and natural law."
Catholic Herald noted that the petition has been backed by 25 pro-family groups around the world, and has been signed by five cardinals, 117 bishops, and hundreds of civil leaders.
There have been many different stories written in media about the Catholic Church's engagement with LGBT issues since Francis was elected pope. The Vatican has been praised for actions such as giving VIP seats to the pope's speeches to LGBT Catholic groups, though Francis has backed the teachings of the Church that homosexual practice is a sin.
Still, Francis has said that although he is criticized for it, he does not want to focus his ministry only on speaking on hot-button issues, such as gay marriage and abortion.
"We cannot insist only on issues related to abortion, gay marriage and the use of contraceptive methods. This is not possible," the pontiff said in a September 2013 interview.
"I have not spoken much about these things, and I was reprimanded for that. But when we speak about these issues, we have to talk about them in a context."
As for divorced and remarried Catholics, Francis has asked priests to receive them with "doors wide open."
"People who started a new union after the defeat of their sacramental marriage are not at all excommunicated, and they absolutely must not be treated that way," Francis said earlier in August.
"Though their unions are contrary to the sacrament of marriage, the church, as a mother, seeks the good and salvation of all her children."
Francis' words stirred some controversy, as Catholic teachings prohibit remarried Catholics from receiving Holy Communion. Vatican expert Carlo Marroni insisted, however, that the pope did not suggest otherwise.
"This is not a new indication," Marroni said. "He is saying what the Gospel says; he is welcoming to everybody. He did not mention the possibility to open the confession or the communion to them."
While October's Synod on the Family, which will be held over three weeks, is not expected to bring about any doctrinal changes to Catholic teachings, bishops will debate how best to present and engage with society when it coves to issues such as divorce, same-sex unions, and single parents.