Vatican Gives VIP Seats to 'Gay-Positive' LGBT Catholic Group at Pope Francis Speech; Reportedly First Gesture of Its Kind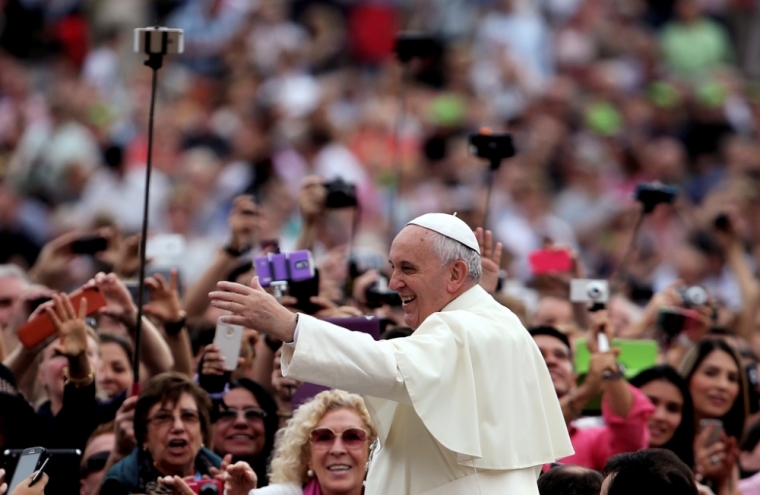 The Vatican gave VIP seats for a Pope Francis speech to an LGBT Catholic group from the United States that describes itself as "gay-positive" on Wednesday, reportedly the first time it has granted such a request.
"Pope Francis gives me hope," Sister Jeannine Gramick, co-founder of New Ways Ministry, told The Associated Press. "To me, this is an example of the kind of willingness he has to welcome those on the fringes of the church back to the center of the church."
Francis DeBernardo, the group's executive director, said that the group had tried under the previous two popes to get VIP seats during its pilgrimages to Rome, but the requests had not been granted.
The Vatican ambassador in Washington and the Archbishop of San Francisco this time forwarded their request to Rome, however, which helped arrange for the special seats.
On its website, New Ways Ministry says that it's "a gay-positive ministry of advocacy and justice for lesbian, gay, bisexual, and transgender Catholics, and reconciliation within the larger Christian and civil communities."
AP pointed out, however, that the Vatican chose to identify the group on its list of attendees as a "group of lay people accompanied by a Sister of Loretto," and that the Vatican monsignor who read out the list of pilgrims in attendance did not mention the group.
Members of the group were allowed to sit up front next to Monsignor Georg Gaenswein, who in previous years served as top aide to Emeritus Pope Benedict XVI.
Francis' predecessor had banned Gramick and New Ways Ministry's other co-founder, Rev. Robert Nugent, from ministering to gays, after it was found in 1999 that they had failed to sufficiently adhere to Roman Catholic Church teachings which identify homosexuality as a sin.
The U.S. Conference of Catholic Bishops had also said in 2010 that News Ways had "no approval or recognition from the Catholic Church."
Gramick said that she feels the Vatican made the gesture as part of its recent efforts to communicate more openly with gay people.
"I feel that the positive reaction that we have been getting from the hierarchy is due to the welcoming spirit of Pope Francis, who wants to welcome everyone," the Sister said, according to Religion News Service.
Francis has stood by the traditional definition of marriage and the teachings of the Roman Catholic Church, which only permit relationships between one man and one woman.
DeBernardo added that New Way Ministry does not expect the pontiff to make any changes to that rule.
"While LGBT Catholics hope for changes, they are realistic enough to know that Francis may not make those changes," he said. "But he is doing things that will help their spiritual lives."
Francis has reached out to various people who do not feel accepted by the Church, and in January reportedly met a Spanish transsexual and his fiancee at the Vatican. Diego Neria Lejarraga, who was born a woman, had written to Francis in December to tell him that a parish priest had called him "the devil's daughter."