Do Tebow's Losses Bring Him Down to Earth?
Do Tebow's Losses Bring Him Down to Earth?
The legitimacy of Tim Tebow's stint as an NFL starting quarterback was questioned again after the Denver Broncos 7-3 loss against the Kansas City Chiefs Sunday afternoon. However, the debate will have to take a back seat for now as the Broncos are headed to the playoffs, clinching the AFC West via a Raiders' loss.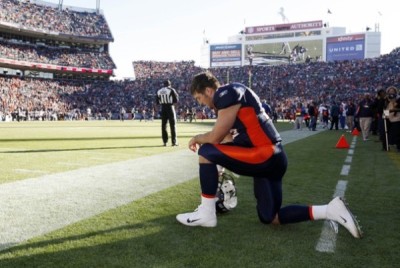 Kansas City Chiefs' Kyle Orton, who began the 2011 season as the Broncos' starting quarterback before being replaced with Tebow, may have achieved a small personal victory despite also having a lackluster game.
In addition to thanking God, as he always does after every game, Tebow is more than likely thankful to the San Diego Chargers as well for their victory over the Oakland Raiders. The Chargers' victory was all but finalized just moments after the Broncos lost.
The Broncos were handed the AFC West crown and will now host the wild-card Pittsburgh Steelers next Sunday. Still, Tebow's critics are always ready to throw in a jab about his overt Christian faith.
"Three straight losses coincide with three straight underwhelming performances for the Denver Broncos quarterback, perhaps showing that there is a shred of humanity to a quarterback once raised to deity-like heights in the Mile High City," said sports analyst Kristian Dyer on Yahoo! Sports.
However, once again, Tebow gave the best post-game analysis to reporters during locker room interviews. "Well, obviously when you lose it's just not good enough, and for me it wasn't good enough," he said. "I just have to get better and learn from my great coaches and just come out next week and try to be a better quarterback, a better leader and be a better player."
Tebow added, "You've just got to find a way to put your team in the end zone. We had a nice drive going, and I fumbled – and that was very disappointing – just trying to fight for extra yards. And we had other opportunities we just couldn't take advantage of. We've just got to find a way."
Critics often accuse Tebow of displaying a flawed theology, saying he expects worldly, football game type rewards for spirituality. However, some critics often overlook his humble acknowledgement of defeat that also accompanies a resolve to make corrections.
At a press conference after a Broncos loss to New England Patriots on Dec. 18, he said, "First and foremost I have to thank my lord and savior Jesus Christ."
On Dec. 24, when Broncos lost to the Buffalo Bills, Tebow tweeted, "Tough game today but what's most important is being able to celebrate the birth of our Savior, Jesus Christ. Merry Christmas everyone GB²."
Meanwhile, Comedian Bill Maher continued mocking Tebow and Christians. Maher's Christmas Eve tweet, "Wow, Jesus just [expletive deleted] #TimTebow bad! And on Xmas Eve! Somewhere in hell Satan is tebowing, saying to Hitler 'Hey, Buffalo's killing them,'" began the firestorm.
Last week, Maher posted photos on Twitter showing himself on one knee with his fist pressed to his forehead. In one photo, Maher is up in a tree, calling it "Treebowing" and wishing his followers a Happy New Year.
Tebow has not publicly addressed Maher, and continues quoting scripture and giving Bible verse addresses.
Just hours before the game on Sunday, he simply tweeted, "Jeremiah 9:24 GB²."
"GB²" is short for God bless and Go Broncos.
The verse states, "'But let the one who boasts boast about this: that they have the understanding to know me, that I am the LORD, who exercises kindness, justice and righteousness on earth, for in these I delight,' declares the LORD."
The Christian Post Daily Report 01.02.12