'Do You Believe' Trailer Released, 'God's Not Dead' Follow Up Offers Star-Studded Cast on a Faith-Filled Journey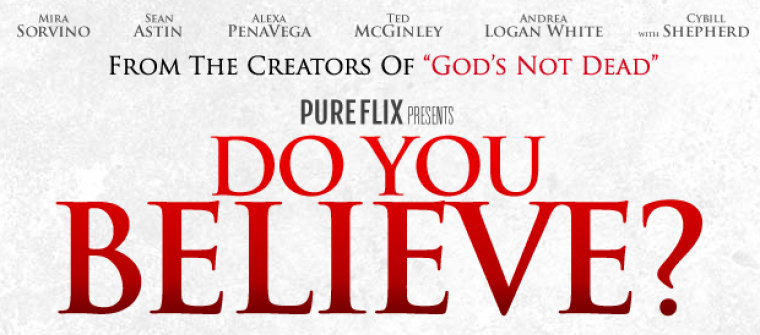 PureFlix released the trailer for "Do You Believe?" revealing an all-star cast including Mira Sorvino, Sean Astin, and Alexa Penavega on Monday.
From the same writers as the wildly successful "God's Not Dead," "Do You Believe?" follows a dozen different people whose lives unexpectedly intersect, bringing them together by the power of God, whether they believe it yet or not.
"We have anticipated releasing the trailer for 'Do You Believe?' to audiences, as so many have been looking forward to this project as the follow up release to 'God's Not Dead,'" said David A.R. White, an actor, producer and founding partner of Pure Flix.
"It is our hope that the film's compassionate and convicting message will create the same passion and conviction that 'God's Not Dead' did for audiences," White added.
In theaters Spring 2015, "Do You Believe?" also stars Golden Globe Award-winner Cybill Shepherd, Lee Majors, Brian Bosworth and Delroy Lindo. The Jonathan M. Gunn-directed drama was written by Chuck Konzelman and Cary Solomon, the same writing team as "God's Not Dead."
Meanwhile, "Do You Believe?" arrives less than a year after "God's Not Dead" became the highest-grossing independent faith film of 2013, taking filmmakers by surprise since the film had a budget of just over $2 million. The film earned a whopping $9.2 million in its first week on just 780 screens, a feat producer Michael Scott cited as a message from moviegoers.
"We are humbled and grateful for the support of audiences, pastors, church leaders and those who saw the greater message of 'God's Not Dead,'" Scott said in a press release. "The making of this film has been an incredible and poignant journey, and the success has been an even greater surprise."
Watch the trailer for "Do You Believe" here.