Doctors Describe Dangers of Puberty Blockers Used on Children That LGBT Activists Don't Tell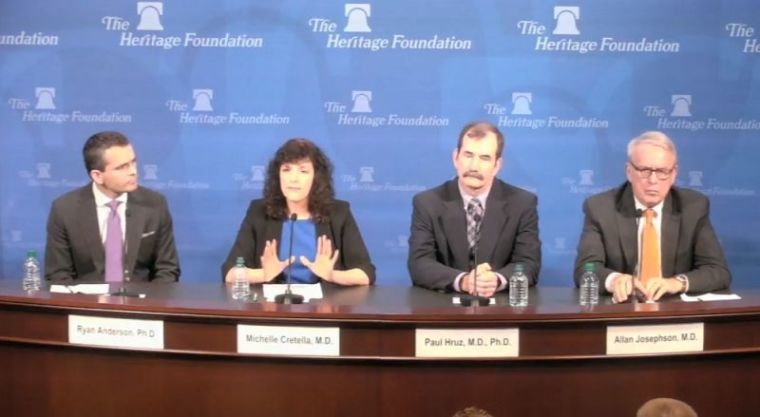 WASHINGTON — Many children and families struggling with gender dysphoria are not receiving the facts about the permanent consequences associated with "experimental" puberty-blocking and sex-reassignment treatments, nor are they being told that justification for such treatments are not backed by strong scientific evidence, doctors warned Wednesday.
"Much of what is being done here can be considered experimental treatment," Paul Hruz, a St. Louis-based doctor who is a professor of pediatrics, endocrinology, cell biology and physiology at the Washington University School of Medicine, said during a panel discussion on transgender medicine hosted by the conservative think tank The Heritage Foundation.
"But that is not how the public is hearing about this and [not] what the patients themselves and the families who are dealing with this issue are being presented with."
Hruz, who co-authored the June report published in The New Atlantis titled Growing Pains: Problems With Puberty Suppression in Treating Gender Dysphoria, and Dr. Michelle Cretella, the president of the conservative American College of Pediatricians, joined Dr. Allen Josephson of the University of Louisville and Heritage Foundation senior fellow Ryan Anderson to discuss the dangers and long-term consequences linked to the use of hormone therapy and puberty suppression treatments on children.
Although a number of mainstream medical societies and organizations have been  recommending over the last decade that children who suffer from gender dysphoria be given a puberty-blocking drug and later be treated with cross-sex hormones before potential sex reassignment surgeries, Hruz said that "the evidence behind this new treatment paradigm is slim to none."
"If you are going to take a standard approach to a treatment condition of any sort — not just gender issues, and make that drastic of a change — one would expect that there was a landmark study that was done, a randomized, controlled trial or a series of very important findings that consistently showed that this is a good idea," Hruz argued. "The reality is there is no science to back this drastic change."
"What I am saying to you is widely acknowledged by the experts that are putting this forward. I was just at an International Endocrine meeting last month and the new International Endocrine Society guidelines were being presented and the question was asked: 'What evidence is there that long-term we are doing good for these individuals?'" Hruz explained. "These are the people that put forward these treatment guidelines. The answer was: 'We have no evidence.'"
Hruz argued that the most reliable evidence about pubertal blockade or hormone therapy only highlights the "complications of therapy."
As children are beginning to identify as transgender at ages as young as 2 years old, Hruz criticized experts who advocate putting children through a process of pubertal suppression and present it to parents as a "safe and reversible form of intervention."
"Repeatedly by the experts, this is presented as safe and fully reversible form of intervention. Yet, there is no clear study that was done in this population," he said. "It is an off-label use of the medication and to make the claim when you have no data is really an injustice not only for our medical profession but for our entire society."
Hruz highlighted potential difficulties associated with pubertal blockade.
"The claim that it is fully reversible is self-contradictory because what you are doing when you do a pubertal blockade is you are interrupting a normal developmental process," he explained. "Even if five, six or seven years later you stop that intervention, you cannot go back in time. You have already altered that development. It is incorrect and totally false to say that it is reversible."