Documentary of American Adoption of Russian Youth to Tour Russia as Ban Continues
"The Dark Matter of Love," a documentary that follows three Russian children adopted by an American family, has met its goal of raising £50,000 for a tour of Russia and the United States. The filmmaker, Sarah McCarthy, hopes her film will bring greater scrutiny to the ban on American adoptions of Russian orphans.
McCarthy never intended to make a documentary that would become part of a political campaign. The film follows the adoption of Masha, Marcel and Vadim by the Diaz family. At the beginning of this year, after filming was complete, Russian President Vladimir Putin announced a ban on all adoptions to the United States.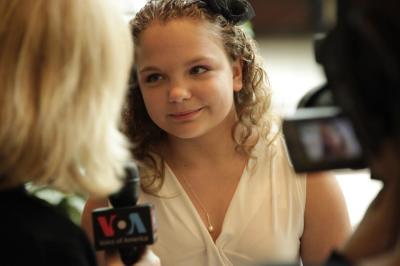 Using a few high-profile cases as examples, Putin voiced an impression that Russian orphans received in the United States were destined for a life of abuse and mistreatment. McCarthy realized that her film could be a tool to counter that stereotype and show that Russian orphans can have a chance at a normal life if given an opportunity to be adopted.
McCarthy began a Kickstarter campaign to raise enough money to tour the film in Russia and the United States and bring attention to the approximately 300 Russian orphans who were already in the process of being adopted when the ban was put in place. On Friday, the last day of the campaign, it surpassed its goal of £50,000 with 371 backers.
"We did it!! 8 minutes to go and we're at £50,337!! Oh my golly gosh," McCarthy posted to her Facebook page.
The film is already beginning to have an impact. It was shown at the Moscow International Film Festival and at a side event before a Tuesday meeting in Istanbul of the Organization for Security and Cooperation in Europe.
After the film was shown, Senator Roger Wicker introduced a resolution urging OSCE countries to resolve any differences related to inter-country adoptions and avoid "indiscriminate disruption of inter-country adoptions already in progress."
The resolution overwhelmingly passed. Only three out of 57 nations voted against it: Russia, Azerbaijan and Belarus.
"This resolution is about putting children first," Wicker said. "Regardless of the countries involved, no one should change the rules in the middle of the game. Children who have already bonded with adoptive parents deserve to be protected under the laws in place when their adoption process began."
When the adoption ban was first put in place, the U.S. State Department encouraged the parents who were already in the process of adopting to keep quiet while it worked with the Russian government to try and get those adoptions completed. Some of the parents, though, have begun to speak out more and share their stories.
Below you can watch a video slideshow created by Gina Coleman about her daughter Evie, one of the approximately 300 Russian children still living in an orphanage due to the ban.