Does Tim Tebow's Selling of Autographed Baseball Memorabilia Disrespect Baseball Players?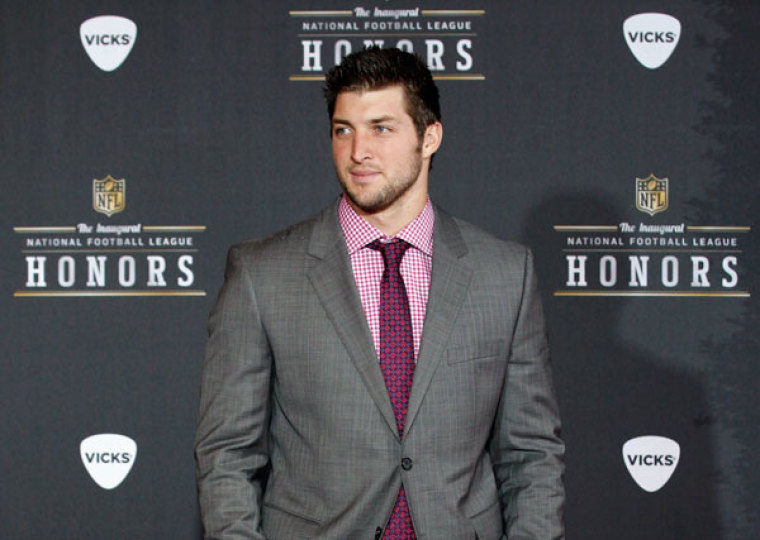 Once one of the NFL's most promising stars, former quarterback Tim Tebow, is now hoping to make a homerun with an MLB team and he's already selling autographed baseball memorabilia before landing a contract — stirring up a firestorm of criticism.
Tebow will be working out for all 30 big-league teams later this month but is considered to be a longshot by some sports analysts. The biggest dust-up, however, centers on Tebow's move to market baseball collectibles.
Jason Whitlock, co-host of the Fox Sports show "Speak for Yourself," says the sports figure's decision to sign and sell baseball bats and baseballs is in bad form and shows disrespect to baseball players, especially since Tebow has yet to get signed to an MLB team — let alone play his first game.
Whitlock, who has compared Tebow to reality TV's Kardashian family (likely indicating that the Heisman Trophy winner is looking to capitalize on his fame), said, "Tim Tebow is like a lot of church people. He puts a collection plate out and he's looking for money wherever he can get it."
"It's a money grab. 'Oh, I'm gonna go play baseball.' And then you immediately go to sign an autograph? Do you think you're Pete Rose? You think you got 3,000 hits? Is he [Tebow] the Hit King? … Pete Rose signs autographs … Tim Tebow hasn't earned the right."
Whitlock continued, "This is a disrespect to baseball players. Great players who have earned the right to sell their autographs and line their pockets with autograph signings — what the [expletive] has he [Tebow] done in the field of baseball to be out signing baseball bats and baseballs? … This is crazy. … This is just out and out greed and money chasing."
NBC Sports contributer Mike Florio seems to agree.
"Tim Tebow isn't willing [to] be a sideshow, but he is willing to make some money on the side while he ties (sic) to get to The Show," Florio wrote on Monday. "The Tebow baseball experiment is a con; the only question is the end game. Could the end game simply be merchandising?"
TD Autographs is selling a signed Tebow baseball for $125. A bat goes for $175.
Although the sports figure hasn't played baseball since his junior year of high school, according to Sports Illustrated, he has received support from former MLB players Gary Sheffield and Chad Moeller.
According to ABC News, Moeller spoke highly of Tebow's MLB potential in a recent statement:
"I am beyond impressed with Tim's athleticism and swing, and it goes without saying that he has shown a high level of discipline and strong work ethic. I see bat speed and power and real baseball talent. I truly believe Tim has the skill set and potential to achieve his goal of playing in the Major Leagues ... "
While some sports commentators believe that Tebow's signing and selling of baseball memorabilia is premature, self-serving and simply a money chase, the MLB hopeful does have a record of giving back to those in need.
The Tebow CURE Hospital in Davao City, Philippines, for example, has been providing care to low income children with critical orthopedic needs since its opening in December 2014.
Tebow is also chaiman of the Tim Tebow Foundation which was established to "show God's love to children around the world," according to its website. The foundation established a program called W15SH (Wish), an outreach with a mission to help children who have life-threatening diseases realize their dreams by meeting Tebow.
Since its inception, W15H has granted over 60 wish experiences at various venues.
The Christian Post has reported that the foundation also sponsors an annual event called Night to Shine, which is described as "an unforgettable prom night experience centered on God's love." The shindig caters to teens ages 15 and older, as well as adults who have profound disabilities.