'Dolphin Tale 2' Stars Applaud Increase in Faith-Based Films; Talk Struggle to Find 'Wholesome' Roles in Hollywood
'Dolphin Tale 2' Stars Applaud Increase in Faith-Based Films; Talk Struggle to Find 'Wholesome' Roles in Hollywood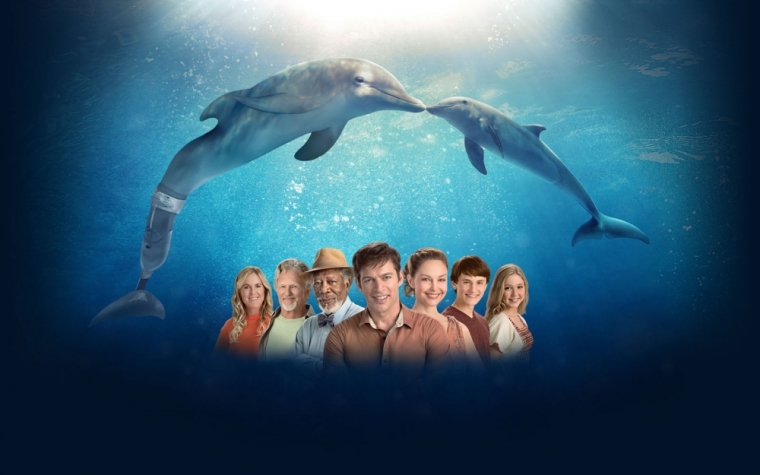 "Dolphin Tale 2" stars Nathan Gamble and Cozi Zuehlsdorff recently applauded the Hollywood film industry for the increase in faith-based films.
Nearly three years after the release of the popular family film "Dolphin Tale," the teens, both age 16, are back as Sawyer Nelson (Gamble) and Hazel Haskett (Zuehlsdorff) in the follow-up sequel. They recently commended the industry for producing more faith-based films but acknowledged that finding wholsesome roles in Hollywood is still somewhat of a "challenge."
"It's definitely a challenge," Gamble told reporters. "It's really hard to find wholesome, good movies out there and I think the 'Dolphin Tale' is really a blessing and we get to do it twice! ... I think Hollywood is slowly figuring out that [faith-based] movies work."
Zuehlsdorff, who began acting when she was 8-years-old, said that while faith-based films are great, it is still possible to find "quality" in other films.
"There are so many movies that are quality that encourage you and inspire you without even having a Christian label on them," she explained. "There are many opportunites that the Lord gives us to be able to put those messages out there in the world. It's amazing!"
The teen actress and singer went on to share that she avoids auditions altogether if a role appears as though it could compromise her beliefs and values.
"If there is a really racy project, you never take that first step and even audition. You've just got to stay true to who you are and trust that if this is what [The Lord] wants us to do, [He] will bring us those projects that we'll still feel good about [in] 20 years," she said.
In "Dolphin Tale 2," Sawyer and Hazel are slightly older and more passionate than ever about dolphins, particularly Winter, who captured hearts in the first film when she was famously rescued then fitted with a prosthetic tail.
The film is based on more true stories from Clearwater Marine Aquarium (CMA) in Florida and a number of new characters, both humans and animals, are introduced.
Hope, who like Winter is also a rescue dolphin in real life, plays a crucial role and ironically her name lends itself to the film's central theme – change.
CMA's mission has always been to "rescue, rehab and release," however various external forces complicate matters and ultimately cause friction and conflict. The film's theme and message can be applied to everyday life, Gamble says.
"Everyone at some time in their life is going to go through a rough patch but you've got to have hope to overcome that," said Gamble.
Zuehlsdorff penned the song "Brave Souls" for the film, which she explained relates to the idea of embracing change but also honoring your past.
"When I wrote [it] they said 'it would be great if you could write a song about moving forward and accepting change,'" she said. "When I wrote it the thing that bugged me was I hated people saying 'forget your past, just move on' because the past shapes who we are - the good and the bad. So that's why the lyrics are 'we move on but we never forget.'"
Also back for the sequel is Harry Connick Jr. (Dr. Clay Haskett), Morgan Freeman (Dr. Cameron McCarthy), Ashley Judd (Lorraine Nelson), Kris Kristofferson (Reed Haskett), Juliana Harkavy (Rebecca), Austin Stowell (Kyle Connellan) and Austin Highsmith (Phoebe).
Christian surfing champion Bethany Hamilton stars as herself in the film which is directed by Charles Martin Smith.
"Dolphin Tale 2" hits theaters across the U.S. on September 12.
For More Information on "Dolphin Tale 2" CLICK HERE