Donald Trump Thinks It's 'Pretty Unusual' Antonin Scalia Was Found With 'Pillow on His Face'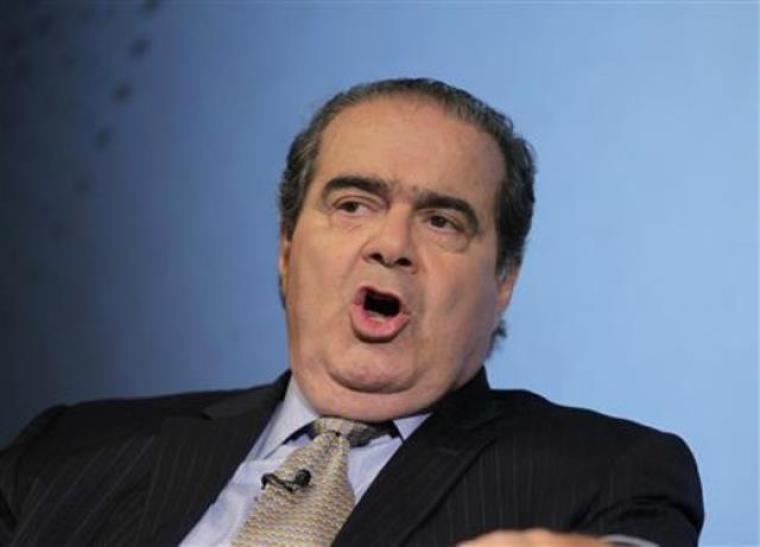 Republican presidential frontrunner Donald Trump thinks it's "pretty unusual" that late Supreme Court Justice Antonin Scalia who died of "natural causes" on Saturday was found with a "pillow on his face."
Trump made the comments during an interview Tuesday with talk show host Michael Savage while discussing conspiracy theories that Scalia may have been murdered.
"Donald, I need to come back to the topic we've all been screaming about here, which is Scalia, was he murdered?" Savage asked. "I know it's pretty brutal to say that, and I'm not wanting to drag you into this, but this is going to be bigger and bigger and bigger.
"I went on the air and said we need the equivalent of a Warren Commission, we need an immediate autopsy before the body is disposed of. What do you think of that?" Savage added.
"Well I just heard today … you know I just landed and I'm hearing it's a big topic," Trump began.
"But they say they found a pillow on his face, which is a pretty unusual place to find a pillow," he noted before saying "I can't tell you– I can't give you an answer."
Presidio County Judge Cinderela Guevara, the justice of the peace who pronounced the late Supreme Court Justice Antonin Scalia dead of natural causes on Saturday did so without seeing his body or requesting an autopsy.
That situation is not unsual and permissible under Texas law, according to The Washington Post. One of Guevara's colleagues believes an autopsy should have been requested.
"If it had been me . . . I would want to know," Juanita Bishop, a justice of the peace in Presidio, Texas, told The Washington Post Sunday.
It was hours after Scalia's corpse had already grown cold at the luxury Cibolo Creek Ranch in remote West Texas where he had been on a hunting trip with friends, that authorities finally contacted Guevara and got her to pronounce him dead remotely, says The Washington Post.
Authorities had first reached out to Bishop and one other colleague to certify Scalia's death but they were unable to get to Scalia's body in time.
Guevara confirmed with The Washington Post that she pronounced Scalia dead by phone after consulting with law enforcement officials who assured her "there were no signs of foul play." Scalia's doctor also confirmed that the judge had been suffering from a number of chronic conditions.
"He was having health issues," Guevara said. She noted that she is expecting a statement from Scalia's doctor which will be added to his death certificate to be issued later this week.
Addressing earlier media reports that Scalia, 79, had died of a heart attack she said: "It wasn't a heart attack … He died of natural causes."
Houston businessman John Poindexter, 71, who owns the 30,000-acre luxury ranch where Scalia died said the Supreme Court judge was having a good time at the ranch just hours before he was found dead.
Scalia, he told the San Antonio Express-News, was animated and engaged during dinner Friday night and was one of three dozen invitees to an event that had nothing to do with law or politics.
"He was seated near me and I had a chance to observe him. He was very entertaining. But about 9 p.m. he said, 'it's been a long day and a long week, I want to get some sleep," Poindexter recalled.
The ranch owner said he tried to awaken Scalia about 8:30 the next morning but the judge's door was locked and he did not answer. Three hours later, after he returned from an outing with Scalia's friend from Washington, he discovered the judge had died.
"We discovered the judge in bed, a pillow over his head. His bed clothes were unwrinkled," Poindexter told the Express-News.
"He was lying very restfully. It looked like he had not quite awakened from a nap," he said.
As the conspiracy theories emerged, Poindexter clarified to CNN that "the pillow was against the headboard and over his head," not over his face.
The judge had no pulse, his body was cold and after consulting with a doctor at a hospital in Alpine, it was concluded that resuscitation would not change the situation recalled Poindexter.
Federal authorities were then contacted and once they were apprised of the situation, responded appropriately.
"Ultimately they became available and handled it superbly. They flew in by helicopter. They told me to secure the ranch, which I did until this morning," he said.
Poindexter said Scalia's sudden death was both a "personal tragedy" for those at the ranch and for the nation.
"All of us here saw him as a stalwart defender of our way of life in Texas, in a real sense," he said.
"It's a great loss. Having made that statement, if it was his time to go, he was surrounded by friends, in fairly nice setting, with a full tummy too. He said he was very happy to be invited so it could have been in worse circumstances," he said.
About 3:30 a.m. Sunday, according to The Washington Post, Scalia's family declined to have an autopsy performed.
Sources close to the Scalia family told NPR that the judge's body will lie in repose at the Supreme Court on Friday. His funeral will be held at 11 a.m. on Saturday at the Basilica of the National Shrine of the Immaculate Conception in Washington, D.C.