Donald Trump: 'I Don't Like Fighting With the Pope'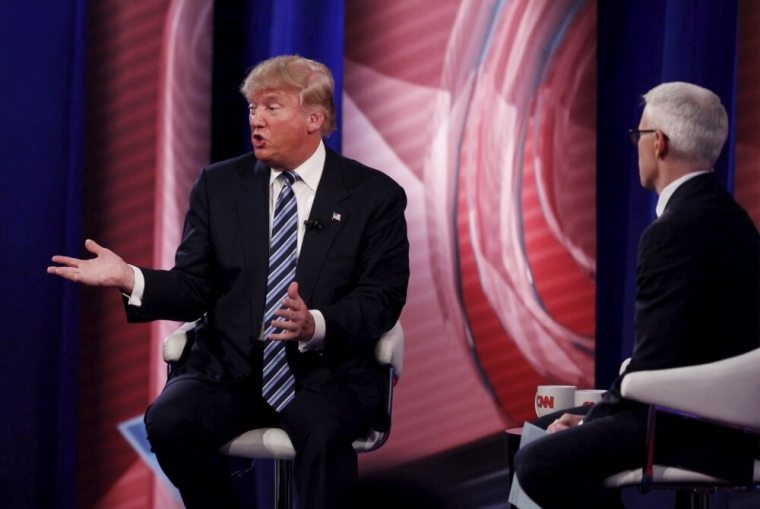 Republican presidential candidate Donald Trump has reportedly tried to play down a disagreement between himself and Pope Francis on the subject of building a wall on the U.S.-Mexico border, and is now saying that Francis is "doing a great job" as Vatican leader.
"I have a lot of respect for the Pope. He has a lot of personality and I think he's doing a very good job, he has a lot of energy," Trump said at a Thursday town hall meeting in Greenville, South Carolina, according to The Independent.
After Francis said on Wednesday that a person who "thinks only about buildings walls" is "not a Christian," Trump, who has promised to build a large wall on the Mexico-U.S. border to stop illegal immigration, fired back by calling the pope's comments "disgraceful."
"For a religious leader to question a person's faith is disgraceful. I'm proud to be a Christian and as president I will not allow Christianity to be consistently attacked and weakened unlike what is happening now with our current president," Trump declared.
"No leader, especially a religious leader should have the right to question another man's religion or faith, especially when they feed all sorts of false information into it," he added.
The billionaire businessman has since said, however, that the media has been exaggerating the situation between himself and Francis.
"I don't like fighting with the pope actually — I don't think it's a fight, I think he said something much softer than originally reported by the media. I think that he heard one side of the story, which is probably by the Mexican government," Trump said Thursday on CNN.
The Republican presidential candidate has argued that Francis is not entirely aware of American concerns concerning the border with Mexico, regarding the drug trade and gang violence.
"I don't think he understands the danger of the open border that we have with Mexico. I think Mexico got him to do it because they want to keep the border just the way it is. They're making a fortune, and we're losing," Trump said.
Vatican spokesman the Rev. Federico Lombardi has also suggested that Francis is focusing on the broader issue of migrant rights, rather than trying to get specifically involved with Trump.
Lombardi said that Francis knows "Trump expresses himself in an expressive way," but "is not always up to date on the latest statements."
Some conservative U.S.-based groups, such as The Catholic League for Religious and Civil Rights, have argued that the media representation of the issue is a "contrived controversy."
"The Pope was asked to comment on something that is not Trump's position," Catholic League President Bill Donohue told "The Steve Malzberg Show" in an interview. "The reporter actually had the audacity to say can a Catholic vote for a man like this after misrepresenting what Trump said."
Donohue further argued that Trump's proposals to strengthened the border in order to better serve American citizens is something that the Catholic Church "has no problem with."
White House spokesman Josh Earnest also weighed in on the Pope-Trump controversy when asked to comment, and pointed out that President Barack Obama has said that "his own personal Christian faith informed his view of the values and priorities that he has chosen to champion in the White House."
"A number of those values and priorities are not shared by Mr. Trump," Earnest added, according to CNN.
"I will however extend to Mr. Trump the courtesy he has not extended to the President and not use this opportunity to call into question the kind of private personal conversations he is having with his God," he continued.
Trump's GOP rivals have mostly chosen to stay out of the issue, with former Florida Governor Jeb Bush stating: "I just don't think it's appropriate to question Donald Trump's faith."
Texas Senator Ted Cruz added: "That's between Donald and the pope, I'm not gonna get in the middle of that."