Donald Trump: ISIS Crucifying Priest Justifies Waterboarding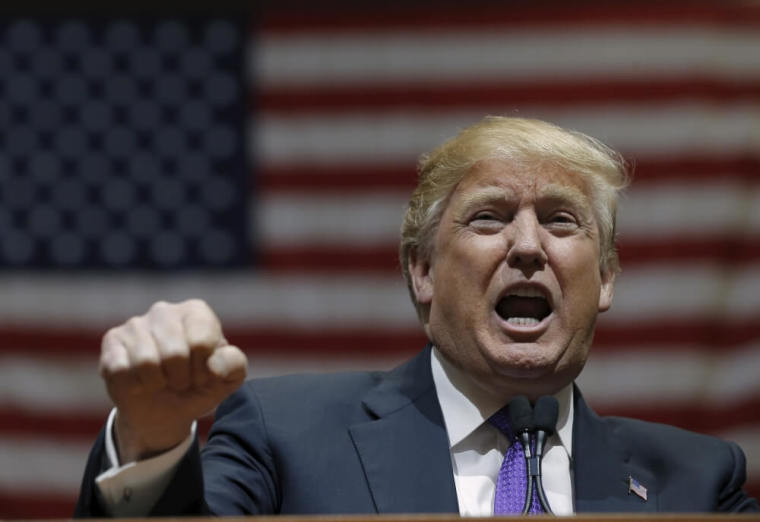 Republican presidential candidate Donald Trump said that while the Islamic State terror group is crucifying Christian priests on Good Friday, the U.S. is afraid to use waterboarding interrogation methods.
Trump, who has vowed to fight back against IS and global terror if elected President, posted a link on his Facebook page on Monday to reports claiming that Father Thomas Uzhunnalil, a 56-year-old Catholic Priest, was crucified by militants on Good Friday.
Trump replied to the story: "Terrible! And we cannot waterboard!?"
Uzhunnalil was reportedly kidnapped by IS earlier in March during an attack at a Missionaries of Charity-run retirement home in Aden, Yemen, where 16 other people were killed by the rebels, including four nuns.
There had been no news regarding Uzhunnalil's fate before reports started circling in Austrian media that he had been crucified by the jihadists on Good Friday, though other sources, such as Catholic News Agency, have said the reports are yet to be confirmed.
In February, Trump warned that he would bring back "a hell of a lot worse than waterboarding" if he becomes president.
He added: "Don't tell me it doesn't work — torture works. Okay, folks? Torture — you know, half these guys [say]: 'Torture doesn't work.' Believe me, it works. Okay?"
The Republican frontrunner has used the example of IS carrying out mass beheadings and slaughter of minorities in Iraq and Syria to argue his point as well.
"They're chopping off our heads in the Middle East," the billionaire businessman has said, according to The Washington Post.
"They want to kill us, they want to kill us. They want to kill our country."
In another February interview, Trump argued that chopping off heads might be a useful interrogation technique.
Trump has also called waterboarding a "minor form" of interrogation.
"Some people say it's not actually torture — let's assume it is," he has said. "But they asked me the question: 'What are you going to do on waterboarding?' Absolutely fine, but we should go much stronger than waterboarding. That's the way I feel."
In contrast, President Barack Obama has said that he opposes waterboarding, which was used at Guantánamo Bay and Central Intelligence Agency detention centers around the world during the presidency of George W. Bush.
"I believe that waterboarding was torture and, whatever legal rationals were used, it was a mistake," Obama has said.
Many Christian groups have opposed torture, including the National Association of Evangelicals, Southern Baptist Ethics & Religious Liberty Commission, and U.S. Conference of Catholic Bishops. A December, 2014 Washington Post poll found, however, 68 percent of self-identified white evangelicals believe that torture of suspected terrorists is "often" or "somewhat" justified.