Donald Trump Confident He Has 'Pretty Good' Chance of Going to Heaven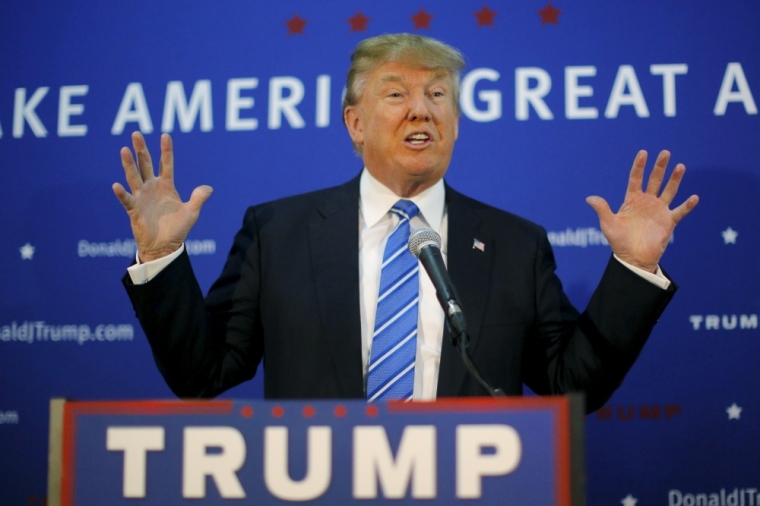 Republican 2016 presidential frontrunner Donald Trump says he believes in heaven and is confident he has a "pretty good" chance of getting there.
The real estate mogul made the revelation in previously unpublished portions of an interview he did last month with GQ magazine that was released Wednesday.
When asked if he believed in heaven, Trump told GQ correspondent Chris Heath, "Yes."
Heath then asked: "Do you think you'll be going?"
Trump replied: "I hope so. That's what I strive for."
"How's that going?" Heath then asked. Trump said "Pretty good."
Trump also touted how smart he is during the interview and even suggested that he is the smartest of the candidates on the 2016 campaign trail.
"I'm very smart," said Trump. "My life has proven that I'm smart. I mean, I've had a life of success and I've had a life of victory. You know, I've had a lot of wins in my life, and I know where I'm coming from, and I know where I've been, and I know how to get the country to where people really want to see it."
To show how smart he is, Trump said he was also willing to take aptitude tests. And he is sure those tests would prove that he is the smartest person running for president of the United States.
"Yeah," he said when asked if he thinks the tests would show that. "Look, hey, I've had great success. I've had far more success than anybody."
After touting his skills as a business leader and highlighting how important negotiating skills are to being a great president Trump was asked to mention good examples of business leaders who had become great political leaders and he declined because he feared being polarizing with his pick.
"Well, I can, but I just don't want to use their name because they've also had some controversy. I mean, there are examples, but I don't want to do that because they've also had some controversy and I don't want to be dragged into their controversy — I want to start with a clean slate," said Trump.
Heath was unable to think of an example during the interview but later noted that Trump may be have been referring to Italy's Silvio Berlusconi.
"I kick myself for not realizing what later seems obvious to me: that he was probably talking about Italy's Silvio Berlusconi here — a name that didn't come to my mind immediately because, even setting scandals aside, I don't readily think of him as a great political leader, though it is true that the Italian people did elect him three times as prime minister and that he was a very rich man who inspired enduring loyalty and belief from a fervid part of the Italian electorate in a way that Trump could well consider both a model and an encouraging example," noted Heath.
Despite his confidence in his abilities as a leader however, Trump says he will respect the decision of the electorate if he doesn't become president.
"I'd respect the electorate. If that's what they felt, I would. I mean, it's possible that could happen — that's part of the process. That is the process," he said.
He noted that he would also just go back to his business.
"I'll probably go back to doing what I've been doing for the last long period of time, which is creating jobs, building projects — beautiful projects, iconic projects. We're doing a great job, so I'll go back to doing that," he said.
As for what he wants people to say about him after he is gone?
"That I've done a fabulous job and made the lives of many, many people much better," said Trump.